Spinspotter – Your Browser's Built-in BS Detector
By Jim Bray
November 5, 2008
What does it say about people's perception of the news media that a company believes it can profit from a product that calls out the media on your behalf?
Yet here comes Spinspotter, a Seattle-based company with a similarly-named product in, so they claim, very beta form. Spinspotter is a plug in for Firefox 3 – and unfortunately that's the only browser it'll work with, though they promise a Microsoft's Internet Explorer version is coming. It's easy to install and when you're done you get a special Spinspotter toolbar on your browser.
Then, when the product's so-called Spinoculars" stumble upon a whopper on a news website, it highlights the text in question. Move your cursor over it and you can bring up an explanation of the spin Spinspotter supposes it spotted.
It picks up on weasely statements like "some say", and for that alone should be used in every journalism school, assuming we don't just shut them down and be done with it instead. And it works to a certain extent, though I might have been a lot tougher in my editorial decisions. But, hey, it's only a robot and not even a full product yet.
Spinspotter comes with a built in editorial board. Well, they isn't as if they sit in your browser, but the company's website does list such people as Jonah Goldberg and Brooke Allen as advisors, so there's probably at least an attempt at balance here.
Right now, you can only run Spinspotter on five news sites: CNN, Fox News, MSNBC, Yahoo and the New York Times. Since part of my job is to put various products through torture tests, I headed strait for the Times, fully expecting Spinspotter to turn the entire digital edition into a sea of red highlights. I mean, really.
The day I went there they had a purported news story about Sarah Palin's wardrobe, which I figured should give Spinspotter the ride of its life, and it came up with two lousy highlights. In the New York Times!
Obviously this product isn't ready for market…
The first spin it spotted was the word "symbolic" in the accusation that "Palin's wardrobe joined the ranks of symbolic political excess Wednesday", which to me was one word out of an entire sentence that's nothing but spin – let alone the entire premise of this as a "news" story. Heck, I wouldn't have run the story at all unless it included an equal amount of copy researching something like how much Joe Biden spent on his hair plugs or how much Barack Obama's stage set cost for his inaugural, er, acceptance speech.  But I digress…
Of course, Spinspotter is guilty of its own hype, at least as far as marketing goes. Its website describes the product as being like X-ray vision for BS, whereas of course it's no panacea. But it's interesting, both as a product and as an observation of the state of our society.
Organized Thought…
Meanwhile, I've been trying a sample of The Ergonizer, an interesting product from Ergotech Group, who claim to be a leading maker of ergonomic office products. The Ergonizer is an organizer-like doohickey that attaches to the side or top edge of your computer monitor and besides its big whiteboard (in the "deluxe" model they sent me, anyway), it comes equipped with holders for your cellphone (PDA, iPod or whatever will fit), as well as spaces for a pen, your keys, headset, photos, documents, Heck, the company says you can even keep a fresh flower.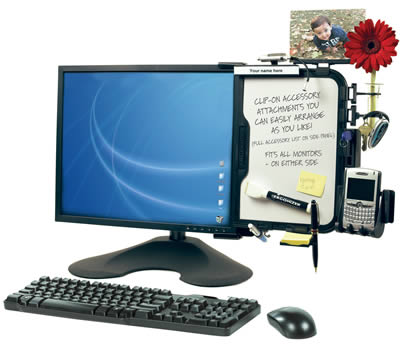 I didn't try that, not wishing to pick petals off my desktop as the flower deteriorated inevitably.
The thing clamps onto your monitor, though I had a heckuva time doing that; it just wouldn't cooperate with my monitor despite the company offering more than one way to fasten it there. The instructions looked so simple that it seemed my trouble came from a lack of patience and an abundance of clumsiness on the user's part. It made me pine for something like "Mighty Putty" to ride to my rescue.
Once you've gotten it mounted, the Ergonizer Deluxe looks like a big Dumbo-like ear hanging off the side of your monitor. And the hardware's substantial enough that I almost worried the accumulated weight would flip my monitor onto its side. Hasn't happened yet, though.
Whoops! There it goes now!
Just kidding.
If you're used to throwing the stuff you now have Ergonized randomly over your desktop, this could help keep your desktop clean. I've given up on hoping that, but at least now there are fewer things to search for under a pile of papers and stuff.
The Ergonizer comes with a bunch of stuff you may already have skulking beneath your papers and stuff, or even in a drawer. For example, you get an erasable pen for the white board, a document holder, and LED work light. It even has a dual port USB hub and SD port built in, to synch and/or recharge stuff like your phone, music player, or wireless headset, and of course you can also use the device to connect with accessories such as cameras and printers.
Of course for $129, it should be packed with value…
There are two other versions of the Ergonizer: the Ergonizer Slimline ($90) and the $40 Ergonizer Mini which offer scaled and stripped down variations on the theme. The company says all models come with accessory holders for a cellphone/PDA/whatever, a key ring, headset, photo, pen and document holders and small vase. Placement of all the hangers and holders is reasonably flexible.
What I like about the Ergonizer is that it lets one redirect people's fingers to the white board when they're about to put their oily residue on your monitor when pointing out something on your screen (I hate it when that happens!), saving you from having to slap them. That makes it a defense mechanism for monitors as well as an organizer.
Copyright 2008 Jim Bray
TechnoFile.com