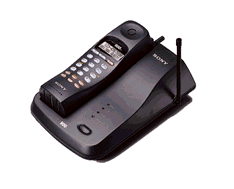 Sony's SPPID900 Cordless phone
No Hiss Makes for Bliss
by Les Enser
You receive a phone call only to be met with crackling and hissing, and you hear a distant voice in the background. Is it a phone call from one of your long lost relatives from another dimension, or is it a call from a third world country which has not had the money to upgrade its telephone system yet?
Naw! It's that damn wireless phone that you used to answer the call. No wonder! Since most standard wireless phones run around the 43-49 MHz frequency range, you will almost certainly pickup electrical noise pollution from that nearby power pole, home computer or even your next door neighbour's cordless. Since just about everyone in your residential area has one or two of these phones, no wonder this frequency is becoming crowded and is subject to all sorts of weird noises.
Then there's Sony's SPPID900 digital 900MHz cordless wonder. Yes, I did mention 900MHz, but what does that mean? Cleaner voice quality with virtually no noise.
Sony's unit is a sleek designed handset with a base that is either wall or desktop mountable. The keypads on the handset will light up in hard to see places with an intuitive LCD (liquid crystal display) that not only indicates the number you're dialing but it will also indicate who is dialing in (the unit has call and name display as well - just make sure you sign up with your phone company for this feature). It has the ability to store up to 50 different callers along with the time and date. Wonderful, now you can scare your callers by answering them by name before they can identify themselves. It has happened to me several times and it is kind of a strange feeling
Setup is a breeze: first, plan your location for the unit and then simply connect the power and phone lines. Sony does suggest not putting the phone on top of TV's and VCR's because it could cause interference, even at the higher frequency range. Slide the battery pack in the handset and let it charge for about eight hours. Once again Sony has thought ahead by adding a compartment in the base for an extra battery (not included) so that you will never run out of power. This little compartment will enable you to slow charge the back up battery (about 24 hours). The extra battery is also handy in power failures by providing extra power needed to run the phone and the base together. You will still be able to receive and make calls for up to five hours before the unit shuts down. Hopefully your local power company will have you up and running by then.
Once I got up and running, I couldn't wait to make my first phone call, to the editor of Technofile, to see if he could tell that I was calling on a wireless phone. He usually has keen ears like a Ferengi (he looks like one, too) and can never be fooled. I indeed was successful since he had no clue! This phone must be good! While completing the first test, I was now going to check the incoming calls. All went well, the phone identified the callers along with the time and date, however you do need to press the caller ID button and then scroll through the names by pressing an arrow up and down button. This does take an extra step to get the scroll feature to work but you get used to it quickly. If for some reason the entire name does not appear on the SPPID910's screen you need to punch up the "view" button to get the rest of the name.
I'm also happy to report that this phone has four ringer selects, from quiet to loud, a feature some phone manufacturers are omitting these days. Of course you have all the other goodies from 20 numbers speed dial (memory), mute if you don't want the phone solicitors to hear you cursing them, Hold if you need to put the phone down, Redial to call a number again without having to punch it up again, and a handy adjustable volume control on side of the handset to turn down any obnoxious individuals.
In summary this is a handsome phone and the quality is truly amazing in comparison to the old cordlesses. The distance range is about four the five times greater. The trouble is that I don't want to give this back to Sony after living with it for a couple of weeks. Maybe I can negotiate a deal. Maybe Technofile will advance my salary for the month. Believe me, once you're lucky enough to purchase this phone you won't want to give it up, either.
Now if only Sony could make a two line, call display with digital answering machine in one.
Tech specs:
Sony SPPID900, digital 900 Megahertz
Name and Caller Display
50 caller storage
Lighted keypad
Dual battery system
Page feature
20 number speed dial
Wall mountable