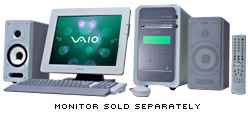 Sony PC a True Convergence Device
by Jim Bray
If you're looking for a computer that can be the heart of an all in one entertainment and productivity center, the Sony PCV-MXS20 may be just the ticket.
It's arguably the best example yet of convergence, the marrying of audio/video and computers that has been going on for the past few years. That's because this Sony Vaio isn't just a computer, it's also a fully featured multimedia home entertainment center that offers just about any toy you can imagine.
This particular Vaio is actually quite revolutionary in that it adds to your "garden variety" desktop PC a decent audio system, DVD-RW drive that can record DVD's and CD's, a TV tuner and the Giga Pocket Personal Video Recorder (PVR) - with much of its functionality operated by a single remote control. And that's just for starters! The MXS20 can also let you build a music and video library that can be stored on the computer and shared via network or the Internet with family and friends.
All of which helps to explain, and justify, the relatively expensive $2499 price, because thanks to the bunch of other electronic components it includes, you may no longer need some of your existing (or wanted/needed) stuff once you get this Vaio.
You also get, for example, a TV tuner, a minidisc recorder/player, an FM stereo receiver and, rather than throwing in dinky little speakers like those that usually come with a PC, they've thrown in a couple of reasonably decent speakers.
Whew!
Yessirree, if you can imagine it, you can probably do it with this Sony - though you'll want to spend some time figuring out all the features since this isn't the most user friendly unit ever made.
I just happen to have a 36 inch TV that can double as a computer monitor, so this seemed like the perfect unit to test the Sony with. As it turned out, the Sony defaults to 1024x768 resolution while the TV can only go up to 800x600, and this meant some scrolling back and forth and up and down while using the TV to display the software that comes on the Sony. I suspect this caused a good part of my ease-of-use concerns and that the unit is much more user friendly when hooked into a monitor capable of higher resolutions. But even with my UI angst I found the Vaio and the 36 inch monitor to be a fun combination.
At the heart of this system is a relatively straightforward, but relatively state-of-the-art (for this week, anyway!) PC featuring a Pentium 4 processor running at 2 gigahertz. Standard equipment also includes 512 MB PC-2100 RAM (expandable to 1 GB) and a 120 GB Ultra ATA/100 hard drive. The unit is also ready for high-speed Internet, thanks to its 10Base-T/100Base-TX Fast Ethernet connection; there's also a V.90 compatible fax/modem. Video is handled by 32 MB worth of nVIDIA GeForce2 MX 4X AGP 3D graphics.
The pointing device that comes in the box features the central wheel we've come to know and love. I wish it were also optical and wireless (with a wireless keyboard, too) so it could be used more easily and farther away from the PC, but such was not to be. Perhaps next year…
Getting video or pictures into or out of the PC can be accomplished via front and rear i.LINK firewire interfaces and/or USB connections, and there's also one of Sony's Memory Stick slots for transferring data via those cute little "unfloppy disks."
The audio portion of the PC includes a 20watt x 2 stereo amplifier that couples to the abovementioned pair of stereo speakers - speakers that appear more at home in a home theater than a PC. The sound quality isn't up to the standards of a high end system, but it's still darn good and blows away that of the average PC. These audio specifications obviously won't warm the cockles of the audio or videophile's heart, but for mainstream users they should be more than adequate.
The PVR (personal video recorder, a "digital VCR" that records onto a hard disk drive rather than tape) was the first thing I tried and it worked well - though I couldn't figure out how to fast forward through a recording other than jumping about twenty seconds at a time (which made the process more than a tad tedious; this is why there are owner's manuals, however). All you have to do with this Giga Pocket PVR is set it using an easy to follow "wizard-like" interface, and then go back later to watch the program. It's very easy.
And they've even included a free, Web-based programming service called Internet Entertainment Program Guide (iEPG) that lets you pre-set television recordings up to two weeks in advance.
Oh, yeah, you can also output the video signal from the PC to most television sets, which means you don't have to watch Lawrence of Arabia on your 15 inch computer monitor.
Sony has even put a really quiet fan inside the unit, so it doesn't blow you away with noise during quiet sections of a movie or TV show. I really liked that. Noisy fans is one of the reasons I've hesitated putting a PC-based PVR in my home theater.
Though I'm not sure I'd want to be creating Office documents in my family room, especially if I have to sit with my face three feet away from the big screen TV (thanks to there being no wireless keyboard/mouse), this Sony is an excellent leap in the right direction. I think the price may work against it, and the short-wired keyboard and mouse don't help either, but on the whole this is a really nifty unit that clearly points the way to where I think the market is heading.
Jim Bray's technology columns are distributed by the TechnoFILE and Mochila Syndicates. Copyright Jim Bray.