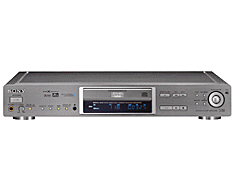 Sony DVD a Higher End Alternative
By Jim Bray
If you didn't get that DVD player you wanted for Christmas, Sony has a way to get back at Santa for his oversight.
The DVPS570D is a higher end alternative to entry level DVD players, but not so esoteric that it 's priced out of reach. For your $600, you'll not only get all the basic DVD player features, but a bunch of interesting other stuff as well.
One nice, though small, wrinkle is Sony's variable time display that shows the total time elapsed on a disc, total time remaining, chapter time elapsed, chapter time remaining. This might not sound like much of a feature, but I really miss it when I'm testing a player that doesn't have it. If nothing else, it's a way to measure how much longer a particularly excruciating movie is going to last…
The player outputs Dolby Digital and DTS soundtracks, but that's by no means where it stops. The Sony also offers a series of "Digital Cinema Sound" or "Virtual 3D Sound" settings that can fudge a variety of phony theater environments from two channel and 5.1 channel (five main speakers and a subwoofer) configurations.
This is designed to help you tweak the sound to your room configuration, speaker setup, and personal taste, and I suppose it' s nice to have this extra flexibility. Speaking strictly for myself, however, I'd much rather have an honest to goodness 5.1 channel home theater where the signal that comes out matches as closely as possible the one that originally went in.
Still, to each his or her own, and if you like messing around with nifty settings there are enough on this particular Sony DVD player to keep you messing happily.
Of more practical use for those who don't have Dolby Digital/DTS-capable receivers is the built in Dolby Digital decoder, which means you can get true 5.1 surround sound from your DVD''s even if your audio/video receiver or amplifier is only "Dolby Digital-ready" (which means it has the multi-channel input jacks, but no decoder).
A built in test tone generator lets you set the balance of your speakers to your listening position and your room, and a video equalizer lets you tweak your TV set to best suit your eyesight and room lighting. This latter gadget is quite similar to the settings that Sony puts on some of its TVs (like "cinema," "vivid," "standard," etc.) except that since it's on the DVD player you can use it on any TV.
Another thoughtful feature, though one with limited use right now, is the capacity to handle "DVD Audio" discs. These are ultra high fidelity music recordings that are "sampled" at 96kHz/24 bits (which, in relatively plain English, is the size of the "digital pictures" of the music taken by the computers when the recording is made). DVD Audio is supposed to be much better-sounding than CD's (which are sampled at 48kHz/16 bits) and also offer surround sound channels.
Good luck finding many such discs right now, though.
Or, in case you can never remember what disc you're playing (God forbid you look at the case!), the DVPS570D can store up to 200 text labels you create yourself. You do this via the remote control by scrolling through the onscreen menus and, when you finally get to the correct page, choosing letters and numbers for the machine to remember.
I tried this with a DVD and the process took about five minutes. From then on, any time I put that DVD into the player, it recognized it and displayed the title on its front panel and the onscreen display. I also noticed that some discs come with this info already encoded.
I don't know why, however…
The DVPS570D also has enough video ouputs that you'll be able to hook it into most TV or home theater configurations. There are two conventional "RCA" jack outputs that are twinned with the higher quality "S-Connectors" and, for the best possible results, there's a component video output.
There's also a decently designed remote control that lets you operate all the unit's functions and, on a merely cosmetic note, the DVD player itself comes in a handsome silver cabinet that looks almost like stainless steel. Not a big deal, obviously, but an interesting change from the typical black box.
On the whole, then, the Sony DVPS570D is a very nice performer that packs a lot of flexibility and ease of use into a classy-looking package.
Jim Bray's technology columns are distributed by the TechnoFILE and Mochila Syndicates. Copyright Jim Bray.