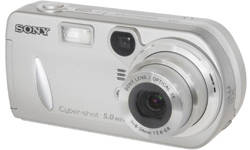 Sony Digicam and Net MD Walkman
by Jim Bray
Sony continues to spread its digital influence in the consumer marketplace, with new digital cameras and gadgets designed to titillate and delight consumers.
This particular article looks at two great Sony digital products: the Cybershot DSP-P92 digital camera and the Net MD Walkman, a portable MiniDisc recorder/player that's perfect for those with cassette players in their cars who'd like to move to digital discs.
Sony likes to consider itself "the one and only" and, while it obviously isn't, the company does have an excellent track record for designing and building nifty technological gadgets.
Not all their innovations have happy endings, however, with mainstream consumers. The beta format VCR died a protracted death at the hands of VHS, though it was and continues to be a huge success in the professional market. And the MiniDisc format has also languished on the consumer side while making big splashes in professional broadcasting.
MiniDisc is one of the formats we really hoped would carve out a niche in the consumer market. It's a good format, offers excellent flexibility and sound quality, and uses discs that can be recorded and re-recorded as often as you want (like a cassette).
Alas, it hasn't proven to be the success it should. Despite that, however, Sony continues to stick with it and we're glad to see that, though we also wonder how long before Sony cuts it loose.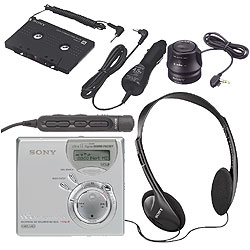 Anyway, when we heard about the Net MD Walkman, and its standard equipment car interface kit, we had to try it.
And, to make a long story short, we really liked it.
The $249.99 Canadian/$129.95 US MD Walkman is tiny – it's approximately the size of a small stack of floppy disks – but it offers big sound and a lot of flexibility. The tiny size makes it ideal for carrying in your pocket, and it worked really well when I took it to my local gym to serenade me with tunes during a workout. There was no problem with skipping – though I did have a problem with using the machine in the gym because I'd left my reading glasses in the locker and the labels on the MD Walkman are anything but large and legible.
This lack of legibility on labels is something I also experienced with the Cybershot DSP-P92 – and many other things I test. Part of the problem is the size of the labels, but another part is that the manufacturers don't make the letters stand out enough; they put gray letters on a silver box, and the lack of contrast is tough even if you don't need reading glasses.
That aside, the Net MD Walkman is very easy to use.
Getting tunes into it is pretty straightforward; the easiest way is to plug the unit into your PC via the included USB cable and using the included "Sonicstage" software. You can also hook the thing into your home theater digitally (assuming it has such an output) to record from your CD player or other source.
The MD Walkman can handle MP3's, WMA, and WAV playback, and the MDLP Long Time Stereo Playback lets you store more than five hours of music on one 80 minute disc.
You can use the software to find and choose music from your computer (or on the network) and drag and drop it straight to the MD recorder, at which time the tunes are dumped onto the MiniDisc. It isn't quite as easy as this sounds, thanks to a fuzzy interface, but on the whole it works fine and it's a lot faster than recording tunes from a CD or DVD player, which has to be done in real time.
Organizing a playlist and then dragging and dropping it from the computer also means you can easily mix and match tunes to create playlists from multiple artists and/or discs.
The flexibility is great.
But, as mentioned, what we really liked was the car kit. This includes a cassette adapter that takes the output from the MD Walkman and transmits it to your car cassette deck and, even better, it comes with a big rotary remote control that lets you access the main functions such as play, pause, skip forward and/or backward easily and without having to take your eyes off the road.
This is a terrific, very well thought out remote! Sony even gives you a couple of pieces of Velcro to attach it to your car's center console. Since we were only using the unit temporarily we couldn't try that and this meant the remote tended to fall all over the place as soon as you went into a corner (or tromped on the gas, which is something to which I'm prone), but I'm sure that properly attached to the car it would be just about the perfect control.
The unit also comes with an AC adapter, to help prolong your batteries, and the car kit plugs into the cigarette lighter.
We really liked this unit's performance, flexibility, ease of use and of course the wonderful car kit (though it wouldn't be much use if your car has a CD player). It's the best car adapter kit we've seen and, since our reference car has a very good stereo but no CD, it was ideal in that application.
Too bad we had to send it back!
The Cybershot DSP-P92 is also an excellent performer and one we could easily live with – except that, as with the MD Walkman, Sony made us send it back.
Selling for $399US, it's capable of an effective 5 megapixel resolution and packs enough punch to satisfy just about anyone short of the professional who needs multiple lenses and even higher end performance.
The package is small and light and easily fits into a reasonable sized pocket or purse (it's about the size of an old fashioned Instamatic point and click camera). And while you can use this with point and click ease of use, there are plenty of other features designed for flexibility.
Zoom is 3x optical (4x digital, which works quite well), and you get stuff such as 3-Area Multi-Point auto-focus (which looks over three separate parts of the frame rather than just grabbing onto whatever's in the middle), multi-pattern and Spot Meter auto exposure (which helps the camera automatically figure out the optimal f-stop and aperture (and includes "Slow Shutter Mode")
As is common with digital cameras these days, you can do more than just take stills. You can shoot short MPEG movies and/or record voice memos to accompany your photos. This latter feature can come in really handy if you want to take "notes" while shooting, something that could prove valuable if you're a real estate agent. insurance agent, etc.
The DSC-P92 also comes with rechargeable batteries, which is a nice touch, and USB 2.0 for high-speed transfer of your pictures to your computer.
You also get a Memory Stick (kind of a "new tech floppy disk") for additional storage that's portable between devices, as long as they all accept Memory Sticks.
The LCD monitor on the back of the camera works pretty well, with very little lagging. It's 1.5 inches in diameter and works well under most lighting conditions. As with most LCD's, it tends to wash out in bright sunlight, but that's the nature of the LCD beast – and if that happens you can use the optical viewfinder anyway. In fact, I used the optical viewfinder most of the time for shooting, anyway (old habits die hard!) using the LCD mostly for playback and access to the camera's menu functions.
Those menu functions are well thought out and work well; other than the small size of the labelling and the type faces on the screen (complaints which aren't limited to Sony), we had no trouble figuring things out.
Other features include:
Auto Daylight Synchro Fill Flash
Pre-Flash Metering
Shutter Speed: Auto, 1/30 – 1/2000 sec, Twilight 2 sec – 1/2000
Manual Exposure: ±2.0 EV, 1/3 EV Steps
Flash Modes of: Auto/Forced On/Forced Off/Slow Synchro
Red-Eye Reduction
White Balance
Picture Effects (Solarize, Sepia, Negative Art)
Various Scene Modes (Twilight, Twilight Portrait, Landscape, Beach, Snow)
10 second timer (so you can get in the shot, too)
Video outputs are NTSC or PAL selectable, which could come in handy if you're travelling the world and want to play back your shots on a foreign TV.
The software that comes with the camera is Pixela's Image Mixer, and it works fine and is easy to get a handle on. It works with Mac OS 8.5 and later, as well as Windows 98 and on.
I liked this camera a lot; my only real beef was the illegibility of the labels: as mentioned above, they're very small and the gray color blends in with the camera body making it even worse.
Part of the problem, undoubtedly, is that there are so many features crammed into today's technological devices there just isn't room for larger lettering. But can't they up the contrast ante a bit so that whatever lettering they do have stands out better from its background?
A relatively minor complaint in the grand scheme of things, but it does affect a unit's usability, especially for those who require reading glasses for whatever reason.
Jim Bray's columns are distributed by The TechnnoFILE Syndicate.