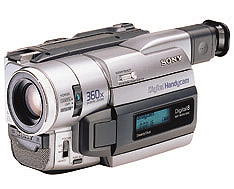 Sony Digital 8 Camcorder
Input Conventional Tape - Output High Quality pics
by Jim Bray
Sony's new line of digital 8mm camcorders is a real winner, if the model DCR-TRV210 is any indication.
I had the opportunity to take this lovely unit on vacation with me (life is, indeed, tough!), and found it a pleasurable unit, and as straightforward to use as something with this many features can be.
When I got it home, however, and hooked it into my TV set, I had an even more pleasant experience: its picture quality is nothing short of superb!
The Sony uses conventional 8mm tape to record its digital images - either regular or Hi8mm. I used a high 8 tape, since it's supposed to offer better performance anyway. One thing to remember is that the digital version of 8mm zips through the tape twice as quickly as conventional 8mm, so if you're planning to do a lot of shooting you'd be well served bringing along a couple of extra blanks.
I bought a 2 hour tape, which gave me a full hour's worth of taping, and found that more than adequate for my use (I refuse to spend an entire vacation with my eyes fixed to a viewfinder).
Speaking of viewfinders, the DCR-TRV210 continues the welcome trend of including a color LCD screen on the camcorder. Sony mounts its on the side, from where it swings out to make the machine look like some kind of single winged creature.
The LCD viewfinder is three inches in diameter, which isn't the biggest around (even higher end models of this series sport 4 inch monitors), but which is plenty big enough for most real world applications. It has 89,000 pixels and can be switched for front or rear viewing, for those times when the shooter wants to get in on the action as well.
The LCD viewfinder is not only handy for its color picture, but because it lets you view the shot while keeping the other eye on what's around you - making it less likely that you're going to trip over something. It also lets you interact better with the people around you.
The conventional viewfinder is black and white (color is offered on higher end models as well).
I ended up using the old-style viewfinder for virtually all of my outdoor shots, since LCD's tend to wash out in bright sunlight regardless of what the brochures say. Indoors, the LCD was great.
Sony claims the 210 offers 500 lines of horizontal resolution picture quality and, while I didn't measure it, I have no reason to doubt the figure. Playback from the camcorder yielded a spectacular picture I haven't seen this side of higher end digital recorders.
Sound quality is also first rate. I don't know if it's better than CD quality - as Sony claims - but if it isn't it's close enough for those of us in the real world. Sony uses 16 bit PCM (pulse code modulation) stereo and includes a "12-bit non-linear recording mode" that's designed to let you add narration or background music to your masterpiece. The catch here is that you have to dub it to a digital video format machine first...
A nice touch is the unit's ability to output analog 8mm tapes (the stuff you recorded with your old 8mm camcorder, which this unit plays easily) in digital form. This means you can output it to your PC or a digital editing system and make virtually perfect copies of the original tape without "generation loss."
The unit fits easily on your hand via the usual strap, and the zoom control is mounted reasonably well. I found it a touch far away from my stubby fingertips unless I had the strap done up quite tightly (not a bad idea anyway, since it helps prevent the camcorder from coming loose and leaping from your hand).
The zoom is an unbelievable 360 times (digitally aided - it's 20X optically, which is still good), which allowed me to bring fairly close an island I was told was at least ten miles away from me.
The downside here (and it's a big one) is that you'll want a good tripod for such outrageous zooms; I didn't have one with me (duh!) and my hand couldn't hold the unit still enough to make the long zooms of any real value at all. I ended up with dancing pixels that occasionally coalesced into the image I was seeking - but only for an instant before it danced away again.
The best examples of the digital zoom I got were achieved by resting my elbow on someone's car (much to the chagrin of the car's owner!) and using it to balance the camcorder. It worked, and I got some acceptable shots, but I pined for my tripod.
This "dancing" was in spite of the built in "SteadyShot" image stabilization system, which worked fine under normal circumstances. When trying ridiculous zooms, however, like attempting to find the remains of an Apollo project Lunar Lander in the Sea of Tranquility, the unit's capabilities are stretched beyond the breaking point.
This isn't a shortcoming of the Sony, however; such performance is beyond the scope of today's consumer technology.
The TRV210 also comes with Sony's "NightShot" 0-lux recording, a system by which you can record in virtual darkness. I works, but I feel this is a feature in search of an audience. The camcorder's normal low light performance is more than adequate for most shooting, and the average consumer isn't likely to need a camcorder in the depths of a coal mine.
Still, I suppose it's nice if you do need it, but I'd rather do without it and some of the other non-mainstream features and save fifty bucks on the price. There are a bunch of those other features you may never use, including the common digital picture effects like sepia, B&W, and pastel - and you can do 16:9 widescreen shooting (okay, I like that one!). These are common on most comparable camcorders, so one can't fault Sony for piling on.
On the other hand, Sony has included thoughtful touches - like illuminated VCR buttons for playback - that I probably wouldn't have missed if they weren't there but which make the camcorder a real treat to use.
You can also use the camcorder to shoot digital still pictures, and access them later via the supplied remote control. I couldn't access the stills I took when I got back home, though I found it later that it was a case of operator error. Unfortunately, the camcorder had to go back before I had a chance to try again. I assume the feature works as advertised, since Sony's a pretty credible brand name.
Battery life depends on whether or not you're using the LCD or conventional viewfinder (the LCD eats more power), but I was satisfied with how the "infolithium" battery performed. Recharge only took a bit over an hour, so it isn't a big deal - though you should always have a spare battery around anyway.
The DCR-TRV210 is priced in Canada at $1399, so it it's a mid-priced camcorder by today's standards. Considering the abundance of features and outstanding picture/sound quality it gives you, however, I think it's a steal.
Specifications/features (manufacturer's info):
LENS
20x Optical Zoom (variable 2.40-45.40 sec.)
360x Digital Zoom
F/f (Focal Length): F1.4 - 2.9/f=3.6 - 72mm
f (35mm conversion) 41 - 820mm
Filter Diameter: 37mm
NightShotTM
CAMERA
Full Range Auto/Manual Focus (Dial) / Infinity
Image Device: 1/4" 720H
Number of Pixels: Gross - 460K; Effective - 290K
Minimum Illumination: 1 Lux (0 Lux using NightShot? Mode)
Auto White Balance
Shutter Speed: 1/60-1/4000 (in AE mode)
Program AE: 7 Modes - Programmed Auto, Portrait, Beach & Ski, Sports Lesson, Landscape, Spotlight, Sunset & Moon,
Low Lux Exposure Control
Backlight Compensation Switch
Edit Search (Cam/VTR) Rec. Review
End Search (Cam/VTR)
Fader - Black, Mosaic, Bounce, Monotone, Overlap
World Time
SteadyShotTM
EVF
B&W Viewfinder
Tape/Battery Remaining Indicator
AUDIO
PCM Digital Stereo (12/16 bit)
PCM Mix Balance
Built-in Stereo Microphone/Wind Position
Built-in Speaker
Speaker Volume Control
VTR
Digital8
Hi8 Playback
Standard 8 Playback
Quick Record Start
Fine Synchro Edit Ready
Clean, Still, Slow/Frame Advance (with remote)
Date Search
Colour On Screen Display
Zero Set Memory (with remote)
Record Mode Variation (Normal/5 second/Anti ground shooting)
Linear Time Counter (8mm playback only)
Time Code
Advanced Data Code (Record Date, Time, Camera Info)
Tape Guide (with remote/Photo, Date Search)
JACKS
Video In/Out
S-Video In/Out
Audio In/Out (Stereo)
DV In/Out
External Microphone Input (Stereo plug in power)
Stereo Phone Jack
LANC (Stereo Mini-mini jack)
RFU DC Out
REMOTE COMMANDER®
Camera: Rec. Start/Stop, Zoom, Photo
VTR: PB, Stop, FF, REW, Pause, Search, Select Data Code,
Slow, x2, Frame, (+), Frame (-)
Camera/VTR Common: Display, Zero Set Memory
VTR 2 mode
OTHERS
LCD Indicator
Laser LinkTM Laser Link Button
Remote Sensor/Remote On/Off Switch (Menu)
Digital Noise Reduction
Beep Sound/On/Off Switch (Menu)
16:9 Wide-Mode Recording (Full)
Digital Effects - 6 modes: Still, Flash Motion, Slow Shutter,
Lumi Key, Trail, Old Movie Picture Effects - 8 Modes: Slim, Stretch, Mosaic, Solarization, Black & White, Sepia, Negative Art and Pastel
Menu
Front Tally On/Off Switch (Menu)
InfoLITHIUMTM System
Record Time Indicator
Demonstration Mode
Power Consumption:LCD On: 3.2 watts LCD Off: 3.9 watts
Cut Off Voltage - 5.3V
Accessory Shoe
Self-illuminated VTR Buttons
LCD MONITOR
3" LCD Monitor
Pixels: 89,380 Dots
Mirror/Upside Down
Brightness Control
Colour Control (Menu)
90° Opening Angle
Turning Angle: 90° Clockwise 210° Counter Clockwise
LCD On/Off*
Noiseless Still/Slow
Tape/Battery Remaining Indicator
Anti-Glare Treatment
Backlight Brightness Select (Normal, Bright, Menu)
*LCD on/off is related to LCD open/close
Dimensions
(WHD/mm): 108 x 107 x 217mm
Weight (without tape/battery): 930g