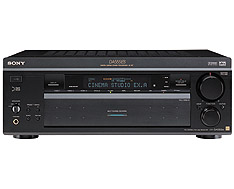 Sony STRDA555ES A/V Receiver
Heavy Duty Digital Delight
By Jim Bray
If you like Sony's mainstream audio/video receivers, but want something a little more high end, the DA555ES receiver may be your cup of tea.
Sony's "ES" series is the company's "flagship" line of products, much as their best TV's carry the XBR moniker. The 555 is the middle model of its ES receivers, and it's a fine product that offers abundant features, good quality and - best of all - good sound.
The 555 ($1000US) competes head to head with such receivers as the Nakamichi AV10. I don't think it sounds quite as good as the Nakamichi, but it's a close call - and the Sony has an abundance of features and digital toys not found on the Nak.
The DA555ES pumps out 120 watts into all five of the home theater channels, which should be ample for most reasonably mainstream installations. It also comes with built in Dolby Digital (AC-3) and DTS surround decoding (It also does Dolby Pro Logic, of course), and a complete set of inputs and outputs.
Those inputs include TV/Satellite, DVD/LD, two sets of VCR inputs/outputs, phono, CD, MD/DAT, and Tape. There's also a bunch of digital inputs, four optical and one coaxial. Add them all up and there isn't a lot you can't patch into this receiver. There's even a set of "5.1 Channel inputs" through which you can plug future 5.1 digital technologies that may come down the pike.
All the video inputs can use either regular RCA jack or "S-Video" connectors.
Likewise, there are "S" and regular video out terminals for two video sources (which I called "VCR I/O's" above) and the video/TV monitor. There's even an optical digital output, which is labeled as for a minidisc or DAT player.
Speaker outputs are of the big binding post variety, which is as it should be. There are two sets of "front" speaker terminals and one set each of surround and center.
Let's Split...
The 555 has the nice capability of being able to split the preamplifier off from the amp, for people who want to take advantage of Sony's digital technology but would rather power their speakers with a different amplifier.
This is a wonderful bit of flexibility that I used during the review period when a higher end amplifier also arrived for testing. I used the Sony's five "preamp out" terminals and ran patch cords to the inputs on the other amp, which gave me the best of both worlds.
I don't make this "splitup" point to denigrate the Sony's amplifiers. In fact, most people will undoubtedly be very happy using the Sony's built in power amp. There's nothing wrong with them; the receiver has a rich, full sound that, if you ran it side by side with a lower end Sony receiver, will show you just why you may want to spend the extra money for an ES unit.
But you can get even better sound by using a different, separate amplifier, and this is what some people will choose to do. This nice bit of flexibility also lets you upgrade your system down the road - adding whatever quality of amplifier you can afford - without rendering the rest of your digital surround system obsolete.
The front panel is rather handsome, and about half of it's covered by a door that hides most of the buttons and other controls that operate and tweak the multitude of settings. With the door up, visible controls are limited to the large volume control knob, the function controller (with the nearby "mute" and "mode" buttons), the power button, speaker control switch, headphone jack, and a cluster of four buttons that switch between AM and FM and control tuner presets.
Open that door, however, and you're greeted by an intimidating array of controls that run the gamut from "sleep timer" and input mode to cursor mode and cursor controls, sound field, and equalizer on/off. There's lots more, but most people won't do a lot of fiddling with them once the intial setup is completed.
The owner's manual gives extensive and well illustrated advice for hooking up and tweaking all manners of configurations using the almost ridiculous number of adjustments Sony has crammed into 555. You can set adjustments for your speakers' positions, distances, heights, and sizes, and the standard test tone generator (all of which are accessible from the remote control) lets you set the speakers' volume right from your favorite listening or viewing spot.
It's a complicated setup, but Sony does a good job of making the manual understandable.
Surround modes are in abundance. Not only do you get the aforementioned Dolby Digital, DTS, and Dolby Pro-Logic, but there are enough other digital adjustments to satisfy the most jaded toy aficionado. These range anywhere from "normal surround" to "cinema studios" for different genres of movie and settings like "night theater" (which lets you run your home theater at a relatively satisfactory volume without keeping the kids awake).
You can use other settings to "virtually" reproduce your surround speakers - or give you surround sound with only front speakers, and there are also the usual concert hall/sport stadium venue effects that have become common over the years.
The settings I ended up using the most were "Normal Surround" and "Auto Format Decode," which recognizes the incoming signal and sets the receiver to the proper configuration for you.
As with the last Sony receiver we reviewed, the weakest link in the chain is the Remote Commander. In this case, it's a particular shame, since the idea behind the remote is terrific; unfortunately, it's hamhandedly executed.
Sony includes a programmable LCD unit that, at first glance, seems wonderful. Unfortunately, the screen is dim (even with its backlight on), its operation's confusing, and the "Standby" power button is mounted so that you're likely to shut the receiver off merely by picking up the remote.
The remote itself has lots of features, and can be programmed via codes to operate a wide variety of "other brand" components - and you can program macros that make it do several things at once.
I quickly discovered it was easier to get up and use the receiver's front panel controls - which makes the remote rather pointless.
Sony makes an excellent LCD remote (the $180 RM-AV2000), so I don't understand how they could blow it with this one.
Still, it was the only shadow over a nice home theater component and, on the upside, not using the remote could help you get some exercise!
Jim Bray's columns are distributed by Creators Syndicate Inc. Copyright Jim Bray.