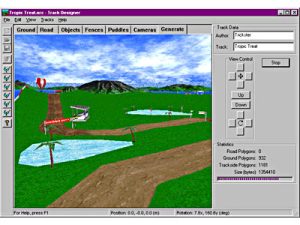 SODA Off-Road Racing
Down and Dirty, with bounce
No, Soda isn't about "pop"-ing your clutch. SODA, short for Short Course Off-Road Drivers Association, is a down and dirty off-road simulation that, if you've never gone off road before, will have you spitting mud from between your teeth.
SODA gives you a choice of three different vehicles in multiple configurations (different horsepowers, 2 or 4 wheel drive, etc.), and a dozen different short tracks that'll challenge your skill and patience. Scenarios include desert, country, and tropical settings, and you can also create your own track with the game's designer module.
Off-Road driving is a real challenge, since dirt and mud don't act the same as asphalt - and 4 wheel drive works a lot different than 2 wheel drive! We found the differences from such other simulations as IndyCar Racing and NASCAR 2 enough that it was a whole new ballgame as far as keeping your vehicle on the road was concerned.
And of course that only makes it more exciting.
Initially, we were disappointed in the graphics, but within a few laps we'd forgotten about that and were more concerned with the announcer that insisted on giving us a running commentary on how far behind the others we were. Frustrating!
Vehicle settings are varied and flexible; for instance you can adjust your wheels' camber, the springs, shocks, and the gearing. Experimentation pays off, 'cause what works on one track will suck out loud on the next, causing you untold headaches as you find yourself bouncing over a hill and sliding off a corner that should have been straightforward. Oh, and you can set the game so your vehicle's damage shows up - though you may want to leave this for a while, at least until you can make it through a race in one piece.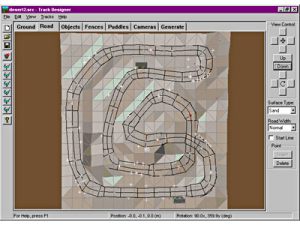 The interface works well and is quite straightforward.
The graphics are unfortunately accelerated only for the Rendition chipset, which we don't have. Still, as mentioned above, any complaints about the "unaccelerated" graphics were minimized by the action. The graphics are configurable, or can be set to "auto" so they act according to your computer's power. SODA also includes support for force feedback, which is nice (though we didn't try it).
As with other racing sims, you can race against opponents in single races, championships, or in practice mode.
SODA Off-Road racing won't go down in history as our favourite racing game, but that isn't a slam against the game; it's more because we're into open-wheel, Indy car type racing. If you like skidding around in the dust, you might find SODA has just the right fizz for you.
MINIMUM SYSTEM REQUIREMENTS:
Windows 95, Pentium 90, 16 Mb RAM, 30 Mb Hard Disk space, 16 bit Win95 and Directx3 compatible sound card, 2X CD-ROM drive, VLB/PCI SVGA DirectX2 compatible graphics adapter. Pentium 133 recommended.