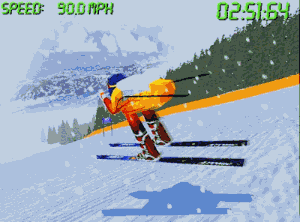 "Front Page Sports: Ski Racing"
PC Gaming goes downhill...
By Steven Bilodeau
Picabo Street, America's 26 year old silver medalist in the 1992 Olympics, had a tough start to 1998. She underwent knee surgery in January and had a spectacular downhill crash in Sweden that threatened to jeopardize her chances of even competing at the Nagano Olympics. However, she not only recovered, but won gold in the women's super-G.
As icing on the cake, she's the host of computer gaming's first true ski simulation, Sierra's "Front Page Sports: Ski Racing." Street is not just the token endorsement, she is an integral part of the game. When it was being developed, she guided the programmers in perfecting the player physics. As you play the game, she appears in high-quality videos to explain the techniques and differences in the different ski events.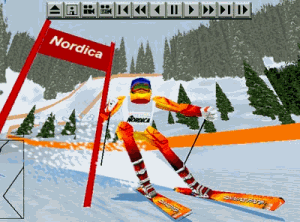 The game offers five types of skiing: slalom, giant slalom, Super-G, downhill and all-around. There are also six world-class courses including B.C.'s Whistler. The others are Aspen, Vail, Bachelor, Val d'Isere and Garmisch. Each one has been faithfully recreated for an authentic experience. The terrain, trees, cliffs, gate flags, crowds and scenery are all where they're supposed to be.
Gameplay is challenging; this is no arcade game. Training sessions include running commentary from Picabo Street where she advises on the mistakes you're making. Crouching, standing, edging – all of these moves must be mastered while making sure you pass through the markers quickly enough.
It seems too difficult at first, but that's because it's authentic. Once you spend some time with the game, you'll start to get the hang of it and be able to make it through the course in winning time. You can even perform tricks while you're airborne in the jumps, like helicopter spins and spread eagles.
When you've finished the race, you can use the Instant Replay feature to see what you've done right and where you can improve. Different camera views are available, and you can edit the "film" to create a clip of your run that can be saved to disk. They're great to watch, especially since the details and colours are so impressive. The graphics in this game are optimized for 3D accelerators, though iIf you don't have a 3D card, you'll still enjoy the graphics, and you can adjust the settings for optimal performance on your computer.
Besides playing as Picabo Street, you can create your own skier to compete through an entire season or a single race. This isn't just an exercise in assigning your name to some prefabricated player. You get to choose your brand of skis, boots, helmet and outfit. Most of the major brand names and colours are available including Dynastar, Rossignol, K2, Nordica and Atomic. It's this personalizing that really makes the game fun. That, combined with Street's exuberant video tips, brought me back to this game more than any other sports title (other than golf).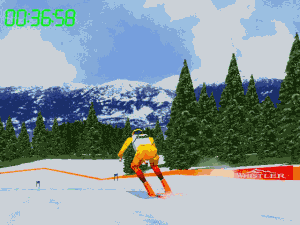 Besides the graphics, players will notice digitized sound effects as you slice down the hills and stereo music in the background. If you have a force-feedback joystick, you can feel the moguls as you pass over them, and the crunch of the fence that you crash into.
This is Sierra's first foray into skiing, and there's still room for improvement in the next release. The scenery, while impressive, could use a bit more detail. The skier can also look a little blocky or angular at times, even at full detail.
One of the major additions supplied via a patch is be multiplayer capabilities to allow competitions over modem, networks or the Internet. Internet gaming will be particularly interesting since Sierra has a free site that lets players connect with each other more easily.
Picabo Street, the Olympic medalist, has lent her name to a winner of a computer game. It's a challenging, accurate and fun recreation of one of winter's favorite sports. After playing it awhile, you'll wonder why it's taken so long for this sport to move indoor to your computer.
Steven Bilodeau is a columnist for the Edmonton Journal. You can find more of his columns at www.southam.com/edmontonjournal/computers/bilodeau.html.
Steven Bilodeau can be reached via e-mail at StevenB@msn.com. And for more computer news, visit JournalExtra, the World Wide Web site of The Edmonton Journal, at http://www.edmontonjournal.com.