SIRIUS Sportster, Boom box Contribute to Serious Satellite Listening
By Jim Bray
February 14, 2008
Satellite radio is a wonderful innovation for people who are tired of the "Same old same old" of most terrestrial broadcasting.
It's also ideal for people who travel a lot: you can listen to your favorite station from coast to coast, without it fading out once  you're out of range.
You may lose your favorite local news cast and, depending where you live, you may or may not also lose local traffic info – but that isn't a big deal because subscribing to satellite radio doesn't mean you can no longer partake of the "old fashioned" radio stations available in virtually every car or home radio these days.
I've been listening to the SIRIUS satellite service for several months, and I love it. Not only does it give me a much broader selection of material than the tired old "classic rock" and local talk I can get in my neck of the woods (and, seemingly, every other neck of the woods I visit) but, thanks to the portability of some SIRIUS hardware, I can listen to the stuff in my own  vehicle, the vehicles I test drive regularly, and my home audio systems.
It's great! I can get my fill of obscure classic rock, standards, and even Broadway's Best, though as I've complained before, the latter channel is even more repetitive than my local "classic rock" stations – but, unlike the offerings of my local over-the-air channels, at least I can hear some great show tunes and interviews with "Broadway's Best".
SIRIUS sent me the Sportster 4 Plug and Play receiver to test (and while I was playing with it they unleashed the Sportster 5, which shows how quickly things change - though the 4 is still available as of this writing).
I really liked the Sportster. Unlike my portable Stiletto (which has other advantages), it features a display large enough for me to make out without my reading glasses (which comes in handy when I'm driving!), preset buttons that are large enough for my stubby little fingers and laid out so I could operate them by feel, leaving me free to keep my eyes on the road.
The Sportster 4 is a plug and play unit you can use in the car or in the home, as long as you have the proper docking stations. It comes with a car kit that would undoubtedly work well if I drove one vehicle long enough to warrant a "permanent" installation.
But there's also a mount that includes a big suction cup you can stick onto your vehicle's windshield which, depending on how far away your windshield is, can be nearly as handy as mounting it on the center stack.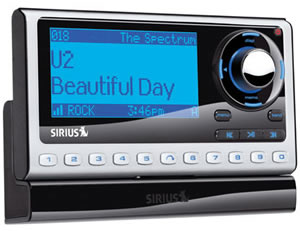 The head unit locks into its mount so it doesn't fly around (unless the suction cup lets go suddenly, which happened to me a few times when I wasn't paying attention when mounting it), and it's easy to remove the head unit and take it with you when you park, to help prevent attracting thieves.
The little antenna is magnetic, so you can stick it on the outside of your vehicle wherever it's most convenient for you – and there's plenty of wire. In my constantly changing temporary installations, I usually placed it on the dashboard (with a little "sticky pad" thingy that kept it from sliding around) and it worked beautifully. And I usually stuck the suction cup/mounting arm into a cup holder and, though it tended to fly out if I cornered aggressively, for the most part it worked well – and kept the head unit at hand.
You get the tunes from the Sportster to your car audio system either via a built-in FM tuner (you just set an unused frequency into the unit, then tune your vehicle's radio to it) or a stereo audio jack/cable. The latter can give you better sound, but the former is more universal and convenient, since not all vehicles have "iPod jacks".
Here's a list of some other features:
SIRIUS Replay: Pause, rewind and replay up to 44 minutes of live radio
30 Presets (you can store more "favorite channels" than I could find favorite channels)
Rotary tuning knob: Surf channels on the fly (this is safer if you use it when the unit's docked somewhere other than your vehicle!)
S-Seek Alert: Don't miss your favorite artists, songs and sports (I loved this feature! I programmed in a couple of my favorite bands and when any channel was about to play one of them, it would hoot a warning and I could home in to the tune. The first couple of times it happened it nearly scared the pants off me, though: I thought it was a radar detector going off!)
Game Alert: Track your favorite sports team and race driver (assuming SIRIUS covers them – and they do cover plenty of stuff, including  the NFL, NASCAR, NBA, NCAA, Arena Football League, Canadian Football League, various soccer leagues, Wimbledon and horse races. I didn't notice any dog fighting, though.)
Parental controls: lets you lock and unlock channels to keep the ankle biters from listening to stuff you don't think they should.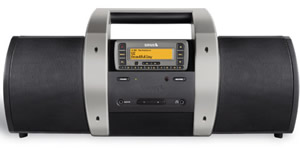 Baby Boomer….
SIRIUS also sent me their Universal Boombox, into which the Sportster plugs for those times when you're at the beach, on the deck,  tailgating, or whatever. You can even use it indoors as long as you can place the antenna where it can receive the signals raining down from the sky.
In my case, this usually meant running the wire out a window, and it worked fine.
Even better, the antenna will mount right on the Boombox itself (for those tailgating and deck party emergencies), which eliminates the chance of litigation caused by your gardener tripping over the wire.
The Boombox offers pretty good sound, thanks to its "2.1 full-range sound system" that includes separate tweeters and mid range speakers, plus a powered subwoofer. It can't compete with a high end home audio system, of course, but for what it claims to be it's more than adequate.
It also includes a headphone jack, for those times you want to groove without bothering others (an important public service!).
SIRIUS says the Boombox is compatible with all its Universal Plug & Play radios and gives up to nine hours of groovin' on batteries (it takes eight D-cells). If the thought of shelling out for eight D cells every nine hours fills you with horror, you'll be happy to know it also comes with an AC adapter – though you'll need a heckuva extension cord if you're in the boonies.
Naturally, the Boombox also comes with all the features of whichever radio head unit you plug into it. I used it with the Sportster 4, and its remote control came in really handy; I could change channels without having to get up off my, er, chair, thus helping to ensure the continuation of a completely sedentary lifestyle.
The biggest advantage to either of these units is that you get the SIRIUS satellite service. I've listened to both satellite services, thanks to them being installed in an increasing number of vehicles these days, and prefer SIRIUS' selection, though to be fair I haven't listened to XM as much so can't give a complete "apples to apples" comparison.
It's true that, of the 100+ channels available, I probably only listen to about 15 on a regular basis and have programmed out entire genres that don't interest me. But that's the beauty of it: there's probably a good 15 or more channels, from hip hop and Howard Stern to Broadway, contemporary and classic rock, country, comedy and talk, that'll appeal to just about anyone.  
Copyright 2008 Jim Bray