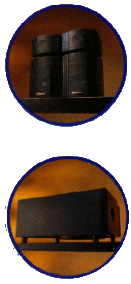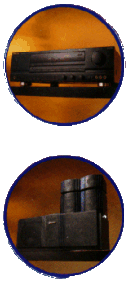 Sherwood's HTS-500 Home Theatre
A box full of sound!

There's a veritable forest of audio components on the market that will give you surround sound for your home theatre. So many, in fact, that the person who wants to have a decent system without spending the rest of his or her life figuring out the ins and outs of the audio video market might pine for a single "one stop shopping" option.
Sherwood Electronics has come up with just that, offering a series of "complete" home theatre components crammed into a single box. The series ranges in price from entry level to fairly hefty ($299 to $2000US), so there's something for most people.
Mid-level Hi Fi…
Sherwood sent TechnoFILE the HTS-500, which lists for about $1000US, and it really does come with everything you need to have good surround sound in your home, with a couple of exceptions. Those exceptions are your playback sources, i.e. CD, Laserdisc player or VCR, and your video monitor.
Still, you get a lot for your money in this single rather large box (we pitied the poor courier who hauled it into our home theatre - and were grateful we didn't have to do it!): it comes with audio/video receiver and all the speakers you need for real Dolby Pro-Logic sound. There are front left, centre, and right speakers, a subwoofer, and a pair of rear surround speakers.
The components work well together, too. The receiver, Sherwood's RV-5050R gives you 70 watts for each of the three front channels and 25 watts out back. It also comes with an easy to use remote control and Sherwood has even rather thoughtfully included a set of video input plugs on the front panel, so you can easily hook in a camcorder.
Those plugs share the "VCR 2" inputs with another set on the rear panel, in effect giving you three video inputs, though you can only use two at any one time. Still, how many video sources do you use at any one time?
The main front speakers are of the "satellite-and-subwoofer" type that has become quite popular over the past decade or so. The satellites are shielded (so they can be put close to your monitor - though you'd be best separating them a lot more than that) and include a 3.5 inch midrange driver and ¾ inch tweeter. Each driver is mounted in its own compartment, and you can swivel the top part to aim them more directly at your listening area.
The centre speaker is also shielded (and that's the one that really needs it - it sits right on top of, or below, your TV) and consists of two four inch woofers and a ¾ inch tweeter.
The "passive" subwoofer (that means it doesn't have its own amplifier) enclosure has a 10 inch driver and is a ported "bass reflex" style speaker. This is good: bass reflex speakers generally offer more "oomph" per watt than a sealed cabinet.
The rear speakers look just like the front satellites, but they aren't shielded. The rear speakers are labelled as such, so make sure you place them properly.
You also get a set of wall brackets for mounting the speakers.
The little touches…
Sherwood is serious about making your home theatre purchase as painless as possible. Besides putting virtually all the audio you need into the box, they've also included all the speaker wire and, even better for the electronics "fraidy cat," a guide to hooking it all together, and even a VHS video that walks you through the entire setup process.
It's a really nice touch and we have to give Sherwood full marks for its thoughtfulness in this area. Many people may find the video especially helpful; it even advises you to pause it at strategic moments, so you can go through with the installation process it just showed you while it's still fresh in your memory.
Features…
The RV-5050R A/V receiver has all the features the average person will need. Besides offering 70 watts to the three front channels, it pumps out 90 watts in stereo for the times when you're just listening to music. For surround sound you get both Dolby Pro-Logic and "Dolby 3 Channel," as well as the usual test tone generator for setting up your speakers' balance, and you can adjust the delay time between the front and rear channels.
You also get an AM/FM tuner with 30 station presets (probably more than you'll ever use) as well as 4 other audio inputs. The tuner also has "preset scan," which zips through your programmed stations one at a time, giving you the chance to find a radio station that actually plays good music, without having to search the entire band. You can also punch in a frequency manually. A sleep timer rounds it off, and the whole shebang can hook in with other Sherwood components courtesy of its "Digi-Link III" jacks.
About the only complaint we had about the receiver was its strange power switch. When you turn on the main switch on the receiver, you're supposed to leave it on and control it thereafter from the remote, which switches it from "standby" to "on." That's fine most of the time, except for the occasions when you're over at the receiver anyway and try to turn it on manually: you end up shutting down the main power, which means the remote won't work until you press the main power switch again.
That's a pretty minor point, though. As long as you leave the main power on and operate the receiver from the remote you'll be fine, and let's face it, you'll be using the remote 95% of the time anyway.
On the receiver's backside you get an output jack for your video monitor (as well as all the usual inputs and outputs, of course) and you can split the preamp from the power amps to mix and match amps and preamps if you're into such things. We don't think many of the HTS-500's buyers will do that (it works fine the way it is) but it's there if you want it.
One thing you don't get on the receiver's rear end is an antenna input that lets you hook your cable directly into it so you can receive FM radio signals via the cable. Whether or not this is a big deal to you depends on your location and your radio listening habits, of course, but we missed it.
Still, there are lots of other receivers that also lack this input and it isn't hard to work around it anyway. We just want to have our cake and eat it, too…
The HTS-500's remote control will operate other Sherwood components (encouraging you to buy more of them, of course) that plug into the receiver with the above-mentioned "Digi-Link III" system. We'd have liked to see a Universal remote, or at least a "learning" remote for people who already have a CD player, TV monitor, etc. Still, for the overall price, one can't really complain.
Sound Investment?
Perhaps the bottom line with any home theatre audio system is its sound quality. So how does this Sherwood stack up? We were actually pleasantly surprised. On the whole, the HTS-500 gives enough room-filling sound to fill what we'd estimate would be the average living or family room.
The subwoofer really helps to make your movie soundtracks thunder when they're supposed to. We thought it was a touch boomy at times, but not unpleasantly so. You can get around some of this boominess by moving the subwoofer around; if you're buying a system like this, don't be afraid to fool around with different locations until you find one that works best for you and your room.
The surround sound worked well and gave us a very enjoyable movie watching experience, even though we didn't hang the rear speakers properly (we didn't want to risk damaging Sherwood's equipment).
We noticed that the Sherwood sounded a little "bright" when compared back and forth with our reference system, but weren't really surprised: our reference speakers alone sell for more than this entire system, so we would have been a mite upset if the affordable Sherwood had blown 'em away.
Still, when just listening to the Sherwood, and not "A/B'ing" the systems back and forth, we found it sounded pretty good and think it will serve very well the market niche at which it's aimed.
After all, this is not a so-called "high end" system, and we're willing to bet many audiophiles who surf TechnoFILE stopped reading this review after the first paragraph. That's fine; Sherwood isn't aiming the Home Theatre series at them. It's aiming these systems at the ordinary consumer (the same people TechnoFILE is aimed at) who want a good performer that won't cause a lot of fuss and that won't break the bank.
And we think that, at least with the HTS-500, Sherwood has succeeded quite well.
Sherwood HTS-500 Home Theatre Specifications:
RV-5050R Receiver:
power output (stereo): 20-20K Hz, 0.05% THD - 90 W x 2
power output (Dolby Pro-Logic): 1 Khz, 0.05% THD - 70 W x 3 front, 25 W rear
SP-750 Subwoofer:
SP-750 Front Speakers:
Midrange driver: 3.5 inch
Tweeter: ¾ inch
SP-300B Centre speaker:
Woofer size: 4" (x 2)
Tweeter size: ¾"
SP-300B rear speakers:
Midrange size: 3.5 inch
Tweeter size: ¾"
General:
Minimum Power Handling (RMS): 10 watts
Maximum Power Handling (RMS): 250 watts
Frequency Response: 22-22K Hz
Sensitivity (@ 1w/1m): 90 dB
Impedance: 8 Ohms