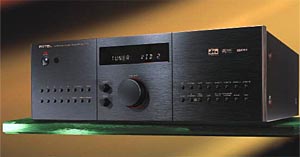 Rotel Receiver: Sweet Sound for Small Rooms
By Jim Bray
Rotel Corporation's RSX-972 home theater receiver may not offer the most "oomph," but if you're looking for excellent sound in a smaller room, it can do the job.
I must confess that I'm a Rotel fan; my reference home theater uses Rotel separates that I love for their excellent sound and build quality, so I went into the review of this receiver expecting it to be good.
It was but, surprisingly, it wasn't as good as I had expected.
Now, don't take that to mean the $1299 RSX-972 is a dog. It's a very good-sounding receiver; it just wouldn't be satisfying in my main home theater – and its ergonomics leave something to be desired.
The Rotel begins with a beefy power supply feeding five separate power amplifiers rated at 100 watts each in stereo and 75 watts each in the surround modes.
The receiver's rear panel sports enough inputs and outputs to satisfy nearly anyone. There's a 5.1 input for future upgrade (an "anti-obsolescence" feature), and 5.1 channel outputs that let you can hook in a separate power amplifier (if you like the receiver's features, but want a different amp).
Audio I/O's include 3 coaxial and 2 optical digital inputs, 1 coaxial and 1 optical output (for digital recording) and, for video sources, 5 composite (RCA) inputs (and 3 outputs), 5 "S Video" inputs (3 outputs) and 2 component inputs. There's also one composite, "S-Video," and a component video output to send signals to your TV monitor.
The component video "passthrough" is a great idea because it lets you patch your DVD player through the receiver. This is a feature my high end preamp doesn't offer, so I can't adjust the preamp, using its onscreen menus, without pausing the DVD and switching to the input on my TV that displays the preamp's output.
Speakers hook in via heavy duty five-way binding posts; gold plated RCA jacks accept the patch cords that connect the Rotel to most of your other equipment.
One thing missing from the rear panel is switched or unswitched AC inputs. This may be to avoid electrical interference with the Rotel and, while I can understand that, I missed the flexibility of being able to plug other components into the Rotel.
The RSX-972 can also run an system in a second room, where you can listen to a different audio source from what's playing in the main room.
The remote control is backlit, and bright enough; it also features light sensors that automatically will turn it on if the illumination of your room warrants. A manual switch on the side of the remote lets you override the automatic operation.
Unfortunately, the remote doesn't backlight the "source select" keys, which select the audio source to which you're listening, and those keys are hidden behind a sliding cover that looked as if it was ready to fall off at a moment's notice. It didn't, fortunately.
The remote looked easy to use at first, but it takes some getting used to, especially when accessing the on screen display. It didn't seem to like adjusting the volume, either; you'd have to press it a couple of times. On the upside, it's fully programmable, so you can teach it to operate your other components.
As mentioned, the sound quality is excellent and the receiver performed very well driving the satellite/subwoofer speaker system with which I used it. The sound is detailed and not boomy, and it excels in the surround modes.
Tracking of the audio signal from the main speakers to the center and rears was impressive. In DTS mode (it also offers Dolby Digital and Pro Logic, of course) the scene in "What Lies Beneath" where the bathtub fills with water as Michele Pfeiffer lays paralyzed, sounds extremely realistic. As the water rises, it muffles the ambient sounds of the bathroom and as the gurgling liquid envelopes her face it sounds as if you are also experiencing her agonizing helplessness.
It was on music that I really thought the receiver excelled, though. The bass is well controlled and the midrange and highs are clean and detailed, never harsh.
The bottom line for the Rotel RSX-972 is that it's a fine-sounding surround receiver that's eminently suitable for small rooms or efficient speakers, but its ergonomic issues take away some of the enjoyment.
Read more Manufacturer's information here
Jim Bray's technology columns are distributed by the TechnoFILE and Mochila Syndicates. Copyright Jim Bray.