Rotel RSP-985 Surround Processor/Preamp and RMB-1095 Power Amplifier
Rotel's Dynamic Duo
By Jim Bray
The Rotel Company offers powerful incentive for home theater purists to head in its direction.
I've been living with the "dynamic duo" RSP-985 surround sound processor/preamplifier and the RMB-1095 power amplifier, and I'm extremely hooked.
This pair of luxury components is ample evidence of why people go high end in the first place. Whether it be a Lexus automobile, a Runco TV or audio equipment like these Rotels, people buy high end because it offers a lot more than just status. Top of the line components are designed and built with care and generally use better quality components and fewer compromises. This not only gives you high end performance – but it generally gives you performance that lasts.
I came into this review somewhat familiar with Rotel. I used a Rotel amplifier as a reference unit about twelve years ago, and loved it. It was a plain, virtually faceless box that only pumped out about 65 watts per channel, but it provided beautiful sound and drove my reference system of the time extremely well.
That was then and this is now. Technology has marched along a good distance in the past decade, as have the needs of TechnoFILE's reference system, and this new pair from Rotel reflects that technological change while sticking firmly to the high road.
Each piece of this beautifully matched set will set you back $1995US, but when all is said and done you'll have such silly grin on your face your spouse (or, for the politically correct crowd, "significant other") may wonder what you've been up to. That was certainly what happened to me, and Rotel must shoulder the full blame for my wife's suspicions.
Anyway, Rotel's use of quality parts and workmanship (as you'd expect from any product in this price range) definitely shows. It's heavy duty equipment, indeed, and it performs as well as one would expect from this segment of the marketplace.
Both of these components are "THX Ultra" certified. That's a George Lucas-driven standard originally created as a studio reference monitoring tool and it's meant to ensure that what you hear in your home theater is as close as possible to what the filmmakers originally produced on the dubbing stage. Naturally, this depends on other things, like your speakers, your room, and even on the source material being played, but on the whole it's a wonderful quality assurance tool.
Head Games...
The RSP-985 "head unit" features Dolby Digital and DTS decoding. It has six audio/video inputs and six digital inputs: four coaxial and two optical. Each of the video inputs also supports "S-Connectors." The audio inputs are labeled "CD" and "Tuner," but each also has its own RCA and "S-Video" inputs, so you can really hook whatever you want into them, which is great.
I used the CD inputs for my DVD player, patching the digital audio stream into the Rotel's coaxial digital input; the video went directly to the "component video" jacks on the TV, so in the end it didn't really matter what video inputs the Rotel had because I bypassed them anyway – but it's nice to see them giving you such great flexibility.
There's also a set of tape monitor jacks and a DB25 "5.1 channel input" connector that makes the system upgradable to other digital audio standards that may come along. This "anti-obsolescence" feature is extremely welcome, especially in a unit that costs a relative arm and leg.
You also get a subwoofer output.
As if that isn't enough, the RSP-985 is also "multi-zone, multi-source" capable, so you can watch a movie in the home theater while someone else listens to music in another room.
The unit offers a lot of other flexibility, too, including four "music effects settings" like "hall" and "club". I don't really care about such gimmicks, but they're there if you want them, and they work as advertised.
You can also set it to mono, sending all channels to the front center speaker. This is nice when you're watching a DVD in "Dolby 2 channel mono," because it puts the sound at the screen, where it belongs, instead of leaving it at the two main speakers, which can lead to a "ghost image" of the audio that may or may not (depending upon where you sit) seem like it's coming from the screen.
Rotel says the RSP-985 uses 24-bit D/A converters, two Crystal and three Motorola chips in its circuitry.
The RSP-985 has a multitude of other parameters you can adjust via menus on your TV screen, too. These include speaker and subwoofer level, balance and setup, signal source selection, default processor settings, and much more.
This is fine as long as you're running your video components through the Rotel. If on the other hand you're running, for example, component video directly from a DVD player to a TV monitor, the only way you can adjust the Rotel and see what you're doing is to pause the DVD, switch the TV's input to the one to which the Rotel is connected, adjust the parameters, and then go back to the disc. This is a bit more tedious than I liked, but there's no way around it – and to be fair, the process would be the same for any other audio component connected in this way if, like the Rotel, it doesn't have a front panel readout.
If you run all the video sources through the Rotel, however, this problem doesn't exist and the onscreen menu appears fairly unobtrusively over whatever source you're watching.
I think the only way around this potential conundrum would be to put component video inputs and outputs on the RSP-985, and maybe future models will include this. This would also mean you'd need an extra three patch cords for the extra circuit, but that's not a big deal.
Besides, it's a pretty minor point in the grand scheme of things. Most of the time I spent watching DVD's I used the Rotel's THX setting, which takes all the thought processes out of it anyway.
For purely scientific reasons, I spent quite a bit of time messing with the Rotel's settings, tweaking speaker balances, subwoofer volume, default settings and the like. It's a wide range of parameters, and will help you tailor the equipment to your particular room, but once I found the settings I liked the best it was basically "set and forget"
The final piece of the puzzle is an illuminated universal remote with which you can do all the aforementioned tweaking, as well as control many other components from various brands. I noticed that it would sometimes take a couple of times pressing on the remote's volume controls for them to work, but this could have been due to something as simple the batteries needing replacing – and to be honest it worried me so little that I couldn't even be bothered checking the batteries.
The remote, and the "parameter fine-tuning process" that uses it, are probably the weakest links in the unit, especially to a "high end audio neophyte," but that's pretty nitpicky. The manual does a fairly good job of explaining the terms and the choices you have, though its language at times bordered on being a little highfalutin' for ordinary consumers.
One other small criticism is Rotel's use of single LED's to indicate multiple functions, which forces you to use the onscreen menu to learn the unit's status. The above caveats apply here, however: if everything's patched through the Rotel it doesn't matter, otherwise it may.
And if that's all I can find about which to whine, then life with Rotel must be pretty good.…
While the RSP-985 isn't the most user-friendly component I've used, on the whole Rotel has done a pretty good balancing act between features, quality, and ergonomics; I ended up liking the unit so much I'd have crawled over broken glass to learn its many ins and outs, and as mentioned earlier once you tweak the thing to your favorite settings, you can pretty well forget it from then on.
So consider the learning curve a grand adventure!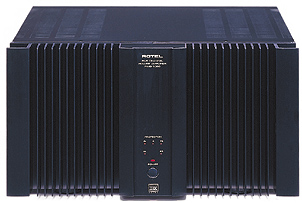 Power Play…
The other half of the Rotel equation is the RMB-1095 power amplifier, a particularly juicy item and a wonderful companion to the a Rotel preamp/processor.
This handsome hunk of equipment pumps out 200 watts into each of the five channels (8 ohms, 20 Hz - 20 kHz, less than 0.03% Total Harmonic Distortion), and that's puh-lenty.
It seems almost silly to talk about an amplifier being handsome, since most of them are basically plain boxes with heat sinks on them to dissipate energy, but in the case of the RMB-1095 it's appropriate. This is, indeed a big black box with heat sinks (you can also get a version with a silver face plate), but Rotel has still managed to make it an attractive big black box.
Not that it really matters, but it's a little thing that shows Rotel's attention to detail – and you can use it to impress your friends if you're into such superficialities.
Rotel says the amp's power supply is built around two 1.2 kVA toroid transformers; its publicity material also claims that eight x 22,000 uf British-made BHC slit foil capacitors (for "storage capacity") and 30 x 150 watt/15 amp "output devices" combine to give "uncompressed reproduction of the most dynamic source material."
Now, I don't really understand all that technical stuff as much as I should, but I can attest to the amp's performance. I have a favorite compact disc that I use to test a system's mettle (the remastered "The Who – Live at Leeds" – an incredible audio tour de force that captures this loud band at its loud peak, and the remastered versions sounds as if it were recorded yesterday). With the RMB-1095 you could hear every nuance of the performance in all its dynamic glory.
It was heaven.
And with the superb audio on DVD Audio discs it's even better!
Now, there's more to an amp than "balls," and the RMB-1095 provided lovely and lively sound from low volumes to "ear bleeding" – but if it's audio testosterone that interests you, the Rotel will eliminate the need for Viagra for the foreseeable future.
About all you have to do with an amp is plug it in, patch in the preamp and press the power button, so ergonomics aren't a big deal.
The RMB-1095 has been tweaked since its introduction, to add 12 volt trigger connectors so you can turn it on remotely (we leave it on all the time, though), and they've tweaked the speaker connectors have been changed to clear WBT binding posts. Some invisible electronic tweaks have also been done inside to help make this lovely amp even lovelier.
Pressing the power button gives you a pretty display of red LED's as the system looks itself over, checking each channel, and fires itself up. Then the five extra LED's go out and the only indicator that the amp's working is a single LED – and a whole lot of sound!
An interesting aside is that, at least in our home theater (the building which houses it seems to have been thrown up in about a day and a half in 1980 – and the "attention to detail" shows) turning on the amp initially (once it's on you leave it on) would cause the lights in the next room to dim. They'd come right back up again, but it was kind of cool to see the that current this baby draws is nothing if not substantial.
My cats also like the amp. They can sense the heat it's dissipating and lay down on the floor in front of it, basking almost as if they were next to the fireplace.
But I digress….
Connection points to the RMB-1095 include the conventional "unbalanced" RCA jacks, gold plated "balanced XLR" jacks and a DB25 digital input similar to that found on the RSP-985. The latter allows for direct digital connection from a preamp.
This terminal is really meant to provide quick "one point connection" for people who use the amp in a professional environment, such as DJ's.
The other connection points are the upgraded speaker terminals.
As another tribute to its high end heritage, and to Rotel's thoughtful design, I must mention a couple of touches that really blew me away – and which I never would have noticed if they hadn't been there.
First, to help you unpack this 88 pound block, Rotel has the amp sitting on a cardboard sleeve inside the box. The sleeve has handles cut into it to help you lift the amp out of the box.
Once you've done that and wrestled it over to its stand, you notice another really thoughtful touch: a small set of casters recessed into the amp's bottom that make sliding it into place on your stand incredibly easy – and which won't scratch your furniture!
Small points, indeed, but wonderful attention to detail and customer satisfaction.
Sound Investment?
Rather than prattle about specifications (which are impressive – and which are reproduced below), suffice it to say that this amplifier really delivers, whether it be on the subtle nuances of a chamber quartet or the thundering overkill of an exploding spaceship.
A couple of specs particularly worth mentioning are the 116 dB signal to noise ratio, the 0.03% Total Harmonic Distortion, and the 15 Hz - 100 kHz (±1dB) frequency response range. These are outstanding.
Movie dialogue is never muddy, the high frequencies are silky smooth, and the bass is never boomy unless the source material so deems it to be – in which case you certainly can't blame the amp.
With the relatively high price tag of these components compared with the more "mainstream" components you find in electronics stores (though you can spend a lot more than these Rotels cost, too, if you so choose!), they're obviously not for everyone. If you have the budget, however, these fine Rotels should serve you faithfully for many happy years.
Manufacturer's Specifications (courtesy Rotel):
Model: RSP-985 SURROUND SOUND PROCESSOR
Audio:
Surround Sound: Dolby Digital, THX, DTS
Freq. Response (front): 5-20k Hz (±0.5dB)
THD (front, 1kHz): 0.03%, max.
IM Distortion: 0.03%, max
S/N Ratio IHF A (stereo): 100dB
Input Impedance: 47 kohms
Output Impedance: <500 ohms
Output Voltage Maximum: >6 volts
Dolby, 300 mV in 0.9 volts
THX, 200 mV in 0.6 volts
Video (S-Video):
Frequency Response: 3Hz-10mHz (-3dB)
S/N Ratio: 70 dB
Input/Output Impedance: 75 ohms
Output Voltage (75 ohm): 1V
Power Consumption: 35 watts
Dimensions (W x H x D): 440 x 121 x 316 mm
17 3/8 x 4 3/4 x 12 1/2"
Weight (net): 8kg / 17.6 lbs
Model: RMP-1095 Amplifier
Continuous Power Output: 5x200 watts/ch / 8 ohms (20-20 kHz, <0.03%)
DIN Power Output (1 kHz, 1%): 5x330 watts /ch / 4 ohms
Total Harmonic Distortion (20 Hz - 20 kHz, 8 ohms): <0.03%
Intermodulation Distortion (60 Hz: 7 kHz, 4:1): <0.03%
Frequency Response: 15 Hz - 100 kHz (±1dB)
Damping Factor (20 - 20,000 Hz, 8 ohms): 400
Speaker Impedance: 4 ohms minimum
Signal to Noise Ratio (IHF A network): 116 dB
Input Impedance/Sensitivity: 33 k Ohms/1.5 volt (unbalanced), 33 k Ohms/±1.5 volt (balanced)
Power Requirements:, 115 volts, 60 Hz (U.S. version), 230 Volts, 50 Hz (European version)
Power Consumption: 1100 Watts
Dimensions (W x H x D): 440 x 240 x 398 mm
17 ³/8 x 9 ¹/2 x 15 ³/4 in
Weight (net): 34 kg, 88 lbs.
Jim Bray's technology columns are distributed by the TechnoFILE and Mochila Syndicates. Copyright Jim Bray.