Reference Recordings Offer Quality Sound for Audiophiles
By Jim Bray
September 17, 2011
With the invasion of digital music files such as MP3's, tunes suddenly became more portable and convenient than ever.
This has led to the proliferation of portable music players, servers, USB-based playback, and who knows what'll come next? Direct input into the brain?
With that portability, however, came the potential for the music's sound quality to be "dumbed down" as some consumers chose to shrink the file sizes to increase the limited storage capacity of their devices. Smaller files can equal lower sound quality (all other things being equal), so while you can store more stuff, you may not like the way it sounds.
This came home to roost for me a few years ago when I downloaded a few sampler tracks someone had posted online, really old, big band-type stuff I hadn't seen in digital form and wanted to sample in case I wanted to buy some. These particular files were only a couple of megabytes in size, which was nice because it meant for quick downloading – but their quality was so awful I couldn't bear to listen to them.  
Today, of course, there's an abundance of choices for downloading digital files and you can get excellent quality as well. All else being equal, it's a case of "garbage in, garbage out" in that the quality of the product you download depends on the quality of the original file.
This also applies to compact discs, especially CD's of older material. Despite the hype of digital audio being the greatest sonic achievement since wire recording, I could name several CD's whose sound quality, quite frankly, stinks. They sound thin, sterile – even when compared with the original vinyl releases to which they're supposed so superior.
Fortunately, there's hope for audiophiles, via some smaller companies who still take sound quality seriously. Some, such as Norway's 2L, are even releasing Blu-ray audio-only discs that sound absolutely spectacular.
Which brings me to Reference Recordings, a company I discovered only recently and whose name pretty sell sums up its raison d'être. Reference Recordings has actually been going strong for years and claims to believe that how a recording sounds is as important as the music itself – something with which I would tend to agree.
Heck, thanks to Reference Records, 2L and others, I've found myself listening to music I wouldn't necessarily sit down with, only because the audio quality is so glorious I had to bathe in its excellence. And because of that, I've found some really great music as well.
It doesn't hurt that part of my job is reviewing audio equipment and to do that properly it's best to have excellent, er, reference recordings. Since I'm always on the prowl for new excellence in audio reproduction, when Reference Recordings introduced themselves to me my interest was piqued immediately.
The company's chief engineer and technical director is "Prof." Keith O. Johnson, who the company says designed and patented many innovative products in both the professional and consumer audio fields. He's apparently responsible for Reference Recordings' sound, the goal being to "Recreate the sound of real musicians making music in real space."
That's the Holy Grail of all high end audio: making you feel as if you're there, where and when the music is performed. Surround sound – whether it be from digital files, DVD-Audio, Super Audio CD's (SACD), Blu-ray or whatever, can help this because the extra channels can surround you with music, or just with the ambience of the original venue, whether it be a live performance or "live in studio."
And when they pull it off, it's glorious.
Reference Recordings, at least the three samples to which I've listened, has definitely pulled it off.
Johnson was apparently one of the people responsible for developing the HDCD (High Definition Compatible Digital) encoding process, which some consider the most accurate recording process you can get. I don't know about that, but I do know that I have a couple of HDCD's – including a mid-1970's Kinks album – that sound fantastic. Their "presence" is top notch and there's a liveness to the sound (even though, in the Kinks example, it's a straightforward studio recording) that's head and shoulder above the average CD.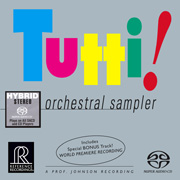 That's only one format Reference Recordings has embraced with which to release its catalog of mostly classical and jazz titles. They also offer stuff in the CD, SACD and HRx digital data file formats.
You probably already know what CD's are, so 'nuff said about them. SACD's are high resolution versions that play as ordinary CD's on ordinary CD players, but which can really come to life – including offering up to 5.1 channels of audio – on SACD-compatible players. Two of my current favorite SACD's are old Rock recordings: the fantastic 5.1 remix of Pink Floyd's "The Dark Side of the Moon" and a 4.0 release of the original quadraphonic version of the Moody Blues' "Every Good Boy Deserves Favour."
Now, thanks to Reference Recordings, I have a couple of new titles that are good enough to use as "reference recordings" when I review audio equipment. They're "Britten's Orchestra" and "TUTTI!" an orchestral sampler that offers a delicious variety of classics in high res SACD.
Britten's Orchestra is a beautiful recording of the Benjamin Britten's "The Young Person's Guide to the Orchestra," "Sinfonia da requiem,"  and the opera "Peter Grimes." The hybrid SACD (Which includes both stereo and 5.1 surround versions) features beautifully transparent sound that reveals all the nuances of the instruments involved. Performed by Michael Stern and the Kansas City Symphony, this is a fine recording that'll showcase your system at its best.
So, too, is the Tutti sampler, another "Prof. Johnson recording" that features glorious audio and a nice selection of pieces ranging from Rimsky-Korsakov's "Dance of the Tumblers," part of Stavinsky's "Firebird" as well as a Mozart piano concerto and a couple of selections from "Pictures at an Exhibition." Again, the audio quality of this 24-bit HDCD recording (in stereo) is fantastic.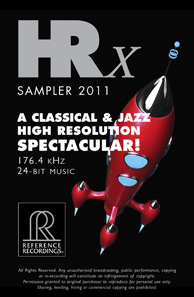 The third sample they sent me was an HRx recording transported to my home theater on a DVD-R data disc. Reference Recordings says the HRx files contain exact, digit-for-digit copies of the original 176.4 kHz / 24-bit digital masters, and they certainly sound great. The "Sampler 2011" includes 16 jazz and classical tracks mastered from both digital and analog sources. The tracks aren't meant for playing back on your disc player; rather, you need to copy them to your music server and stream them from there.
I dumped them onto the PC in my office, then streamed it wirelessly to the Oppo BDP-95 Universal Audiophile player (the same player I used for the SACD's and which is also an excellent Blu-ray player – 2D or 3D) and it worked great. The sound quality is all I'd hoped it would be.
The only problem with listening to music recorded with fidelity like these ones from Reference Recordings is that it makes me frustrated with the less-than-stellar recordings that also populate my library – which, to be honest, is most of them. It's kind of synonymous to when you upgrade your playback equipment and, while you hear wonderful new things you've missed before, you also suddenly find warts in your programming material that you couldn't hear before!
Still, that's a nice problem to have.
The Britten and Tutti sampler discs retail for $22.98. The HRx 2011 Sampler DVD-R also sells for $22.98, though the individual titles on HRx (including Britten's Orchestra) will set you back $45.
You can purchase Reference Recordings directly from their website at www.referencerecordings.com.
Copyright 2011 Jim Bray
TechnoFile.com