RCA LCD TV's To Go - and Stay
by Jim Bray
RCA has a couple of interesting solutions to problems you may not have known you had.
One of the conundrums of life is how to listen to your favorite tunes, or catch the latest newscast, while slaving over a hot stove in the kitchen. RCA's answer is its nifty little "spacemaker" under the counter AM/FM/CD/TV unit that hangs out of the way below a kitchen shelf.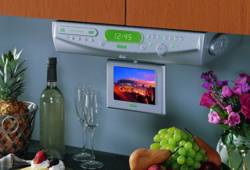 I played with the $449 model BLC524, which also includes a cool little LCD TV screen that folds down from the unit's bottom, giving you just about all the multimedia for which you could ask in the kitchen.
Oh, and it even has a remote control that - magnetically - clings to the side of the unit when you aren't using it. Neat!
Now, this is more a case of creative packaging than technological innovation, but so what? We've had an AM/FM Spacemaker radio in our house for years and use it all the time, but I've often wished I could play a CD or watch TV while creating some culinary catastrophe - and now it's possible.
As with most things RCA, this spacemaker is designed simply and is very easy to use. There are a few buttons on the front panel and they're clearly labeled and very easy to figure out. The remote control includes channel and volume up/down buttons and a numeric keypad for direct access.
About the only thing missing is a VCR or DVD player, but RCA has even thought of that, thanks to a set of video and audio input jacks on the back of the unit. You could also use this connector to hook in a security camera (in fact, that's how the control is labeled on the front panel) to monitor the door or a sleeping infant while you're cooking. A version with the DVD player already built in is also available.
RCA's ease of use includes a guide menu for making adjustments to the TV's color, tint, brightness, contrast and sharpness. The little thin-screen LCD panel puts out a pretty good color picture, though at 5.6 inches it's understandably small.
Another thoughtful touch is the inclusion of CD-R and MP3 format playback with the CD player, so you can play your homemade discs on the thing.
Sound quality is about what you'd expect from such a utilitarian machine: it's okay but not as good as you'd find in a dedicated stereo system. But it's fine for the application at hand.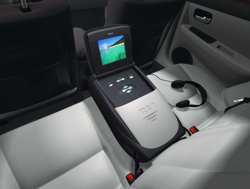 The other solution is for those times when you're on the road and the ankle biters in the back seat are driving you nuts. It's a handy, albeit pricey, VHS player you can plop on the seat between them (it would work even better on the floor if it's flat and roomy enough) and encourage them to veg out with some of their favorite movies or videos.
This big plastic hunk looks kind of like an arm rest, with handy handles molded into it for easy grabbing, and for tying it down with the car's seat belts. The VHS videocassette goes in the rear end (which faces the front of the vehicle) and on the top there's a flip up panel that hides the LCD TV screen and the VCR controls.
Again, it's more a case of creative packaging and marketing than technological innovation, but that's okay.
And since the unit runs on AC or DC power (the adapters are included), you can not only run it from the cigarette lighter of your vehicle, but bring it into the motel room with you and thereby add a VCR to your home away from home. Fortunately, RCA has also included audio/video I/O's to facilitate such flexibility.
Those I/O's also let you hook in a DVD player if you choose (RCA also makes a DVD version of the unit), or you could attach a game machine or even a second LCD TV screen. There are also headphone jacks so the kids can listen to their awful music videos without inflicting them on you via the set's built in stereo speakers.
The picture quality is fine for temporary use. I wouldn't want this to be my primary TV, but it isn't designed for that anyway. For use on the road, however, it's a pretty nifty idea and, though $449 is nothing to sneeze at, it's a lot cheaper (and more flexible) than the systems you can get built into some vehicles today.
And that's nothing to sneeze at.
Jim Bray's technology columns are distributed by the TechnoFILE and Mochila Syndicates. Copyright Jim Bray.