RCA's Gadgets Continue to Evolve
RCA's "gadget department" continues to delight us with new products for a variety of fuctions and people.
We've been playing with two new MP3 players, a digital voice recorder, and one of the best universal remotes we've had to date. All are marvelous products aimed at different people with different needs.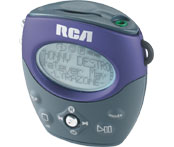 First, the MP3 Players: the $130 Lyra RD1080 personal digital player and the RD2820 "Personal Jukebox." The RD1080 is a tiny unit small enough to fit in just about any pocket, yet it comes with 128 Megabytes of flash memory built in and that's plenty of room for an abundance of tunes. I stuck in the equivalent of two complete albums, converted to MP3 format, and the little Lyra swallowed them without complaint or comment. Good thing, too; the last thing anyone needs is a piece of electronics that's also a critic....
Anyway, besides the built in memory there's also a multimedia card slot for even more storage space (the cards are optional, however), so your trip will probably run out before your tunes do.
The control panel is incredibly simple, fortunately. The front contains a mere four buttons and one knobby-like thing that chooses saved music or the built in FM tuner and lets you skip forward or backward through tracks or stations. The buttons handle power/play, stop/off, DSP mode (tone controls such as "jazz," "bass," "flat," etc.) and Mode (random, repeat, etc.). Using the various controls is easy, though the buttons' labels are the same color as the unit and this makes them hard to see. You'll probably use it more by feel once you get the hang of the unit, however, so this may not be a big deal.
Sound quality is fine, and the included headphones are fairly comfortable. You also get a USB cable to help you download the tunes and RCA also throws in a little carrying case with belt clip (I just stuffed the thing in my pocket when I took it to the gym).
Software is Music Match Jukebox and it's okay – though I found it a tad annoying that it would only store files alphabetically by title (if you've accessed the music database) rather than just track by track. You can get around this by saving tracks one at a time, but that's a lot slower process. Perhaps the most annoying part was the software's pitch for you to upgrade it to the "heavyweight" version.
Still, the Lyra's a nice little unit, plays multiple MP3 compression rates (which lets you store extra music or opt for even better sound quality) and is upgradeable for future formats.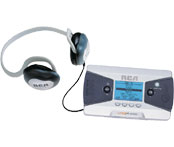 Then there's the $300 RD2820 "HD jukebox," which takes the MP3 player concept and ups the ante considerably. It also ups the size ante to something that won't fit into your pocket, but adds other flexibility that makes me wish I'd had one a year or so ago when I was doing communications consulting at a downtown office.
That's because, as its name suggests, the HD jukebox comes with its own hard drive, a 20 gigabyte unit you can use to store and/or transport any type of file you want whether it be music (and you can get a lot of MP3's onto 20 GB!) or data.
Therefore, this USB-interfaced unit can be used to transport files from one location to another, and that's a wonderful piece of convenience. You see, when I was doing the aforementioned consulting I'd work from home, but serve time in their office a couple of days a week. This meant I had to haul files with me which ranged form MS Word to CorelDraw to QuarkXpress to PowerPoint and assorted graphics etc. I used 100 Mb Zip disks, but with the size of high quality graphics files today and the sheer number of files I used I'd have to take three or four Zip disks at a time.
Ah, if I'd had this 20GB hard drive I'd have been in heaven!
Anyway, it's also a fully featured MP3 player, of course, including MP3PRO file capability. The unit itself is about the size of a beta videocassette (hey, remember them?) and features a small LCD screen on which you can display the playlists, play mode, volume etc. Four little navigation buttons are below the screen and to each side is a button/knobby thing, one of which is "Play/Pause," and the other of which is a cursor control thingy.
As with its little brother, the whole shebang's easy to use and the sound quality is fine. It comes with a decent set of headphones, USB connector, rechargeable battery, AC/DC adapter, carrying pouch, car kit (with a cassette player adapter) and an audio out cable. It's a pretty complete package that works well and is beautifully convenient.
It comes with MusicMatch Jukebox as well, but the unit also shows up as a disk drive in your Windows environment and this lets you merely drag and drop files from a local folder into the HD Jukebox.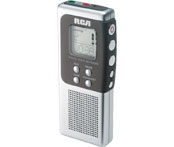 The $60 Digital Voice Recorder, model RP 5012B, is quite a bit bigger than the last one we tried, but it's also more flexible and offers more storage space. And it's still small enough to fit into just about any pocket and go just about anywhere except, possibly, the shower.
Which is a shame, since we get periodic inspiration in the shower, but we didn't want to risk shorting the RCA out!
Why would you want anything like this? Well, many people probably wouldn't, but if you're a lousy note taker, or merely prone to inspiration when you aren't near a pad and pen, a device like this one can be a lifesaver. Reporters covering meetings can also use it to replace their old microcassette recorder: the RCA's 16 Meg of memory can record up to six hours of prattle for later playback.
You can organize your notes into four folders that can hold up to 200 different files. The organization of the files is pretty straightforward, though you'll want to mess with the unit a few times (and read the manual) before relying on it.
A nice touch is that the Digital Voice Recorder can be set for voice activation, which means it'll start recording at the first sound it hears – and stop when things get quiet.
Notes are date and time stamped, and you can even do some editing of your messages, though it's by no means an audio studio. Oh, the microphone (and speaker) is built in, though RCA also throws in a clip on microphone that would come in really handy. And there's a "low battery" indicator that lets you know you'd better quit pontificating quickly lest you lose your most important thoughts.
Finally, the remote, possibly the best RCA has ever offered – and they've done some pretty good ones over the years.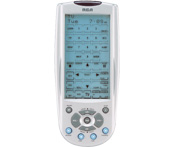 One of the things we like about RCA is its down to earth user friendliness. This makes their equipment accessible to "ordinary people" who aren't (and don't care to be) particularly tech savvy.
That said, we're willing to be a lot of people might be reluctant to drop $130 on a remote control, but if you do, you'll get a sophisticated and user friendly machine that will run most, if not all, of your home theater's components.
What sets this remote, the model RCU1000B, apart from most others that aren't ultra-expensive is its LCD touchscreen. This is a wonderful feature we've lusted after for years.
The great thing about it is that the LCD screen changes to reflect the controls of whatever gadget you want it to run. So, for example, when you're controlling a DVD player, the buttons are like a DVD player; ditto for audio receiver, TV, VCR, etc. This brings new levels of user friendliness to RCA's line.
Besides the LCD, there are volume and channel buttons, tape/DVD play controls, and a "setup" and "macro" button.
And of course it operates other brands besides RCA. Built in is an abundance of codes from other manufacturers, and you can also teach it codes it doesn't already know by aiming the other brand remote at its butt and going through the teaching sequence.
One component it wouldn't control, despite its built in codes and the "learning experience," was our satellite receiver. This, however, was because that particular receiver/remote uses radio rather than infrared light and the RCA doesn't do RF. That's a small matter, however, since the huge majority of components are controlled by IR.
The RCA also includes macro functions, so you can program in a series of commands to activate at once. For instance, you can set up a macro that'll turn on the TV, DVD player, and stereo, tuning each component where required to the proper input. This is a nice touch, though of course it's also quiet common these days in this type of remote.
Our editor had particularly wanted to try the LCD aspect; he has a friend who has had such a remote (from a different manufacturer) for years and who swears by it. But he ran into trouble right away. Here's his report:
"I had thought an LCD remote like this RCA would be the perfect unit for all my electronics, especially for my "tech-challenged" wife. And it worked fine for her. But for me? I ran into a totally unexpected problem that made me say "Thanks, but no thanks!" to this remote.
The problem wasn't with the remote: it was my eyesight. My eyes have been - well, let's say aging - over the past few years so that now I'm forced to wear glasses when reading or working on the computer. So it was with this remote: I couldn't read the LCD screen without my glasses on. This was a major hassle for me because it meant I had to keep putting them on and taking them off again every time I wanted to use the remote.
Most remotes use raised buttons in a variety of clusters, and I hadn't noticed over the years that I'd been increasingly relying on my sense of touch (and various remotes' tendencies toward color coding various groups of keys) to find the right buttons. But you can't navigate an LCD by touch!"
For people who can still see their hand in front of their faces, however, this RCA is a marvelous remote, and may be just what the doctor ordered. It's easy to use, easy to configure, and well backlit.
Our advice to the editor? Time to think about laser eye surgery!
Jim Bray's technology columns are distributed by the TechnoFILE and Mochila Syndicates. Copyright Jim Bray.