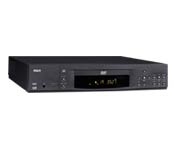 RCA RC5223P DVD Player
Affordable A/V excitement
by Jim Bray
If you're looking for an affordable way to get into the DVD universe, this RCA unit may be your cup of tea.
It doesn't have a lot of frills, but it performs where it counts - playing discs with superb audio and video quality.
While the RC5223P omits some features we've come to enjoy on some higher end players, like variable time displays (showing title or chapter elapsed or remaining time) on the front panel, for example, everything you really need is on this unit. Not only does it offer Dolby Digital AC-3 audio, it'll also handle DTS discs, and it comes with a couple of outputs I didn't expect to find on such a "mainstream" unit: an optical digital output for direct connection to a comparably-equipped receiver and/or decoder, and component video outputs to hook into a new generation, high end TV.
There's also an "S-Connector" output, a second set of analog audio output jacks, and even an RF adapter output so you can hook the player into a TV that doesn't have input jacks.
I must compliment RCA for this extreme flexibility in I/O configuration: you can effectively connect this DVD player into virtually any audio or video configuration, from the lowest end stereo to the highest end TV monitor, though one would think people with high end equipment would also prefer a higher end DVD player...
But back to the review...
You also get a programmable universal remote control that you can make operate a variety of VCR's, TV's, DSS, etc. It won't control all brands, but it'll handle many.
The player handles regular DVD videos, audio CD's and Video CD's. It won't play home made audio CD's created on a CD-R drive, however - which may or may not be a big deal to you.
The RC5223P is slim, light, and the front panel controls are well located and easy to fathom, though because most of the features can be controlled from the remote, you may only end up using the "eject" button (and maybe "power). Strangely, you can't eject a disc from the remote, though this isn't a big deal since you have to go over to the player to insert or remove the disc anyway (unless you have really good aim and can toss the disks from your easy chair!).
As with most RCA products we've tried, the RC5223P is very easy to set up and to use. You can adjust the audio and video parameters (including screen aspect ratios of 4:3, letterboxed, or 16:9) from the remote, via the onscreen menu, and basic operations are also simple to accomplish. The interface isn't really anything to write home about, but that's a minor criticism. We had a small quibble with the "Chapter Forward/Backward" buttons, which are mounted near the top of the remote with the "Volume" controls. We would have preferred to have them with the other disc/tape control buttons, but it isn't a big deal.
The owner's manual is a breath of fresh air. It's written in plain English, and is full of easy to understand diagrams and descriptions of how to hook the player into a variety of other equipment. Likewise, the descriptions of the remote control functions are also straightforward, which is nice - because as mentioned it isn't the most straightforward remote to figure out on your own.
The picture and sound quality of the RC5223P is up to the standards we expect from the DVD format. The player itself is a bit loud, so far as its mechanisms are concerned, but not loud enough to be heard once the movie starts playing unless you're in a particularly quiet scene - at which time you can hear a slight sound emanating from the deck.
You get all the usual features you expect from a DVD player, like "distortion-free special effects" (including freeze frame, slow motion, etc.) multiple repeat, multiple angles, etc. and other programming functions. You can also control your kids' access to the machine with its parental rating control capability and there's even a front-mounted headphone jack with its own volume control.
I was a bit disappointed that you can't change what's shown on the front panel display. Not only can't you change time displays, but you can't even see what chapter your DVD is on. You get track numbers displayed on audio CD's, however.
A nifty feature is the unit's ability to store a bookmark, so you can access favorite scenes later. You can store up to 10 bookmarks for later retrieval. Unfortunately, the bookmarks are erased when you eject the disc or shut off the player's power, which is a shame. Arcade game discs like "Dragon's Lair" or "Space Ace" don't have a "save game" feature, and this bookmarking would be a nice way of getting around that.
Alas, 'twas not to be. Oh well, one can't have everything.
On the whole, RCA's RC5223P offers a lot of bang for its relatively few bucks. If you're looking for an affordable DVD player that's easy to use, yet still offers everything you need in the way of features, this isn't a bad place to start.
Manufacturer's Info
Dimensions: 2 4/5" H, 15" W, 13 1/2" D Approx.
Shipping Weight:11.6 Lbs.
General
Full Complement of Operational Controls on Front Panel including Cursor Controls for On-Screen Navigaton
Enhanced Fluorescent Alpha Numeric Display
On-Screen Displays Available in English, French, or Spanish
Compatible with Music CD's
Front Headphone Jack with Volume Control
MasterTouch® Universal6 Remote: Provides control of all DVD functions as well as basic functions for up to 30 different television and VCR brands, cable box systems and most brands of DIRECTV receivers.
Picture:
High-Resolution Video Performance: 720 pixels per horizontal line for crystal-clear detail and picture clarity.
10-Bit D/A Conversion
Special Effects: Picture Search, Freeze Frame, Slow Motion, and Frame Advance and Frame Advance and Frame Reverse.
Multiple Aspect Ratios
Sound Signal-to-Noise Ratio: More than 95dB.
Frequency Response 20 Hz - 20,000 Hz.
Dolby Digital and DTS provide three different audio channels from the front of the screen, two unique rear surrounds sound channels and a seperate subwoofers soundtrack. Convenience
Parental Rating Control
Subtitles and Multi-Language
Chapter/Track/Search Scan
Programmable Playback, Chapter/Track/Side Repeat, Repeat A-B
Random Access
10 Marker Functions
Connections
Audio/Video Outputs: S-Video Output, Dolby Digital and DTS Bit-Stream Output, RF Adapter (Optional accessory required). Included Accessories -Stereo/Audio/Video Cables-S-Video Connector Cable-AC Power Cord.