Microsoft PhotoDraw 2000

MS Chases Corel?
Over the past few years it has almost seemed as if Corel Corporation wants to knock off Microsoft. The foot may be on the other hand now, however, because with PhotoDraw 2000, Microsoft may be returning the "favour."
PhotoDraw is a draw/bitmap editing program in the tradition of CorelDRAW and PhotoPaint, though not as heavy duty as those monster apps. It combines bothphoto editing and illustration into one program that's pretty easy to use and has a relatively painless learning curve.
The program, according to Microsoft, is designed so that Microsoft Office and small business users can create custom graphics for their PowerPoint, Word, Publisher and Web documents. Ease of use is its biggest claim to fame, as a lot of the steps normally required to complete a particular graphics task have been automated.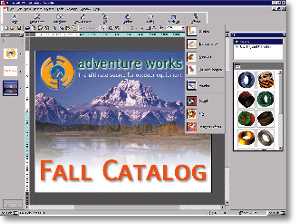 Microsoft claims that PhotoDraw is the first tool of its kind, designed for business users and providing illustration, photo editing and text tools in one easy-to-use, integrated product.Therefore, it's meant not so much for professional graphic designers and artists (Corel's market), but at people forced to produce graphics in a business environment.
And you can create customized graphics easily - with virtually no graphics training. You can assemble, manipulate and customize clip art, photos, shapes, and "hand drawn" illustrations.PhotoDraw's look and feel is similar to Microsoft Office's, so Office users should be quite comfortable..
Naturally, PhotoDraw also comes with an abundance of professionally designed templates, pre-set defaults and automatic correction features.
Some of the stuff you can do with bitmaps in PhotoDraw include automatic corrections for red eye, dust and scratch removal, and image despeckle. There's also Image and color correction features like adjusting the tint, brightness and contrast, hue and saturation.
File Format Support extends to importing 22 different file formats (including BMP, JPG, GIF, PCD, CDR) and exporting to 8 different file formats.
A nice features is "visual menus," which let you preview and sample an effect before you actually apply it.
PhotoDraw will automatically convert an image to a Web color palette and you can preview various image qualities with download times to help ensure your site visitors aren't twiddling their thumbs while your pictures download to their Browser.
For more conventional (or old fashioned) output, the "intelligent print" capability lets you automatically size and fit graphics to a variety of paper sizes - including labels.
Microsoft throws in some 20,000 photos, backgrounds, and clipart as well as the complete Microsoft Clipart Gallery that comes with Office.
Microsoft has done a pretty good job with PhotoDraw 2000. In the long run, we don't think Corel has anything to worry about from it, as the Microsoft product is aimed more at the "reluctant artist" than the true creative genius.
As such, there's plenty of room for both to co-exist, and plenty of people to fall in love with both companies' products.