Paradigm Surrounds You With Fine Sound on a Budget
By Jim Bray
Looking for a 5.1 speaker system that's affordable and offers good performance whether you're listening to home theater or straight audio? You could do much worse than Paradigm's Cinema CT series.
Paradigm was one of the first Canadian speaker manufacturers to make a splash internationally, along with other Canuck brands such as Mirage. I haven't reviewed a model from Paradigm in over a decade, but I remember back then the pair of bookshelf speakers I tried amazed me with their sound quality and value.
So when I was offered a set of Cinema CT 110 speakers to try I was anxious to dive in. Has Paradigm kept up their quality/value quotient?
This is a complete 5.1 system (though you don't have to buy it as a whole system) that comes with front, center, surrounds and subwoofer – with optional stands available for the fronts and/or surrounds. It sells for a reasonable $1000 US, or about $1299 Canadian.
Paradigm sent me the whole shebang, including speaker stands for the front left and right, and I've been putting them through their paces in our "small" home theater for a couple of months now. They're hooked into a Rotel five channel receiver that outputs 75 watts per channel into the five main channels, a receiver we use as our reference unit for smaller systems.
My verdict? It's time we threw away the reference speakers we've been using there and replaced them with these Paradigms. Not only do they perform very well with 5.1 encoded DVD's, but I was also highly impressed with how they handled conventional CD's recorded in stereo.
All the speakers came in one box; the stands were packed separately. The set weighs about 71 pounds, most of which is the subwoofer. I daresay the packing material also adds to the total, since the five main speakers don't weigh a lot. Our test system was in gray, but Paradigm also makes them in black. I liked the gray; it fit in well with our decor.
The Cinema CT series features compact, one could even say small, speakers that should fit into just about any room regardless of size, within reason. I'm not sure they'll put out enough sound to fill a concert hall-sized home theater, but they're perfectly adequate in our living room which I would estimate as an average size suburban rectangle of about 14x14 feet. They worked well in our main home theater as well, which measures about 14x25 feet.
Speaker placement is critical, of course, and that's one of the areas in which small speakers such as these excel: because they don't take up a lot of room your placement options are more flexible. And to facilitate this flexibility, Paradigm has equipped them so you can mount them right onto the wall (for example, above and to each side of your plasma or LCD display). They even include brackets.
We used the stands Paradigm supplied for the front left and right, stuck the center speaker on top of the wall unit that holds the 36" RCA CRT TV we use for reviewing 4x3 aspect ratio material, and we sat the surrounds on a pair of Skylan speaker stands we use for just such purposes. They're about three feet tall, which put them just below ear level – not optimal but okay.
Paradigm says the Cinema Series speakers are magnetically shielded, so you can place them as close to your TV as you want and they won't cause splotchies on the screen. This is as it should and, to be fair, it's also quite common.
The powered subwoofer contains a ten inch driver and is rated at 150 watts output. This is plenty for most applications, and in our tests we found the sub put out good very good bass, tight and controlled and never boomy. You can make it boomy, or thin, via controls on the back which let you tailor the output to your particular room or ears.
The front and center speakers are two way acoustic suspension types, with three drivers in each. They appear identical except for the horizontal mounting of the logo on the center speaker. This is how it should be, of course; the more closely matched the speakers are the more closely matched the sound will be, all other things being equal.
All three speakers include a one inch dome, neodymium magnet tweeter and two 4.5 inch cone midrange drivers. Paradigm says they can work with amps rated from 15 to 100 watts. This should be more than adequate for most mainstream applications; you won't want to run a disco at the local community center with this setup, but they'll be fine in your home.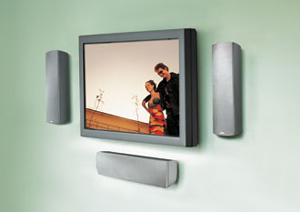 The surrounds are also acoustic suspension, but dipolar, which means they radiate sound both from the left and right sides of the cabinet, as opposed to the front-firing of the other three speakers. This can make the sound appear less directional, enveloping you in the surround information rather than just firing it at the back or sides of your head. The tweeters are identical to the front speakers', except there are four (two on each side) and the two midrange drivers are 3.5 inch cones.
All the five main speakers come with five way binding posts to hook in your speaker cable, but they're a bit close together and may not work well if you have hose-diameter cable. I doubt most people who opt for a system such as this will spend more for cable than for the speakers, however, so this may not be a big deal. We used decent but not outrageous speaker wire and it sounded fine. I would recommend you don't inflict that crummy little wire you get with many systems on the Paradigms, but you don't need to go overboard to get good performance.
Wiring the front speakers is a pain when you use the stands: the stands block the speaker terminals. The best way to get around this is to run the cable through the stands, which also means you can't get too "thick" with your wire. It also means you have to plug in the cable before you mount the speakers onto the stands, but this isn't onerous.
So how do they sound?
Remarkable, considering their size and price.
In my listening tests, I started with movies I knew made good use of the 5.1 capabilities, titles such as Star Wars Episode II (which I've always found a tad bassy) and Pixar stuff. Star Wars is particularly apt since it not only features plenty of different sounds whizzing around the room, but John Williams' lush orchestral score. The Paradigms performed extremely well, with nice, deep and tight bass and crisp highs. Dialog came through very clearly, never muddy.
The crucial audio test, for me, was two channel stereo recordings, and I have several that I like using as reference material, including Pink Floyd's remastered "Wish You Were Here," Dire Straits' "On Every Street" and The Who Live At Leeds (the remastered version).
Floyd's title song is a great test of the stereo soundstage, with instruments and voice spread widely across the front of the room, and a good speaker system will not only sound much wider than the actual space between the speakers, it will also fill the space between them. The Paradigms did an excellent job; music sounded as if it extended beyond the walls of the room, and the center image was so vivid I had to get up and put my ear near the center speaker to make sure it wasn't on.
It wasn't.
Likewise, the Dire Straits disc is one of the best-recorded rock discs I've heard and makes an excellent test of sonic reproduction. Again, the Paradigms were very good. Bass was tight and clean, Mark Knopfler's guitars and dobro were clean and well imaged, and the overall sound field was terrific.
Live at Leeds is a wonderful test of dynamics, with Keith Moon pounding the skins and Pete Townshend's guitar at the height of its glory. Even better, John Entwistle's bass comes through better than in almost any Who recording, even his penchant for cranking the treble to help him create bass lines that complement Townshend's lead. I was very pleased with the Paradigms' performance here. All was clear and powerful.
Assorted classical, jazz and big band discs also sounded great.
Of course it doesn't hurt to be putting good power into the system, which is why we use the Rotel equipment, but good power into bad speakers (and vice versa) still translates into a crummy overall experience. The Rotel/Paradigm combination was lovely.
Concerts on DVD also sounded very good. One of my favorites is The Who's Royal Albert Hall performance with, unfortunately, guest stars. This is the best Who video for sheer volume (which is what you want with The Who!), and I was impressed that with only 75 watts and the Paradigms I could still get the room to nearly ear-bleeding levels.
The neighbors were less impressed…
Another favorite concert is Salute to Vienna – a Strauss Gershwin Gala, which features a full orchestra gloriously recorded in Dolby Digital and dts. Again, the Paradigms came through.
Okay, our big home theater blows them away, but that's an unfair comparison: our Definitive Technology main front speakers alone are worth as much as the entire Rotel/Paradigm/RCA system upstairs. It's a tribute to the quality of the little Paradigms that they do as well as they do for the price. There's no tinniness, no boominess, and you get smooth and realistic midrange and a fine soundstage.
For what more could anyone want, let alone anyone on a budget?
My advice to anyone thinking of a "home theater in a box" solution is: forget it. Though you'll spend more of your after-tax income buying speakers like these Paradigms and coupling them to a separately-purchased receiver and CD/DVD player, you won't regret it.
If these are still a tad pricey for your budget, Paradigm also makes the Cinema Series model 70 and 90's. We haven't tried them, but have no reason to think they'd be worse values than the 110's.