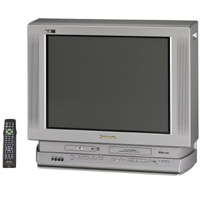 Panasonic TV Combo Hits a Triple Play
TV/DVD/VCR/FM All in One!
by Jim Bray
Panasonic thinks it has the better mousetrap for people moving from ordinary TV to home theater.
Its PV-DF2700 is not only a reasonably state-of-the-art TV, but the company has also built a DVD player, VCR and even an FM radio tuner into the same box.
All this for $1300!
I'm always suspicious of all in one devices, if only because if one part breaks down they all have to go into the shop. Despite that, TV/VCR combinations have been fairly popular for years.
But this is the first time I've noticed a DVD player being thrown into the mix.
The DF2700 is a pretty good mainstream TV and Panasonic has done a nice job of integrating the other video components. All are controlled by a single remote and the onscreen menus are basically common across the platform. Better still, they're fairly straightforward.
The DVD player and VCR, and their front panel controls are mounted side by side below the screen.
The 27 inch TV comes from Panasonic's Tau series, so it offers a completely flat screen with Panasonic's "Panablack" picture tube, decent sound for a TV and most of the other features the average person could want, including two tuner Picture in Picture that lets you watch two TV shows simultaneously - or one program and a DVD or videocassette.
The TV's stereo tuner brings in 125 channels, if you have them on tap, or you could hook in a satellite receiver through its video inputs.
The single disc DVD player (as opposed to a five disc changer) offers both Dolby Digital and DTS audio decoding, and there's an optical digital output on the back of the set with which you can send the sound to a suitably equipped audio system. It not only plays DVD's but, as with all DVD players, it also handles audio CD's, and I was pleasantly surprised to find that it even plays home burned CD-R's, something that many mainstream DVD players won't do.
The VCR boasts four heads, for better recording and playback at both tape speeds, as well as Hi-Fi stereo audio. I'd rather be torn apart by wild dogs than watch a movie on videocassette these days, but there's still room for a VCR as long as there's the occasional TV program to record.
Which reminds me: don't expect this Panasonic to be a pirate's dream where you can record all the DVD's you rent onto VHS tapes. Not only is there a copy guard built into most DVD's, but Panasonic makes specific mention in the owner's manual that it won't allow such recording. In fact, you can't even record a CD with this particular piece of technology.
The remote control is probably the weakest link to this unit. As might be expected on a component that serves many functions, there's an overabundance of buttons and some of them serve multiple purposes. But my biggest complaint came from the tiny letters labeling the remote's buttons; as with far too many remotes these days, I had to put on my reading glasses to find my way around the controller.
Not only that but most of the buttons don't light up, which makes the remote harder to use in a darkened room like a bedroom or a proper home theater.
The FM tuner has an auto scan feature to find your local channels and nine presets with which to store your favorites into memory. As with the DVD player and VCR, it uses the TV's screen for its display. Unfortunately, you have to leave the TV on to listen to the radio, which seems like a waste of electricity, but fortunately the blank screen is quite dark so it isn't particularly obtrusive.
The picture quality of the TV is pretty good, though not as good as on higher end sets. It also depends on the quality of the source material, of course, so it looks much better with a decent DVD than with the best VHS cassette.
This unit won't appeal to people looking for a really high resolution television and a higher end DVD player, but if you're just looking for a quick solution to the lack of a home theater in your house or cottage this can fit the bill.
And that's the market it's aimed at.
Jim Bray's technology columns are distributed by the TechnoFILE and Mochila Syndicates. Copyright Jim Bray.