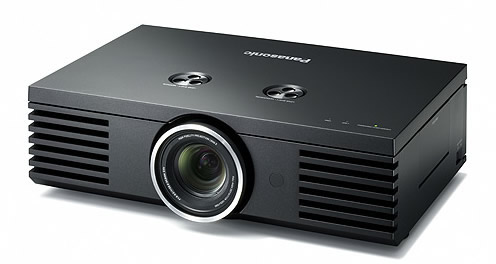 Panasonic Blu-ray Home Theater
By Jim Bray
April 10, 2008
HD discs are getting more attractive as the end of the high def format war leads to more Blu-ray hardware and software appearing, offering consumers the ultimate in picture and sound quality.
Moving to the wonderful world of high def may mean rebuilding your home theater, or at least parts of it, whether it be adding a 1080p compliant TV, a Blu-ray player, or even upping your audio system's ante to exploit the new audio formats that accompany HD disc playback.
Panasonic sent me a collection of stuff suitable for such a high def home theater, including a terrific new front projector, a "final standard" Blu-ray player, and a complete audio system.
Really Big Shows…
The highlight was the PT-AE2000U front projector, a boxy but diminutive TV monitor that shot glorious 1080p images onto my 106 inch Da-Lite Designer Cinema screen.
The $3499 PT handles native 1920x1080 images, progressive or interlaced, which means it works well with Blu-ray as well as HDTV broadcasts that don't yet exploit the full 1080p standard. It boasts an output of 1500 lumens and a contrast ratio of 16,000:1, which means it's as bright as you'd need in an average front projection setup (you won't want to set it up in a brightly-lit room, though) and gives an image with excellent, deep blacks.
Getting the unit to work in your theater is about as easy as you can imagine, once you've mounted it permanently in your room – something I'd recommend you hire a pro to do (I speak from experience!).
There are about a million tweaks you can make to the picture which, like the most important ones of lens focus and zooming, are operated from the remote control. This is handy and welcome: our reference Epson projector has to focus/zoom from the projector itself, which takes you away from your viewing position.
That may sound like the height of laziness, but from what better place to adjust the picture than from where you're going to watch it?
The Panasonic comes with three HDMI inputs, two component, and one each for a PC, S-Video and old fashioned composite. It can project a 120-inch diagonal image from as little as about 11 feet away and its lens shift capability gives you 100 per cent adjustment vertically and 40 per cent horizontally, for greater flexibility in mounting.

Panasonic says the PT-AE2000U was developed in conjunction with Hollywood colorists and image experts (which I assume doesn't mean PR spinners).  It features a new optical system and Detail Clarity Processor, which they say analyzes the frequency characteristics of each frame in three dimensions (horizontal, vertical, and along the time axis), then sharpens the picture as it deems necessary "to create natural, life-like images with exceptional clarity."
A Pure Color Filter Pro uses optical adjustment to ensure color purity, while Panasonic's "Smooth Screen technology" is designed to minimize the black lines between pixels. Panasonic says it has also improved its Dynamic Iris to make the picture more stabile and responsive by controlling the iris speed at finer increments than in previous models, to help create blacker blacks and whiter whites.
I can't argue with the hype or the technobabble. The picture is stunning. I watched a variety of Blu-ray discs with the Panasonic and never had a complaint about its performance.
It also comes with seven preset picture modes (Cinema 1 was my favorite), and you can personalize the image even more via a split screen mode that gives you one section in which to wreak your havoc on the picture while another gives you a baseline reference.  You can store up to 18 personalized settings with customized names.
Where my angst came in was from its refusal to cooperate with my Rotel RSP-1069 preamp/processor's HDMI switching. When I passed signals through the Rotel, the Panny's pic would go all green – or the audio would cut out (audio that wasn't even going to the Panasonic). I tried cables of different quality and length (including a very expensive one from Monster) and even inflicted some good old fashioned cussing on it, but nothing worked.
If I ran the signal directly from the source unit to the projector, though, it worked fine. Go figure.
My only other issue came when, a couple of weeks after unpacking it, the projector started emitting a grinding noise for a few seconds when fired up or shut down. It was weird, but it didn't seem to affect the projector's outstanding picture.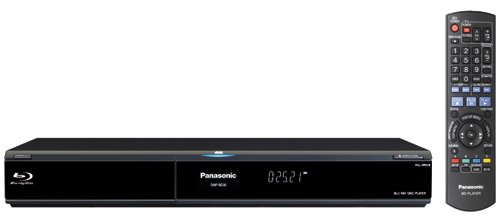 Blu-ray Disc-ussion…
While the projector worked fine with any video source (as long as it didn't touch the preamp), it looked best (not surprisingly) with 1080p Blu-ray sources. And Panasonic's DMP BD30 player did a nice job of providing those signals.
The BD30 is a "final standard profile" player, in that it adds features not available on earlier Blu-ray players – features such as four Picture-in-Picture modes (which, for example could let the film's director or an actor pop up to talk about the scene you're watching, or let you see the actor performing an animated character's voiceover, while you watch the movie).
            This isn't a big deal right now (and could be distracting anyway!) because the discs themselves are only starting to offer such features. But it could be important to you in the future.
The $500 player also includes an SD Memory Card slot that lets you play back other content, including digital still pictures and high definition footage recorded in the AVCHD format of some camcorders. It also offers Deep Color compatibility via HDMI 1.3B, which is also not a big deal right now, since it would apparently require a whole new generation of Blu-ray discs to exploit it.
I can't fault the player's picture; it played my Blu-ray discs beautifully, and it also did a fine job of up converting conventional DVD's to the "near HD" realm that lets you watch them after a Blu-ray disc without throwing them away in disgust.
You can also take advantage of the new audio formats (Dolby TrueHD, dts-HD) which the player decodes internally.  
The DMP-DB30 also features the VIErA Link that interacts with Panasonic home theater systems so you can operate the whole shebang with one remote.  
In all, a nice player.
Sound Advice…

The final link in the chain was the audio system made up of Panasonic's SA-XR700 AV Blu-ray high definition A/V digital receiver (with VIErA Link) and a SB-TP1000 5.1 high definition audio speaker system.
If the TV/projector is the heart of a home theater, the receiver is its brain. This unit features 100 watts per channel into 7 channels and you can Bi-amp/Bi-wire and Tri-amp/Bi-wire the speakers depending, I suppose, on how much speaker wire you want to buy.
The $1499 receiver fits nicely onto a shelf and includes built-in decoding of Dolby signals including Digital Plus, Digital EX and Pro-logic IIx, as well as dts-ES, 96/24, Neo:6.  Heck, it even does stereo! That's about all you're likely to need other than the "HD audio" formats mentioned above that you'd rather have decoded in the Blu-ray player anyway.
Inputs include two HDMI and component terminals (and one output for each), as well as four S-Video terminals (one output), five composite video inputs (one output) and four digital audio inputs (two optical, two coaxial). It's also DVD-Audio ready, with a  discrete 6 channel input, and XM radio ready.
The $3499 SB-TP1000 speaker system includes a tower for each corner and two powered subwoofers. There's no center speaker as such; instead you wire the receiver's center speaker outputs to special center speaker terminals on the front left and right speakers. Panasonic says this is because their twin center speaker design makes dialogue(and, I assume, all center channel information) appear to emanate from the screen regardless of where you sit.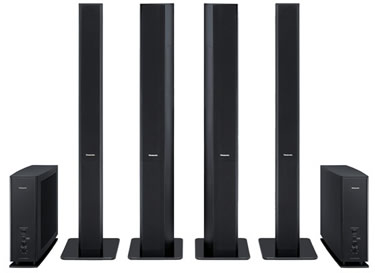 I disagree. The system does a reasonable job, but there's no substitute for a real center speaker; I'd have happily given up a subwoofer to get the center speaker.
On the other hand, not everyone has room for a center speaker, so this solution could work well in some situations.
Connecting the receiver and the speakers is easy, if a tad weird. Not only do you send two sets of wires for the center speaker to the front speakers but, since there's only one set of center speaker terminals on the receiver, you have to twists the two sets together to attach them.
And rather than having two outputs for the twin subwoofers, you use a splitter they include. It works, but it seems like an afterthought in the design process.
Setting up the speakers was an ordeal because the four towers each come in two pieces and assembling them would be much easier if there's one person to hold the pieces and one to fiddle with the rod you stick up through the base like a rectal probe. Naturally, I did it on my own.
But once it's done you don't have to mess with it again unless you're a reviewer who has to tear it all apart again when it's time to send it back.
They could've at least left me that great projector for my trouble….
Copyright 2008 Jim Bray