Panasonic's Accessible Liquid Crystal and DVD Home theater
By Jim Bray
If you're looking for a home theater that's state-of-the-art enough for most people who aren't particularly anal about such things, something which offers decent quality and won't break the bank, Panasonic has a couple ideas that could serve you well.
The models to which I refer are the Viera LC-26LX50LCD TV and the SC-PM91D DVD stereo system.
Flat Screen a good Centerpiece
The Viera LC-26LX50 is a 26" LCD HDTV that offers a very good picture, is compatible with high definition signals, and offers just about all the interface choices you could want short of a PC input.
It's quite remarkable how far LCD's have come from the days when they were used primarily to output numbers on pocket calculators or wrist watches! Today's LCD's have begun to rival the traditional CRT television in picture quality, contrast, etc.
And this $1399 US ($1699 Canadian) Panasonic is a good example of the species. The 26 inch display uses the 16x9 aspect ratio of HDTV, and accepts both 720p and 1080i HD signals, the two most popular formats for high definition broadcasting these days. It also accepts 480p signals, which is what progressive scan DVD players output, as well as 480i, which is the traditional TV standard that is currently dying out.
The set also boasts all the I/O's you could want short of computer input (an unfortunate oversight, though one that may not bother most people – but, hey, if you're going to be flexible, be flexible!). Chief among these inputs is HDMI digital one that lets you interface with today's (and tomorrow's) HD tuners and upcoming high definition DVD's.
Out of the box this handsome television looks good, but after I tweaked it with the Digital Video Essentials disc it looked even better. I turned down the brightness and sharpness controls and did some minor color/tint tweaking and from then on it looked great.
I still don't think it's as good as the best CRT TV's, but that's more an LCD thing than a Panasonic one – and they're coming on fast! If I hadn't been able to watch this LCD side-by-side with my high end 57" HDTV CRT, I probably wouldn't have noticed the difference – that's how far LCD's have come.
Most of the difference comes from contrast ratios. The contrast ratio figure indicates the difference between the brightest whites and the blackest blacks on a display, the higher the number indicating the greater the TV's ability to show subtle color details and tolerate ambient room light. This Panasonic claims up to 800:1 contrast, which is okay for today's affordable LCD state-of-the-art. I've seen plasmas and CRT television listing up to 10000:1, though, and some of the currently high end LCD TV's are claiming more than that, so while the Panasonic is very good, future models will be so much better.
In the real world of today, however, most consumer probably won't notice anything wrong with this Panasonic's overall picture quality, which I found to be just fine.
I ran DVD's and standard definition satellite TV through it, as well as some high definition broadcasts, and was pleased with the results. Couple the good picture quality with the TV's slim, thin lines and handsome base and you have a dynamite little unit for a small home or as an admittedly higher end and comparatively expensive second TV (I'd love to put one in my bedroom!).
For DVD's I threw some of the best at it, from Star Wars Episode III to Batman Begins as well as some actual test pattern footage. Colors were rich and vibrant, blacks were as black as I've seen on an LCD of this ilk, and there wasn't a lot of noticeable lag on fast-moving objects.
HD programming included Monday Night Football and some sitcoms, and the Panasonic performed well here, too. I tried both 720p and 1080i and couldn't tell the difference, undoubtedly because the set's native resolution of 1366x768 doesn't allow for true 1080i (1920 x 1080 pixels) reproduction anyway.
Don't take that as a shot against this TV. I doubt any of its direct competition offers more pixels(many undoubtedly come from the same factories anyway) – and even my CRT HDTV doesn't display the entire 1920 x 1080 pixel count, so this isn't a big deal today.
One thing I love about LCD's is that they don't suffer from burn in like CRT's and older plasmas do. This means you can run 4x3 programming (like most TV programming still is, as well as old TV programs and movies) on the 16x9 screen without worrying about the black bars to each side of the picture becoming permanent fixtures on the screen whether you want them there or not.
Panasonic does include variable aspect ratios anyway (Normal, Zoom, Full, and Justified), to add flexibility, however – so you can have the best of all aspect ratio worlds.
My only real complaint about this set, and this is a Panasonic thing, is the remote control. It works fine, but it feels cheap and the buttons – and their labels – are very small, which meant I had to put on my reading glasses to operate the darn thing. This would probably take care of itself if I were to own the set and get used to the remote's layout over time, but it was sure a pain in the neck during my two weeks or so of life with the TV.
My bottom line for the LC-26LX50 is that it's a good TV that represents today's mainstream LCD flat panels very well. The picture quality is very good, the TV itself is small and light and convenient, and it has about all the features and I/O's the average person could want.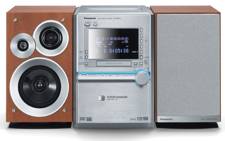 Big Sound, Small Package
Now, if you're building a home theater with the LC-26LX50 or similar TV as its heart, you want decent audio to go with it. I recommend a full 5.1 surround system, but for many people that is either not practical or not important. For many, good stereo sound quality (perhaps with decent "simulated surround") and flexibility is more important than the optimal number of speakers and channels.
If that describes you, Panasonic's SC-PM91D DVD stereo system could be a good bet. The SC-PM91D ($250 US/$350 Canadian) includes a five DVD changer that also plays DVD Audio discs (and CD's, of course), as well as handling AM/FM radio and cassette. It also comes with two stereo speakers and, while you don't get true surround, it does a surprisingly decent job of simulating surround.
It's loaded with features, too. Here's a partial list:
• 160 Watts of bi-amped power
• 5 disc DVD-Audio, Dolby Digital, dts 2-Channel Decoders
• 54 Hz / 10-bit Video & 192 kHz / 24-bit Audio D/A converters
• Advanced Progressive Scan with 4:4:4 Video Processing (for DVD playback)
• Multi Re-master for higher quality audio reproduction
(Usually, anyway. I have two DVD-Audio discs that the Panasonic refused to downconvert to two channels, and this meant some of the music was missing. I had the same problem, with the same discs, in a Lexus car audio system several months ago and it's quite annoying. On the other hand, DVD-A discs are hardly mainstream, so most people probably won't care about this.)
• Variable & Auto zoom modes
• Feather touch cassette mechanism (for your feather touch cassettes!)
• H.Bass for extended low frequency output
• 3-Way bass reflex speakers with down firing port
• Subwoofer output for after market subwoofers (a nice touch)
• Optical Digital Output for system expansion (you can use this unit as your DVD/CD player and run the audio into a different audio system for playback).
• Built-in clock with play, record and sleep timers
• Auto power off modes for CD/Tape
• Auxiliary audio input
• Remote control included
As a DVD player, the Panasonic outputs 480p via its component video output (composite and S-Video outputs pass along 480i signals as well), which is about all you'd want short of high definition DVD's which, as of this writing, aren't on the market yet anyway.
The picture quality from this system, as displayed on the LCD TV described above, was fine. It was clean and clear and sharp, though of course this also depends on the quality of the disc being played. But for its price, and considering its flexibility, I thought the Panasonic did a nice job.
Audio quality is also good, though not "audiophile quality". But for the price you get surprisingly good sound, and when listening to stereo CD's I was impressed with the system's wide and realistic sound stage. And for surround movies and DVD's, it did a pretty good job of making you think there are sounds coming from behind you.
My only real complaints are that the DVD changer mechanism is slow and confusing, and the remote (as with the TV) features tiny buttons with small labels. It also doesn't seem to be laid out in a particularly logical manner.
The buttons on the front of the unit itself are also small and hard to read if your eyes have begun to succumb to the horrors of middle age.
But considering the modest price, this is a decent sounding and performing unit that combines audio and video playback into a single unit. Could be just what the doctor ordered for many people.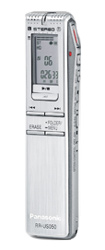 Speak and Spell
While I was playing with (sorry, I mean "reviewing") the LCD TV and stereo I also had a chance to check out Panasonic's RR-US050 digital voice recorder. I was fascinated by the press release that said this unit would interface with a computer and let you download your recordings – and then run them through a speech-to-text engine to have it converted into editable text.
"What a great tool for a writer," I thought. I mean, heck, if I could record an interview and then just run it through some software to create a Word (or whatever) document it would mean the end of note taking and transcribing!
So I jumped into that test with both feet.
Alas, the Panasonic recorder works pretty much as advertised and is actually a pretty nice little unit. But the speech-to-text engine (which is a generic program not specifically from Panasonic) was a complete waste of time!
The RR-US050 digital voice recorder itself is a slick little unit. It records in stereo, though I'm not sure why, and is very slim and compact and features a built in microphone. You can record up to 8 hours, 10 minutes in Stereo SP Mode or 16.5 hours in Monaural SP Mode.
It's pretty easy to use, though again the buttons and labels are small (which is unavoidable in a device tiny enough to carry in your pocket), and you can organize your sound files in folders to make them easier to find later.
The thingy also has a USB terminal for hooking it into your PC (the USB cable is included), at which point it shows up on your system as "just another disk drive," which is as it should be. Stereo earphones are also included.
As mentioned, while the recorder works fine, that "Voice Editing Ver. 1.0 Professional Edition" software drove me nuts. Well, that's not quite fair. When it comes to downloading and managing the files, or converting your own speech to text once you've trained it, it works pretty well. But for the task I really wanted the voice recorder and its software to handle, automatic note taking and transcribing, it was a joke.
And a frustrating joke at that. I'd run voice files I'd recorded remotely and tell the system to convert it to text. And it did convert something to text, but it certainly wasn't anything close to what I had recorded. In fact, it seemed as if it were converting an entirely different file to text, so different was the output from the input.
Maybe it was a configuration issue and it was dredging up test files from its own folders, but I checked this way and that way and nothing helped. And, let's face it, you shouldn't have to go back to school to figure out a gadget!
Too bad. If it had worked as I had hoped, Panasonic would have had to pry the recorder from my warm, live fingers. As it was, I'd still like to have a tool such as this, but at $150 US /$200 Cdn. it seems a touch dear when my old microcassette recorder still works.
I'm confident that the voice-to-text technology will improve, and probably quite quickly, but as of this writing it has a way to go before it's practical.
Jim Bray's technology columns are distributed by the TechnoFILE and Mochila Syndicates. Copyright Jim Bray.