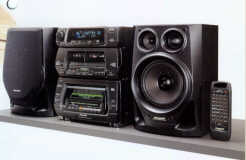 Panasonic's "MEGA-Mini" Compact Stereo System
Home Jukebox pumps out the volume
Ever miss the days of the old jukebox, those coin-swallowing toys that have serenaded teens at their local hangout since time immemorial? Do you have about 60 compact discs hanging out in your home, just looking for a single place to hold them? Do you have a small home or office that needs a decent stereo system, but want one that'll hold all your favorite CD's at the same time?
Well, if you answered "YES" to any of the above questions, you may want to take a look at Panasonic's line of 'mini-component' systems, which give you a 60 (plus 1) disc CD changer, along with the usual AM/FM and cassette. They're good performers that can serve either as your second stereo or even as your primary one if that's the sort of thing that meets your needs.
TechnoFILE played with the SC-CH94M (about $600US) and, though it won't go down in history as our all-time favorite stereo, its presence will certainly be missed in our office.
Panasonic's "Mega-Mini" does a remarkable job of stuffing space for those sixty-one CD's into a package about the same size as competing mini systems that may only offer 3 or 5 disc capability.
The "Jukebox" theme is very prevalent in the design of this unit. In fact, when you first switch it on, you're greeted with a cheery "Hello" on the fluorescent display, and the whole unit has a flashy lighting display that reminds one of jukeboxes of days gone by. We didn't really care if this feature was there or not, but it certainly didn't distract from our enjoyment of the unit.
Disc-ussion
Loading the compact discs can be a real chore. Panasonic has thoughtfully made the unit front-loading, which facilitates the process, but the slots are small and you have to put each disc in turn into a little holder and slide it inward, which loads the disc into the caddy. The unit separates each ten discs with a little larger plastic divider, allowing you to play discs by "block".
Oh, you'd better ensure you have the discs inserted with the label facing the right way, or you'll have to put 'em in again.This is no different from any other CD player, of course, but it's harder to see the labels when you're sliding the discs in on their sides.
It's easy to lose track of which disc is which once you've consigned them to the bowels of the stereo, but Panasonic quite thoughtfully has included with the unit a "liner notes organizer" into which you can put either the documentation that comes with the CD's jewel box or whatever other cryptic note you want to use for keeping track of the discs. Once you've done that, you can put away your jewel boxes so they don't take up space in your home.
And you don't have to know exactly where inside the unit a particular disc is hiding, as long as you know which disc number it is: you can access discs via the stereo's wireless remote control.
Performance of the CD changer is fine. Disc changing is quiet and quick, with the transport mechanism moving horizontally behind the CD's, picking the one you want to play, and leaving the others intact. This also means you can swap discs at any time (removing some and replacing them with others) while a disc is playing - giving extra flexibility. It's probably not something you'll do a lot of, but it's there if you want it.
"Group Play Mode" lets you customize your listening sessions. By manually assigning your discs into Groups A through F, you can program your music by theme, artist, or whatever other pigeonhole takes your fancy. There are also fourteen preset group names, like "Country," "Dance," etc. Once you've selected your group, you can partake of typical CD player features as Random Play or Continuous Play.
It's a lot of flexibility, indeed.
The "Single Play" slot is at the left hand end of the sixty disc bays (it's slot 0). Slide your brand new disc in there, press "Single Play", and you're off to the races. You can also program tracks from the single disc into a listening session that includes some of the other sixty platters.
The Panasonic's fluorescent display kind of walks you through the various operations, though a good walk through the owner's manual will be more helpful.
Sound Adjustments
Audio adjustments are pretty straightforward. Panasonic's "Sound Field Control" is one of those circuits that electronically processes reverberations and reflected sounds to give you a more spacious sound effect. There are other settings for Disco, Hall, and Live. Even better, the equalizer gives you presets for Heavy, Clear, and Soft, which are pretty self explanatory. There are no conventional tone controls, though, which is unfortunate.
Radio Waves
The tuner comes with 12 presets, so you can program in your favorite radio stations. Programming is quite easy and, of course, you can also tune the stereo by hand. Radio performance was fine, though we were a little disappointed at the lack of a cable antenna input on the back so we could listen to the radio stations we get over the cable, instead of just off the air. This antenna connection can be fudged easily enough, but we think it should be included on all tuners.
Of course, that's just us talking. There are many locations in which this point would be moot - places that actually have good radio service.
Tape Worms...
The dual cassette deck also works well, and is of the auto-reverse persuasion. In this instance, only Deck 2 can record, but that's okay. The deck automatically selects the recording level, and any messing you might do with the soundfield controls won't affect the recording, either. The latter is standard procedure, and though we would have liked to see manual volume controls as well, we realize this isn't meant to be a high end recording studio; we just want it all!
One nice thing about an all-in-one unit like this is that it makes recording from CD's easy: the cassette deck and CD player coordinate with each other to make it basically one touch easy (once you've set it up). Our initial recording session cut off the beginning of the first song on each side because the deck doesn't take into account the leader at the beginning of a tape, but once you've figured that out you can take steps to correct it (winding the tape ahead by hand).
Other stuff...
The Panasonic's internal clock also works as a timer, so you can set the unit to wake you up with music, or the radio, at a preset volume and time. Likewise, the sleep timer lets you nod off to music, and you can also set the unit to record something from the radio when you're not going to be around. You can even use two timers together; for instance you can go to sleep to the radio, and be awakened by a compact disc.
And an Auxiliary input lets you record or play from an outside source, like a reel to reel deck (remember them?) or a laserdisc player. Oh, there's also the ubiquitous headphone jack.
Sounds fine?
We were quite impressed with the audio quality of this unit. While it won't touch our reference home theatre audio system (the speakers alone of which cost about three times the price of this entire unit), it isn't designed to compete with such. For a mini system, however, we thought it sounded fine. It was clear and clean, with surprisingly good bass, and it gave us very pleasant listening experiences in our office. And that's all it's meant to be for: smaller environments - it isn't meant to power your home theatre and in fact doesn't offer such home theatre amenities as Dolby Surround.
On the whole, this is a nice unit that performs very well. The 60 disc changer is something we could live without, but we can see how many people would like that feature.
Panasonic's SC-CH94M Specifications:
Power output: 70 Watts per channel into 6 ohms
Speakers: 3-way. 17 cm cone type woofer/6cm cone type midrange/piezo type tweeter.
Output sound pressure level: 87dB/W (1 m)
Frequency Response: 43 Hz - 22 kHz (16 dB)
Dimensions: 10 5/8 x 13 21/32 x 17 3/32
Weight: 26.5 lb