Oppo LCD TV/DVD Combo
By Jim Bray
It looks great in a bedroom, on a kitchen counter, or even on a desktop. It would also look great in a small living room, dormitory or home office.
"It" is the Oppo LT-2007, a 20 inch LCD TV with a DVD player built in. This $599 U.S. item is from the same company that makes the tour de force up converting DVD player DVD-970HD I also reviewed recently. That player offered more bang for the buck than it really had any right to. Does the TV?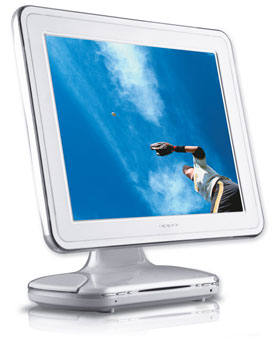 Well, no, but you can't expect bargains such as the DVD-970HD to come along every day. It's still a very good deal though – and what it does offer you is a nice "conventional" LCD TV and DVD player combo that, as with the other DVD player, has so much flexibility it isn't funny.
It would also be equally at home as a PC monitor as it is as a television, making it an attractive choice for those with limited space but who require both a TV and a computer display. And that isn't the end of its flexibility. Read on.
The handsome TV has a very small footprint, as LCD's are wont (even if they don't have DVD players built into them), and the DVD player hidden in the base is nearly invisible except for the small slot on the front, where it looks almost like a heat sink.
It's a nifty setup.
"The LT-2007 features one of the highest pixel resolutions for its size combined with a striking DVD player, all packaged as pure eye-candy for entertainment aficionados," says Nathaniel Plain, Manager of Technical Service at OPPO Digital. And he's right so far as he goes, though I'm not sure that 800x600 pixels is that earth shattering in 2006. Its 500:1 contrast ratio isn't bad for computer monitor, but as a modern TV it has one very big flaw: it isn't 16x9 widescreen.
Now, being an old-fashioned 4x3 aspect ratio TV isn't a deal breaker, especially if you consider the price of this unit. I just happen to want it all. And considering the price of this unit, along with its flexibility of connections and function, it still comes off as a good deal.
I set it up in a couple of places in my home, though most of the time I ran it is a bedroom TV/DVD player combo. It worked really well both in my kitchen and in the bedroom, but in the bedroom it displayed the usual LCD shortcoming in the contrast department. This was chiefly because when the lights were out, the screen would be overpoweringly bright unless I cranked down the contrast and brightness.

This posed no problem most of the time, but on darker images such as night scenes, the picture tended to get a little one-dimensional. This is more of a 500:1 contrast ratio LCD thing than a specifically OPPO thing, however.
And on the whole, the LT-2007 made a wonderful bedroom TV. It features a sleep timer with a variety of increments up to two hours. And the remote control is easy to use, mostly, though I thought the buttons were little small, and their uniform size made it difficult to use in the dark until I had their positions memorized.
The audio is pretty good, with good sound quality and a decent volume. It plays about as loudly as one would want in a small room, especially considering it's a movie player as well. I had to really crank it down when using it in the bedroom with the sleep timer; there, the optimal volume range was between three and six, which is surprisingly low. Otherwise we'd be blasted out of bed.
The The LT-2007 also offers an impressive array of input and output capability, including a digital audio output for surround sound home theater connection, component video input and VGA for computer hookup. It can be connected to a cable box or a satellite receiver, the latter of which is how we used it.
And even that isn't the end of the unit's flexibility. It also comes with a USB and card reader, so you can use it to show people your family photos when you want to get rid of them quickly.
The disc player handles DVD-Video, DivX video, Audio CD, Kodak Picture CD and other formats such as CD-R/CD-RW, DVD-R/DVD-RW, and DVD+R/DVD+RW. Whew! That's a pile of acronyms, and though I noticed DVD-Audio is missing. The TV section includes a 181-channel NTSC tuner with automatic station searching and fine tuning. Digital 3D comb filter enhance the unit's color reproduction, resolution and sharpness.
You even get such convenience features as last channel recall, a headphone jack and even a cradle for the remote control on the back of the unit. I never took advantage of the latter, because I've never understood the point behind putting the remote with the unit: you have to get up and go to the unit to get it, which kind of defeats the purpose. Lazy, eh?
Personal quibbles aside, I liked this OPPO TV a lot. It offers very good value and flexibility, and if I were looking to install a TV/DVD combo in a place like a dormitory or office, this would be high on my list.
Even if it isn't widescreen.