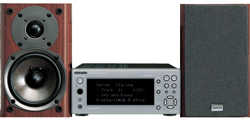 Onkyo Audio System Makes a 'Net Gain
by Jim Bray

Now that the Internet is making inroads into home entertainment systems, Onkyo is offering the opportunity to stream tunes into any room of your house.

Any room that's wired for the home network, anyway.

The company currently offers two digital audio receivers, the high end TX-NR900 fully featured home theater receiver and the subject of this review, the NC-500PKG.

Available in two models (with or without speakers; the PKG moniker means it comes with speakers), the NC-500 is a nice little stereo unit that integrates with your home network.

As a conventional stereo, the NC-500 is a fairly stripped down model - not that there's necessarily anything wrong with that. For example, it has no inputs specifically labeled for CD and/or DVD - though you can use its auxiliary input for one of these devices and it works just fine. But it does have an AM/FM tuner built in, as any good receiver must, and it also works fine. The NC-500's real claim to fame, however, is its networking capabilities and despite a rather Mickey Mouse interface it interacts with your Windows PC very well.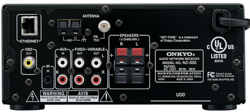 By networking the NC-500, you can play all the MP3, Windows Media or wave files you've stored on your home network, though Onkyo says you won't be able to play WMA files that are content protected. We didn't have any such files, so can't comment on that aspect of it, though we have no reason not to believe Onkyo.
You can also listen to Internet radio stations, though there aren't many of these beasts operating as of this writing and the quality of their audio (and programming) is all over the map.
To use the NC-500 on the network, you first have to download the Net-Tune software from Onkyo's Web site (www.onkyousa.com). This is relatively straightforward, though the site's interface is also a tad unforgiving. Once you install the software and run it on your PC the NC-500 truly becomes wired to the world, and that's really nifty.
When we first installed the software and fired it up, it searched our entire network for files it understood. This was handy, but it also means it found a lot of crap (such as sound effects and the like that various applications installed on our system) that you have to get rid from the database of if you don't want excessive clutter. Still, this probaby beats the unit NOT finding everything!
The front panel on the the 8-inch–wide NC-500 looks much as you'd expect it to: and it has a big LED display panel we had no trouble reading from across the room. The back panel features the Ethernet jack, fixed and variable audio outputs, the abovementioned input for CD player or whatever, a pair of speaker connections, and a standard video output that lets you feed the NC-500's display on your TV.

Most of the unit's functions can be accessed with the small and straighforward remote control.
As a small, bookshelf stereo, the NC-500 performs well. It's no big, honking home theater receiver, and there are no surround modes offered, but it doesn't pretend to be a home theater receiver. On the other hand, it's ideal for smaller installations (a college dorm, perhaps?) and if you want it to put out big honking home theater sound you can patch it into your big honking home theater (which is what we did for a good portion of our test period) and run your networked tunes that way.
As a small standalone, the Onkyo's 20 watt per channel WRAT (Wide Range Amplifier Technology) output is adequate for most applications and is a good match for the speakers. And since the stereo has a built in alarm, you could even use it as a clock radio - which could come in handy in such applications as the dorm or bedroom.
We found the networking performance a bit of a mixed bag, probably because this unit is pressing the outside of the envelope and it'll probably take a couple of generations for the software to mature. It'll also take a while for Internet radio to take off, if it ever does. The Internet radio shortcomings aren't Onkyo's fault, of course, but rather the state of the art and/or marketplace.
One thing we really missed was the ability to stream "real" radio stations' Internet feeds. If you like to listen to audio streams of, for example, your favorite talk show host or sports team, you're out of luck. This seems to us to be a major oversight, since there are a lot more "conventional" radio stations streaming over the Internet than there are "Internet Radio" stations.
Hopefully this will be addressed with subsequent versions of the Net-Tune software.
Accessing the stations and buffering them can be slow, which is a tad annoying, and the stations can drop out at times (again, not Onkyo's fault). Not only that, but many channels weren't unavailable and several genres had extremely limited choices of stations.
A potential drawback to the NC-500 is that you need a wired Ethernet jack in your dorm, bedroom, garage, or wherever you want to install the NC-500; otherwise you'll need a wireless Ethernet bridge to use it without a cabled connection. On the upside, Onkyo says you can plug up to 12 NC-500s into your home network and have them independently access music without jiggling each other's elbows. This is a nice bit of flexibility.
Sound quality is fine for such a small system, and the unit is very easy to use - though the shortcomings mentioned above make it a tad frustrating when networking. Only a tad, though - and the "gee whiz" factor makes up for any frustrations. We also ran a CD player (actually, it was a DVD player we use for playing CD's) into the Onkyo and it worked well and sounded fine both using the Onkyo speakers and patched through the Big System.
We obviously preferred running the Onkyo through our reference home theater audio system rather than using its own small amp and speakers (the "more power" syndrome!), but that said we feel the Onkyo's amp and speakers would be perfectly adequate in smaller environments.
The NC-500's optional speakers are a 2 way, bass reflex design that can handle up to 70 watts without turning into little black rocks. Frequency response is an adequate 60 Hz to 35 kHz. The drivers include a 4 3/4 inch cone and a one inch dome tweeter. The speakers add $100US to the unit's $400US price and could come in very handy if you plan to use the NC-500 as your primary audio system.
The Net-Tune software requires a minimum of a Pentium III/600-compatible with 128 MB of RAM (256 if you use Windows XP), 20 Meg of hard drive space, and an Ethernet adapter.
We're impressed with Onkyo's NC-500PKG. Despite its relative dearth of inputs, but thanks to its networking capabilities, it's a flexible audio solution for those who store their tunes on their PC's. While the Internet radio aspect is a bit of a waste at this point in the Internet's history, it's still nice to have the capability, though as mentioned we'd prefer to see subsequent generations of the software allow you to access the feeds from any audio source on the 'Net.
We'd probably get the speakerless version were we to buy such a system, but that's because we'd use it to feed networked audio into our reference system. The fact that Onkyo offers two versions, speakerless and "speakered", is a bonus.
Jim Bray's columns are distributed by The TechnnoFILE Syndicate.