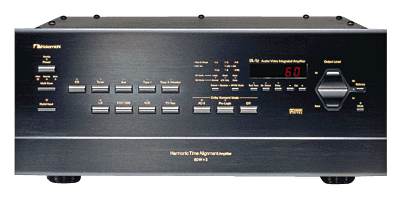 Nakamichi IA-1z DTS Integrated Amplifier
High End Home Theater
by Jim Bray
Enthusiasts with high end audio leanings don't have to worry as much about the inevitable compromises between pure aural ecstacy and home theater delights.
That's because Nakamichi's IA-1z DTS Integrated Amplifier has arrived on the scene.
The IA-1z DTS is definitely a high end component - it sells for about $2600US - yet rather than eschew the "hated video" aspects of the home theater and concentrate only on sonic superiority, it embraces both sides of the equation fully.
Balancing audio quality with the input/output and surround sound requirements of today's home theater is a tricky thing to accomplish. There are concessions to be made when packing all that stuff into a single component - which is why many high end audio enthusiasts look down their noses at things like A/V receivers, which provide "all in one" solutions to the masses who can't afford - or can't be bothered with - high end separate components.
But, as Nakamichi shows, it can be done if you really want to do it.
The Japanese manufacturer, whose AV-10 receiver we reviewed (and loved!) earlier, has taken a "no prisoners" approach to this amplifier. Not only does it offer Dolby Digital and DTS decoding, without all the "digital sound field" surround sound gimmicks available on many components, but it's a top notch audio component as well, which will put it in good stead with the audiophiles among us.
The IA-1z DTS is a handsome unit, in a plain sort of way, without a lot of bells and whistles. It tips the scales at just shy of 40 pounds, puts out 100 watts per channel in stereo mode and 80 watts x 5 channels in surround mode.
Ergonomic Delight?
The IA 1z DTS' display is simple and functional, and would you believe it comes with two remote controls. Two? You bet.
The main unit is a learning universal remote you can teach to operate just about any other component you own. The second remote is small and only operates the main functions like power, volume, etc. and is primarily designed for use in a second room when you're exploiting the IA-1z DTS's multi-room capabilities. We found the secondary remote extremely handy right in our home theater, though, next to the big easy chair, while the main remote stayed on the coffee table in front of the couch - with the rest of the remotes. This allowed people in different parts of the room to operate the Nak independently of each other, which was a nice bit of flexibility - most of the time. There was the odd time when having two remotes on hand led to remote control wars, however, as two people argued with their fingertips about how loud a particular programming source should be played.
Still, at least we were communicating...
Programming the universal remote is fairly straightforward, though it's more involved than merely punching in a code. The IZ 1z DTS uses the type of learning remote that requires you to point the source remote at the top of the Nak's, and press corresponding buttons on both units. This is a bit more work, but it's also a lot more flexible than the code-based remotes.
The remote isn't an ergonomic masterpiece by any means, featuring multiple rows of virtually identical buttons with tiny labelling. It's no worse than much of its competition, however - and at least it's flexible.
The front panel is clearly laid out, with audio/video source selector buttons mounted in a pair of rows on the left (they're big and easy to find, too) and the surround mode/speaker controls to their right. Setting up the speakers is easily accomplished without even glancing at the manual, and a bunch of LED's let you know upon which channel you're wreaking havoc.
Later, when you're actually using the amp, these LED's indicate which channels the signal source is using, from two channel stereo to the 5.1 configuration of the digital surround playback systems.
You get a lot of flexibility in configuration of the amp, too, including different modes to optimize the amp for different speakers. You can use the test tones to set up your surround configuration, and even set the delays independently for the center and rear channels.
A dynamic range compressor, accessible on Dolby Digital programming sources, makes the system more conducive to late night viewing (when the kids are asleep) and you can also adjust the low frequency effects signal.
I/O Abundance
Rear panel connectors included on "The Nak" include just about all the inputs and outputs you're likely to need, save possibly a turntable. Each video source has "S" and RCA jack connectors, and all the jacks are gold plated, which is a nice touch.
The five sets of speaker terminals are of the big "binding post" type that let you hook in just about any connector you may have (we used banana plugs). Video connectors include LD, DVD/DBS (though we wish these were separate), VCR (record and play, naturally), and TV/Aux (again, we'd prefer separate, but can live with this configuration). There's also an extra video output to the the TV monitor itself.
Audio connections include CD, Tuner (integrated amps don't have built in tuners), and two sets of Tape Rec/Play.
To sweeten the deal, Nakamichi throws in two optical and three coaxial digital inputs, one of which is meant to take the output from an AC-3 decoder-equipped laserdisc player. You also get a set of remote outputs, which can be used to send your favorite tunes to another room.
All of these connectors are grouped logically and are easy to find and use.
Another set of outputs is for the preamp stage, so you can expand the system by adding different power amps down the road. This would waste the amps built into the unit, and it would seem to make more sense just to buy Nakamichi's CA-1 Audio/Video Control Amp if you want to mix and match amplifiers.
But, hey, the feature's there if you want it.
Incidentally, Nakamichi says the IA-1z is basically the CA-1 and its companion PA-1 power amp built into a single unit.
Life with the Nakamichi
Using the amp is very straightforward, and the sound is very, very clean and easy on the ears. We could find no harshness or unpleasantness in its reproduction, and were very, very impressed with its imaging all around the room.
For example, there's a scene in the movie "Dragonheart," which we have in DTS audio, in which Dennis Quaid and the scaly beast are travelling across the countryside, the dragon flying in circles around Quaid as they converse. The Nakamichi placed the dragon's movement beautifully, with its voice and the flapping of its wings circling the room with the character. It was an exhilarating home theater experience that reminded me of the nearly forgotten heyday of four channel quadraphonic sound.
The amps inside the IA-1z are what Nakamichi calls "Harmonic Time Aligned" which, as a non-technical publication, we aren't going to explain in detail. Nakamichi says it aligns the primary signal (the good stuff you want to hear) with the harmonic distortion so it all arrives at your ears simultaneously, which they say makes the overall sound quality much more pleasant. We cannot quibble with the pleasant sound of this amp; it is indeed, very pleasant.
On the other hand, we found that on our reference speakers (older DCM Timeframes they'll have to pry from our proverbial cold, dead fingers) the IA-1z DTS didn't offer a lot of "oomph" at virtually any volume, so we could never get it to play as loudly as we'd have liked (which, admittedly, is really loud!). This was undoubtedly a mismatch between the Nak and the relatively inefficient DCM's. If we'd had a pair of Klipsch, for example, on hand, I reckon we'd have been very pleased indeed.
Strangely enough, the AV-10 receiver we tried earler (which isn't as high end as this amp) seemed to be a better match for our DCM's. Go figure.
You can control the Nak via onscreen menus or, if you prefer, you can shut 'em off and wing it solo. I prefer not having these displays when I'm watching something, so was glad for the flexibility.
I had one other problem when using this beautiful amp, and it was a strange one. When playing an audio CD in a DVD player, I had to shut off the Dolby Digital setting manually (not a big deal, as long as you remember to do it), but the problem came when going back to play a DVD. If I forgot to activate the Dolby Digital setting manually before the disc started playing, this gawdawful "digital motorboating" noise would be generated through the speakers.
Nakamichi says it's only a problem with AC-3-encoded discs (DTS ones, it says, are automatically sensed - and I'll have to take their word for it 'cause I forgot to check with our DTS discs before sending the unit back!), but most DVD's come with AC-3 audio, not DTS, so this isn't much consolation.
A minor problem, but not something I expected to see in a $2600US amp.
It just goes to show that nothing's perfect under the sun.
Our overall impresssion of Nakamichi's IA-1z DTS is that it's a solid, well designed and built unit that offers audiophiles all the home theater gadgets one needs, without the bells and whistles that may make a nice sales pitch but which don't do a lot for your actual enjoyment (and which you'll probably never use once you've tried them once) and which can compromise the ultimate audio fidelity of the system. The amp is easy to use, and it offers beautiful sound quality.
We'd like to have seen more power for our home theater application (since our speakers are lovely but inefficient, we're forced to subscribe to Tim 'the Toolman' Taylor's "MORE POWER!" school of thought here). That said, however, there are many people who either have very efficient speakers or who aren't interested in peeling the paint from their walls.
To them, we say this Nakamichi is well worth a serious look.If they can afford the sticker price, they just may find the IA-1z a marvelous unit for their lifestyles.
MANUFACTURER'S SPECIFICATIONS
Analog Audio Section
Inputs: 9 (CD, Tuner, Aux, Tape 1, Tape 2, LD, DVD/DBS, VCR, TV/Aux)
Recording Outputs: 3 (Tape 1, Tape 2, VCR 1)
Main Output: 6 channels (Front L/R, Center, Rear L/R, Subwoofer)
Remote Output: 2 channels (L/R)
Input Sensitivity/Impedance: 250 mV/47 kohms
Rated Output Level/Impedance
Main output: 1 V/1 kohm
Remote Output: 500 mV/1 kohm
Recording Output: 250 mV/1 kohm
Subwoofer Output: 1.65 V/1 kohm
Maximum Main Output Level: 8V
Total Harmonic Distortion: Less than 0.01% (20 - 20,000 Hz)
Frequency Response: 10 - 50,000 Hz +0, -3 dB
Signal-to-Noise Ratio: Better than 90 dB (A-WTD, input shorted)
Channel Separation: Better than 70 dB (1 kHz, input shorted)
Digital Audio Section
Inputs CD: 1, Coaxial
LD (AC-3 Digital): 1, Coaxial
LD (PCM Digital): 1, Coaxial
DVD/DBS: 1, Coaxial or Optical (selectable)
(AC-3 Digital/PCM Digital)
Input Impedance: 75 ohms
Maximum Output Level (After D/A conversion, at 0 dB)
Main Output: 7 V/1 kohm
Recording Output: 2 V/1 kohm
Subwoofer Output: 8 V/1 kohm
Total Harmonic Distortion: Less than 0.01% (1 kHz, at 0 dB)
Frequency Response: 10 - 20,000 Hz +0, -0.5 dB
Signal-to-Noise Ratio: Better than 100 dB
Dynamic Range: 95 dB
Channel Separation: Better than 90 dB
Output Level Control Section
Gain Range: -75 dB to 0 dB (level 0 to 100 max.)
Gain Resolution
2 dB-Steps: -75 to -55 dB (level 0 to 10)
1 dB-Steps: -54 dB to -35 dB (level 11 to 30)
0.5 dB-Steps: -34.5 dB to 0 dB (level 31 to 100)
Audio Mute Default Setting: -75 dB (level 0)
User Adjustable Range: -75 to -35 dB (level 0 to 30)
Video Section
Inputs:
Composite video: 4 (LD, DVD/DBS, VCR, TV/Aux),
Coaxial S-Video (Y/C) : 4 (LD, DVD/DBS, VCR, TV/Aux),
S-Video jack Outputs: Composite video: 3 (VCR, Monitor, Remote)
S-Video (Y/C): 3 (VCR, Monitor, Remote)
Video Signal Type: NTSC
Video Signal Level/Impedance:
Composite video: 1 Vp-p/75 ohms
S-Video: 1 Vp-p/75 ohms (Y-Signal) 0.286 Vp-p/75 ohms (C-Signal)
Frequency Response:
Composite video: 5 Hz - 10 Mhz +0, -3 dB
S-Video: 5 Hz - 10 MHz +0, -3 dB
Dolby AC-3/Pro Logic Section
Speaker / Subwoofer Mode Settings and Signal Characteristics
Front L/R Channels Speaker Mode:
Large: Full range signal
Small: High pass filter active (fc: 80 Hz, 12 dB/oct)
Center, Rear L/R Channels Speaker Mode:
Large: Full range signal
Small: High pass filter active (fc: 80 Hz, 12 dB/oct)
None: Phantom mode for Pro Logic
Subwoofer Channel SW Mode:
Normal: Low pass filter active (fc: 80 Hz, 12 dB/oct) + LFE signal (AC-3 mode only)
LFE only: Only LFE signal is output
No: No subwoofer output
Channel Level Calibration Range
Front L/R: -3 to +3 dB
Center: -10 to +10 dB
Rear L/R: -10 to +10 dB
Subwoofer: -10 to +10 dB
Delay Time Calibration Range
Center: 0 to +5 ms (AC-3/Pro Logic mode)
Rear L/R: 0 to +15 ms (AC-3 mode) +15 to +30 ms (Pro Logic mode)
System Remote Contorl Section
Remote Sensor Input: 1-1/8" stereo mini jack for external IR sensor
System Remote Outputs: 1-1/8" stereo mini jack for controlling Nakamichi cassette decks/CD players
Power Amp. Remote control Output: 1-1/8" stereo mini jack (12V DC/120 mA)
Power Amplifier Section
Outputs: 5 speaker terminals (Front L/R, Center, Rear L/R)
Continuous Sine Wave Power Output: 80W x 5 (8 ohms, five channels driven, 20-20,000 Hz, 0.1% THD)
100W x 2 (8ohms, two channels driven, 20-20,000 Hz, 0.1% THD)
Dynamic Output Power: 102W x 5 (8 ohms, five channels driven)
Power Bandwidth: 10-30,000 Hz (Half rated power, 0.1% THD)
Output Impedance: Less than 0.1 ohms
Total Harmonic Distortion: Less than 0.1% (Rated power, 20-20,000 Hz)
Intermodulation Distortion: Less than 0.1% (Rated power, 60 Hz: 7 kHz, 4:1)
Output Current Capability: 10 A continuous, 20 A peak (Per channel, five channels driven)
Power Supply: 600W R-core transformer, 44,000µF total filter capacitance
General Power Source: 120V AC, 60Hz 230V AC, 50Hz (According to country of sale)
Power Consumption: 860W
Dimensions*: 430 (W) x 170 (H) x 398 (D) mm 16-15/16 (W) x 6-11/16 (H) x 15-11/16 (D) inches
Weight: Approx. 17.5 kg/38 lbs. 8 oz.
Supplied Accessories: IEC R6 (size AA) batteries for RM-1m/RM-1s (4)
AC power cord (1)