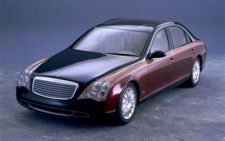 Mercedes "Benz" in Different Directions
By Jim Bray
DaimlerChrysler's plan to re-enter an upmarket niche in which it hasn't competed for years appears well on track.
The merger between Daimler-Benz and Chrysler means the automobile giant offers vehicles ranging from inexpensive compact (Chrysler Neon) to high end luxury (Mercedes-Benz S-Class). Now, the first 20 prototypes of the "super luxury" Mercedes-Benz Maybach are undergoing testing with an eye toward full production and deliveries next year.
The hand-built Maybach (pronounced "My-back") brings the three-pointed stars back into a market they haven't attacked since the 1930s' Maybachs and the early 1980s' model 600 Pullmans.
Calling it "one of the most ambitious development projects in the entire automobile industry," DaimlerChrysler promises the Maybach will "meet the highest expectations in terms of style, appointments, comfort and technology." The Maybach will also feature an air suspension system tweaked for maximum comfort, helping create what the "Benz brain trust" says will be an automobile that sets new standards in noise and climatic comfort.
Trials have also begun for the new and powerful twin turbo, twelve-cylinder engine (16 and 20 cylinder power plants were also apparently considered before the "12 banger" was settled on) powering the Maybach.
The top end model is going to be BIG, and I don't mean in popularity. The $300,000 (estimated) Maybach will be about nineteen feet from bumper tip to bumper tip, which makes it longer than the Cadillac Deville or Bentley Arnage - and nearly two feet longer than the current Mercedes-Benz S600. Mercedes-Benz will also supply, on request, a shorter wheelbase model and the company claims both cars will have "incomparable automotive personalities."
As it should in so stratospheric an automobile, Maybach will also offer every comfort and refinement of which one could think, from a "business package" to entertainment systems. What this means to its well-heeled customers is that they'll be able to configure their Maybach to their own tastes, at least when it comes to materials, colors, gadgetry and technical features.
The three-pointed people claim that because of this flexibility, each Maybach will be an exclusive and thoroughly unique specimen. Design concept pictures I saw indicate a car that resembles a big "S-Class" Mercedes-Benz on steroids and, while it's a little more blockish than the latest incarnations of the company's flagships (yet still very aerodynamic), it's still one of the most handsome "limousines" I've seen.
Pictures of the interior remind me of the original Lexus LS400 and SC400, which to me are two of the all time great automotive environments. The driver's area looks extremely well laid out and the back seat, which is undoubtedly where many (if not most) of the owners will sit as they're chauffeured around, looks cavernous. The seats appear to have enough leg room for Paul Bunyan, and they recline. Ceiling-mounted liquid crystal display TV screens will offer video programming, and there's even a unit that slides out from the front between-seat console that offers wood-trimmed storage for a bar, etc.
If that isn't enough, the car's supposed to include three telephones and an "electrochromic roof" that will allow rear seat passengers to tailor the amount of light that rains down on them through what, in more pedestrian vehicles, would be called a "moon roof."
Maybach is named for Daimler-Benz chief designer Wilhelm Maybach (1846-1929), the man credited as having been the brains behind the first Mercedes over a hundred years ago. Mercedes-Benz is expected to offer "several hundred" Maybachs per year in the U.S. once production has begun.
Meanwhile, DaimlerChrysler has also begun testing a new vehicle powered by fuel cells, which convert hydrogen and oxygen into electricity stored in onboard batteries. The zero emissions "NECAR" (New Electric Car) is based on the Mercedes-Benz A-Class and is to put in some 25,000 miles of testing over the next three years. The vehicle should reach a top speed of 90 mph.
DaimlerChrysler is planning to market its first fuel cell-powered buses next year, with the first such cars appearing in 2004.
If that isn't enough, on January 18th 2001, DaimlerChrysler unveiled a group of customized finishes for its Mercedes-Benz line. Called "Designo," it offers combinations of new paints and materials that can be individually selected - or purchased as "designo packages" for people (like me) who yearn for the added zest, but who can't color coordinate their own wardrobe. Designo is an extra-cost factory option.
Jim Bray's technology columns are distributed by the TechnoFILE and Mochila Syndicates. Copyright Jim Bray.