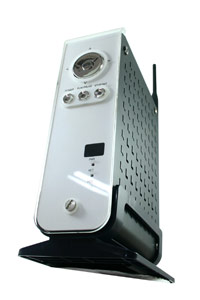 MediaGate Server Sends Music, Video Through Your Home
By Jim Bray
September 24, 2008
If you have music or movies stored on your computer and want to play them on your TV or audio system, a media server could be your answer.
Media servers can be an easy way to get programming from Point A to Point B without having to actually get up from your easy chair and go get it yourself. Sounds like a plan!
Depending on the one you buy, they can store and/or stream files from device to device, for instance from your home network to your Big Screen TV in the home theater.  
And, naturally, there's a bunch of them from which to choose, from multi-thousand dollar systems that store your DVD's onto huge hard drives, to smaller and more affordable units that can handle your media files without forcing you to rewire your house.
An example of the latter is the $225 MediaGate MG450HD Wi-Fi Net-Disk multimedia player, which is about as flexible as you'd need in this day and age. You can buy the unit with a hard drive installed or you can slap your own inside.
I chose the latter route, since the MG450HD Entertainment Server they sent me didn't have a drive already – and thanks to a family member who had a 120 gig drive lying around doing nothing. Installation of the HD was so simple even I could do it (undo a few screws, plug in the drive, and put the cover back on), and so was the hookup.
The player can handle either 3.5 or 2.5 inch hard drives and when you connect it to your PC it works just like an external USB 2.0 hard drive. The thing'll also work as a Digital Media Adapter(DMA) and stream multimedia content from a PC to HDTV without any hard drive. 
Operating the device nearly caused me to pull out my hair, but I learned over the course of the test that much of this was because most of my media files were incompatible with the MediaGate (and other such servers including the Sony PlayStation3), forcing me to go back and convert them into formats the servers can handle.
This is a major pain in the rear, but it appears to be the nature of the beast. And once I converted files to formats the MediaGate (and my PS3) could disseminate without sniffing at me haughtily, they worked fine. Slow, but fine – in that it takes what seems like forever for something to start playing, especially video – and that also appears to be the nature of the beast.
The unit sports a handsome, silver face that fits in well with the current industry trend toward silver-faced components. The front panel includes a cursor control wheel-type thing that glows the familiar blue of today's digital devices; there are also power and play/stop/pause buttons, an infrared receiver for the remote, and function lights.
The rear panel is full of I/O's, including USB host and device jacks, the abundant audio and video connections (just about anything will work with the MG-450) and the LAN and power ports.
It works at any resolution up to 1080p and comes with about all the ins and outs you could want: HDMI, Component, S-Video and Composite for video and stereo, digital coaxial & optical 5.1 channel audio. One thing it doesn't do is send audio via HDMI, which means you'll need two connectors instead of the single HDMI solution that connection format offers.
I connected it with HDMI for video and coaxial for audio and it worked fine.
You get most of what you need right out of the box (unless you need a hard drive): the MG-450 device itself, a wireless remote control whose buttons and labels are awfully small (and especially hard to read if you're using it in a darkened home theater), an antenna for Wi-Fi use, a little cradle to keep it upright if you so desire, a composite A/V cable, hard drive connector, setup CD, and quick installation guide. There's also a power adapter.
The interface is really simple to use if you're at all computer savvy – I only had to get my son to bail me out when it came to the network stuff. But it connected with our home Wi-Fi network easily (with security, too) and found every folder on my PC upstairs that the PS3 did.
With this interface you can also set such parameters as aspect ratio and video format (I use 1080p and it works fine), photo viewing (do you want a slideshow?), and Internet Radio stations – none of which I found particularly stimulating, though I only tried a few before becoming bored with it – but hey, it's an extra feature!
You can also choose different skins, a screen saver, and the capability to stream from an FTP server.
It's pretty all-encompassing and for the most part it works. Once I got the file format issue solved enough to actually use the product, it streamed just fine, as well as playing back from its internal hard drive. I also tried playing stuff from USB-based sources such as a portable hard drive and it also worked well.
There were some anomalies, in that the unit would freeze up occasionally, forcing me to unplug it to reboot, after which it would work fine again. Some of these apparent hangups may have been my fault because I'd get tired of waiting for my chosen files to play or, as happens, refuse to play because it was incompatible. When the MG-450 finds a file it doesn't understand, it goes onto the next one and tries it, and so on – so it can take forever for it to finally start playing something and in the meantime it looks as if it has hung.
The fastest way to transfer files to the MediaGate is to hook it into your PC via its USB port, at which time it acts just like another disk drive and you can drag and drop to your heart's content.
Among the videos we tried via the MediaGate, we watched some Doctor Who episodes streaming from the computer upstairs, and once the stream started it continued throughout the episodes without any hiccoughs whatsoever. The picture quality, as displayed by our reference Epson Powerlight Pro Cinema 1080 on a 106 inch screen, was more than adequate, as was the quality of the audio the MG-450 sent to our Rotel-powered Definitive Technology/M&K 5.1 system.
I had never really used media servers much before, and I've never had much use for them despite friends and family preferring death to not using one. Now that I've spent some quality time with the MediaGate MG-450HD (and the PS3), however, I'm starting to get it: they can be wonderfully convenient ways to get music, photos and video to wherever the heck you want them, from wherever the heck you have them.
I'm planning to move the MediaGate upstairs and patch it into my small home theater so I can stream stuff there, leaving the PS3 to stream stuff to the big Blu-ray-equipped theater downstairs.
Then I'll never have to get up from my chair again!
Copyright 2008 Jim Bray