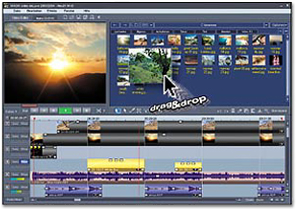 Magix A/V Studios Help You Make Magic
By Jim Bray
The digital revolution has brought the recording studio to the home PC, as well as the movie editing room. There's little that once was done in professional environments that can't now be done in the home studio or office, and this is opening up new opportunities - and new challenges - for creative people.
Magix, which makes the terrific Audio Cleaning Lab software reviewed here, has also released a couple of excellent products designed to help creative people unleash their powers. Movie Edit Pro is a simple and powerful desktop video editing suite, while Music Studio Deluxe is a complete 64 track recording midi studio.
We're more comfortable in the video world, so had an easier time figuring out Movie Maker, but based on its ease of use we imagine that Music Studio is equally user friendly for users who know what the heck the software's talking about.
Movie Edit Pro is the easiest to use such product that I've tried to date - not that I've come anywhere close to using them all. But this program is very straightforward and easy, and it's a simple task to assemble a movie without even cracking the manual.
Which is a good thing, since I wasn't a big fan of the manual…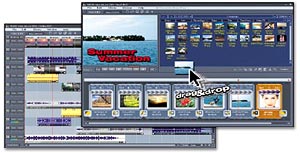 It also has pretty good built in help, though.
One area in which I could have used more help was in creating video for streaming over the Internet. The software offers many filters for exporting such video, but it would be nice if there was a better explanation of the benefits from each method and other points to consider about streaming media. Still, if you don't care about the more arcane ins and outs of it, you can do it easily.
Once you've loaded your video footage you can add transitions (including 3D ones), build special effects and even create your own soundtracks. Once you've finished all that you can burn a DVD or CD from the footage, or output it to a VCR if you have the hardware to do so.
It even comes with a module for creating the menu structure and title screen look for DVD authoring. It isn't by any means industrial strength DVD authoring, but it'll work easily for consumer applications.
Getting footage into the program is drag and drop easy, and it's about that easy to apply transitions between shots. You can have the shots butt up against each other, which is a nice way to edit continuous shots together, or add preset (and customizable) transitions such as wipes, zooms, cross fades and the like. Each shot is represented by a thumbnail, whether in storyboard or timeline view, and includes its file name and length.
You can adjust the volume or add a title to individual or multiple shots as well.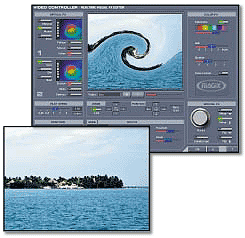 Besides VHS, CD and DVD, the program outputs to Video CD, Super-Video-CD, and the Web.
There isn't space to talk about everything this program will do, so here's a list of some of the more interesting or useful features:
• 16-track Video & Soundtrack Editing
• Virtual VCR Function with Timer
• MPEG2-Encoder and Restoration Tools
• "Adjusting" mode for cleaning up video footage
• add you own musical soundtrack
• Real-time compression, batch-capture and full-screen capture monitoring
• Two storyboard modes: Standard linear storyboard mode plus essential multi scene overview mode.
• 16-track (stereo) timeline mode
• Simultaneous PC/TV view: Cut scenes on your PC; view the results on your TV or dub directly to VCR
• Title screen designer
And that's only the beginning. There's a voiceover function that lets you put your own voice over the music, kind of like a karaoke thing, and of course you can add audio and video effects including chroma keying.
Want to steal audio from a CD? You can, of course, import CD tracks, MP3 and MIDI files.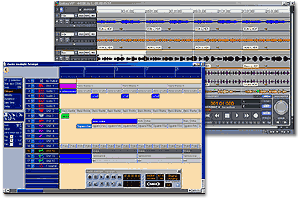 Speaking of MIDI files, that brings us to Music Studio Deluxe 2004
This is where the rubber meets the road, so far as really creating that soundtrack to the above movie presentation. It's a complete MIDI music studio where you can build your own musical compositions.
You can use the software to help you compose, as well as recording, controlling MIDI instruments, and eventually burning your symphony onto CD if you want.
This makes it ideal not only for home enthusiasts, but for musicians and producers as well. Is it as good as the industrial strength products? I have no idea. This is the first product like this that I tried, and I felt really out to sea when it came to the MIDI stuff. The studio part, on the other hand, was pretty easy to figure out (of course it doesn't hurt to have experience in radio studios, which gave me a leg up), and it's a very flexible and powerful product.
And get this: the program has built in tube amplifier simulation as well as powerful audio tools to let you manipulate sounds to your heart's content.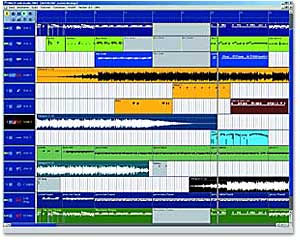 One thing that's nice is that there's a demo project to help you get up to speed; it certainly helped me.
Here's a list of some features:
• 64 audio channels + 2,000 track MIDI sequencer
• 10 instruments (incl. sampler, E-piano, synths, 4 drum modules)
• 23 High-end effects, 4 stereo outputs, score printout
• Direct-to-CD, professional mixer
• Sequencer with 2,000 MIDI tracks and 48 audio tracks
• 4 Stereo Output support
• 4 ready-to-use drum machines (rock, acoustic, techno, hip-hop)
• E-piano sounds with EZpiano2
• Sample Editor: time & pitch, groove machine, audio energizer
• Mixer (up to 48 effects inserts, 2 master inserts) with automation option
• 14 real-time effects: reverb, delay, distorter, chorus, filter, pitch-shifter, 15-band graphic EQ and much more
• Groove quantizer, song rearrangement with editors
• Notation: Print detailed scores with lyrics
• Video (avi) integration feature, cross-fades
• Import and burn music CDs and project data backups
• Internet publishing (songs, info, photos, lyrics and much more)
• Send MusicM@il from within the program
• CD Burner Plus Automatic Track Marker Function
And if that isn't enough (and, really, we're just scratching the surface here), you get more than 1,500 extra samples & MIDI loops on the CD.
The virtual synthesizer lets you can create your own sounds (Keith Emerson, move over!), there's a substantive mixing console you can bring up on screen, and of course you can mix and master any audio source you can capture to your computer.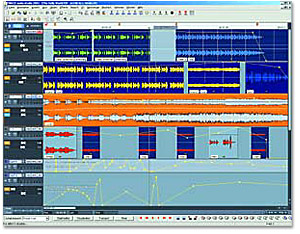 New in this version of the app are four drum machines
One of the great things about doing all of this stuff digitally is that you can correct your mistakes, or just experiment with wild abandon, before committing the project to its final form, all without messy tape. It's also a lot of fun.
Despite making me feel totally inadequate musically, Music Studio Deluxe is a heck of a program and I'm looking forward to learning it better. I've always wanted to dabble in musical composition, such as this allows, printing out my own scores, so this is a wonderful opportunity.
So don' t just Roll over, Beethoven. Move over!