Make Your Own Radio Station with LG's Phone/Music player
By Jim Bray
March 9, 2007
With the cell phone market as competitive as it is, what's a company to do if it wants to differentiate its latest phones from the plethora of others out there?
I mean, just about everyone has downloadable ring tones, contact and calendar info, games and the like – and music players are as common as pundits' supposed words of wisdom (and probably more useful).
So along comes LG, the Korean giant that's making news in a variety of consumer electronics markets, with its 550 FUSIC phone. This is a fully featured cell phone that offers all the stuff to which we've become accustomed, plus you can use it as your own private radio station.
It does this via a low-powered FM transmitter that sends signals from the phone to your car (or home) FM tuner, eliminating the need for a wireless connection between the devices. This could make it attractive to the millions of people who don't have iPod input jacks in their vehicles.
It isn't a new concept, but this is the first time I've seen it applied to a cell phone; the other devices I've seen that transmit your tunes via FM are standalone device such as the AudioBug. The feature makes the FUSIC perfect for use in my personal cars, which are so old they didn't even come with CD players – but which do have tuners.

Bell Canada, who supplied me with the review unit (it's offered by Sprint in the U.S.), says the LG FUSIC "offers the ultimate mobile music experience," not only thanks to its FM transmitter but thanks to the bank of downloadable music available through the provider.
I downloaded a few tunes from Bell and spewed them through the ether to the stereos of a variety of cars I was driving. You can choose and set the frequency you use, which is handy since it's best to find a frequency that isn't already saddled with some lame local radio station's signal. In my area, 107.9 worked well.
In practice, the FM transmitter also worked well, but its performance depended a great deal upon the vehicle I was in. This is because the signal is actually being transmitted from the phone to the car radio through the car's radio antenna – and where the antenna is located on the vehicle can have an effect. Remember, the signal isn't just going a couple of feet from phone to radio – it's going outside the car to the antenna, and then back in again to the tuner.
For example, my old Infiniti Q45 has the antenna on its right rear corner and during my wintry test it was frozen with only about a third of its length extended. This led to a lot of problems with interference. On the other hand, when I enclosed the FUSIC into the cubbyhole at the top of the 2007 Nissan Sentra's dashboard, it worked like a hot darn!
Using the phone as a music player is pretty easy, once you master the interface. And to be fair, the interface isn't bad; it's just that, as with so many other phones, they've made the menu text and icons so small that I have to put on my reading glasses to use it. I hate that, though I can't blame LG for this since every company seems to do it. Don't any engineers need reading glasses?
A keypad on the flip phone's outside surface accesses the music controls (play, pause, etc.), so once you're up and running you can shut the phone and use it as an "iPod-compatible" without risking ripping the thing apart as you gyrate to your grooves. The buttons don't have a lot of tactile feel to them, though.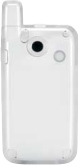 The phone itself is small and comfortable in the hand, and the keypad is attractive and well laid out – and I can actually use it without my glasses! It also works well and offers pretty good tactile feel.
When you first open the phone, the keys give off a gentle blue glow (the send and end keys, respectively, glow green and red) and it's bright enough for easy use in darker environs, yet not so bright as to annoy people trying to sleep nearby.
One of my peeves about flip phones is that it often takes two hands to open the phone. The FUSIC will flip open well one-handed, however, which is nice – though it's easier to close it using two hands. This is a pretty minor thing, however.
Here's a list of the FUSIC's many other features:
Dual mode digital phone
Dual color displays
2-way speakerphone
Wired stereo headset, 64 MB MicroSD card and extra faceplates included in box
External memory card slot for MicroSD cards
Streaming video capable
stereo Bluetooth headset compatible.
Mobile browser capable
Download capable for ringtones, screensavers, games and applications
Capable of 2-way SMS/Text Messaging
1.3 Megapixel camera with flash
Camcorder with movie light
Picture/video messaging capable
Assisted GPS-ready for e9-1-1, Finder, Seek & Find and Business Tracking services
Since the FUSIC comes with a changeable face plate, you can customize the phone's look and help prevent mistaking your valuable phone for someone else's piece of junk.
And you can download video wallpaper (I pulled down a nifty scene of dolphins – oh the huge manatee!) and ringtones, including excerpts from a variety of songs. I downloaded a couple of Who ringtones , a bit of "Baba O'Riley" and "Behind Blue Eyes." I was hoping for "Who are You?", which seemed far more appropriate, but what can you do?
Audio quality, whether music or your/your callers' voices, is fine, and the battery life seems adequate.
In all, the LG 550 FUSIC is a decent phone choice for those who need virtually everything in one piece of equipment. It's available from Bell Mobility in Canada (www.bell.ca/wireless) and Sprint in the U.S. (www.sprint.com) .