Intrigo Lapstation and Samsung MP3 Player
Portable Personal Products Provide Pleasure
By Jim Bray
Notebook computer users tired of the lap-balancing act have a new ally.
Intrigo's Lapstation looks like a little tray on which you'd serve breakfast in bed, but with a few extras that make it work well for the businessperson on the move.
It really isn't much more than a few pieces of hinged plastic with pouches and pads tacked on, which makes it more of a marketing idea than a technological achievement. Still, it's a pretty neat idea that allows me to sit on my family room floor, listening to some of my favorite tunes as I write this.
I can think of worse fates…
The Lapstation's hinges double as handles and you have to squeeze them to unfold the unit. This prevents it from opening on its own or, worse, folding up on its own while you're using it. Once you've opened the plastic panels you're presented with a firm, flat work area. You can even adjust the width and height, somewhat, for different sized laps and paunches.
A couple of wrist rests are mounted where you need them, unless you're using a combination notebook/docking station. That's my situation, and it makes the PC sit a mite too high. You can't blame the Lapstation for that, though; once I undocked the PC it sat at a virtually perfect level
I just couldn't access the home network…
The unit's side flaps/legs contain a pair of pouches that double as "desk drawers without the desk." They're big enough to hold pens and other small stuff, which can be quite handy.
Intrigo actually sells three models of Lapstation, ranging in price from $69 to $139 dollars. The differences appear mostly cosmetic and warranty-related, however.
The downside to the Lapstation (besides the price) is that, despite how small it can fold up, it's still too big to pack in most carry-on luggage. It should fit fine into your suitcase, however, assuming you have room after all your other stuff is stuffed into it.
Intrigo has figured that out, though. Not only do they sell a $40 carrying bag, they're also introducing a new, smaller and lighter Lapstation Pro ($80) that may fit into a notebook's carrying case.
A couple of accessories could make Lapstation life even more pleasant. The $15 PagePod holds your papers up for you, and the $35 Lumanite is a tiny, flexible cordless lamp you can use to illuminate your keyboard or your papers.
The Lapstation seems a tad pricey, but I can see how it could make "life on the road" a little more pleasant.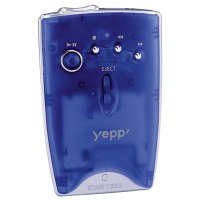 Speaking of being on the road, Samsung has a nifty little line of MP3 players that are small enough to take nearly anywhere. Called Yepp (yep, that's right), they range in price from $149 to $249.
I've been playing with the $249 YP-NEU64B, and it's a pleasant little unit that pumps out pretty decent sound. It comes equipped with 64 Megabytes of RAM memory built in (the lower priced units only have 32 Meg) as well as a slot into which you can insert a Smart Media memory card to give you even more playing time.
Thanks to the small size of MP3 files, that built-in 64 Meg should yield about 64 minutes of sound at the highest (128 Kbps – kilobytes per second) setting, and up to 256 minutes at the lowest (32 Kbps). You sacrifice sound quality for increased playback time, however, so keep that in mind when buying any MP3 player.
Getting the music into the Yepp, besides sticking in the optional memory card, is done via a USB connector that hooks into your computer. From there you can either burn tracks from your favorite CD's, your own MP3 collection, or files downloaded from the Internet. Samsung throws in a CD-ROM with RealJukebox to help you manage music.
Samsung says the unit's 2 "AAA" batteries should be good for at least 10 hours of tunes. I wish it also came with an AC adapter, however, so you don't drain the batteries while stuffing the Yepp with MP3's.
The unit is so small there isn't a lot of room for buttons and stuff, so Samsung uses a little wired remote control you can also keep in your pocket.
All in all, the Yepp is a pleasant and pleasant-sounding little music machine that works well.
Jim Bray's technology columns are distributed by the TechnoFILE and Mochila Syndicates. Copyright Jim Bray.