Kodak Frame Gives Digital Photos a Home
By Jim Bray
Digital technology is revolutionizing photography, threatening the very existence of film. And at the leading edge of this revolution is the digital camera, an item so hot it's even showing up – with ever-increasing capabilities – in the average cell phone.
But what if you have a library of digital pictures – the family, the pets, the cars and other toys, the vacations – stored safely on your hard drive? How can you inflict them on people without making them huddle around your PC monitor or sit with a notebook PC on their laps?
You could have them printed out at your local photo finishing shop and mount them in your old style photo albums, but there's a newer and more high tech way to display your digital photos and keep them in view even when you and the gang aren't huddled around a computer monitor or "analog" photo album.
These are the digital picture frames, an excellent example of which is Kodak's EasyShare EX1011. More of an inspired repackaging of technology than a real breakthrough, the EasyShare  and its ilk blends a straightforward LCD screen with a internal storage device and ties them together with a minimalist computerized interface to make it all work.
There's an abundance of these frames on the market, and more seem to be arriving every day, but many of them are too small to be particularly exciting, or have screens that leave a lot to be desired. That's one of the reasons I liked the EX1011: it has a 10 inch (diagonally measured) screen, in 16x9 aspect ratio, which gives you a display area of 8.9 × 5.3 inches (225 × 135 mm) – a size that still manages to look good from right across our typical suburban living room.
The EX1011's screen is bright and crisp, though its off-axis performance isn't the greatest – a typical LCD issue. The unit can be used either freestanding or wall-mounted, in portrait or landscape mode. 
The EX1011 comes with 128 meg of memory built in, which can be plenty if your photo files aren't too big. It was far too little for the multi-megapixel pictures I wanted to display (which was basically a slide show of my entire post-analog life), but Kodak has taken care of that by including enough I/O options to make nearly anyone happy.
There's a USB port that can take those key drives of varying capacity (I used it with a 256 meg key drive and a five gig portable hard drive and it worked fine with both), as well as Secure Digital (SD), Multimedia Card (MMC), MEMORY STICK (MS), XD-Picture Card (xD), COMPACTFLASH (CF), MICRODRIVE (MD). The only drawback is that, if you don't download the pics from the storage device to the frame, you have cards or whatever sticking out of the unit. This isn't a big deal, though you have to connect USB-based devices to a dongle-like  converter (the frame uses a mini-USB socket like those used by digital cameras), and this leaves the USB key/whatever dangling off the side.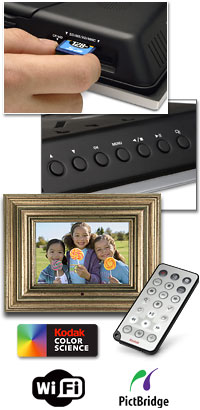 The EX1011's ace in the hole, so far as storage is concerned, is its built in Wi-Fi capability, which Kodak says lets you connect wirelessly to your computer or the Kodak Gallery you've created online.
The setup routine for wireless connection and display is pretty straightforward, but I never managed to make it work. This was undoubtedly due to a mutual shunning between Microsoft Windows Vista and my Linux-based home network, though, because the Kodak instructions were clear - and I've run into this problem before.
Operating the frame is also straightforward, as long as you use the remote control that comes in the box. I tried configuring the system first with the buttons on top of the unit itself  and discovered quickly that it should be used for emergencies only, such as when you lose the remote.
But the remote, despite its short range, works fine. You can use it to control your slide show settings (i.e. duration of each picture, transition between pictures), choose individual photos for later sorting or deleting, rotate photos, and of course adjust the volume of the unit's built in speakers, which will come in handy if you want to display movie files, complete with sound.
This opens up terrific opportunities for pranks, too. Imagine putting onto the frame a movie of yourself making a face at the camera and yelling "BOO!", then firing it up via the remote control when someone approaches the frame.
Yep, we're really mature around my place….
You'll want to ensure all your photos have the same portrait or landscape orientation lest some of them display sideways, which may mean some time spent with your photo software, but that isn't a challenge these days if you know your way around a computer at all.
The picture quality is very good; the 800x480 limitation is about equal to a standard DVD's, and though you may not want such resolutions in a print publication, it's more than adequate for this application.
When all is said and done, the "digital frame experience" is great. While analog photography allows you to display one picture per frame, which takes up wall or bureau space quickly, a digital frame such as this $279 Kodak lets you show off your whole library in one small location, and watching the endless parade of photos appear and change before your eyes is a real hoot.
I wish I'd invented these gadgets!