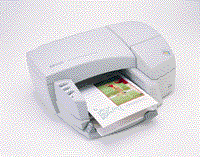 Inkjets Bring Photo-realism to All Sizes of Home and/or Office
From Fat Man to Little Boy...
by Jim Bray
Once again, Hewlett Packard has unleashed a couple of inkjet printers it promises will meet the needs of homes and businesses.
The $1149CdnHP2000CN "Professional Series" colour printer is a desktop behemoth, compared with the slimline units one usually sees, but it's also a performance behemoth that should suit the corporate environment very well.
HP claims the 2000C brings "laser-class performance and price" (price for sure!) to the office, and that it operates about 30% cheaper than the average inkjet unit.
If true, that's good news! Inkjet printers traditionally go through the ink like eggs go through hens, which, over the long haul, can put the lie to their initial affordability.
Now, I didn't have the 2000C long enough to go through a set of ink cartridges, but I did notice that, thanks to the "ink level" readout included in the software, I was getting what I thought was pretty good life.
Then again, the cartridges for the 2000C are humongous compared with the more common ones you see on store shelves. Not only are they big, but there are four of 'em, instead of two, one of each primary colour and one for black. There are also separate print heads that mount behind the cartridges. Installing them is pretty straightforward, though I cussed a bit getting the print heads in the first time because I wasn't used to the way they mounted.
This is definitely a heavy duty printer. In fact, the version I tried (the 2000CN), comes with a 250 sheet paper bin that sits under the main unit, as well as HP's JetDirect 300X external print server and HP JetAdmin software. This means you can hook the 2000CN into your network and let everyone print to his or her heart's delight – or until the ink runs out.
The paper bin is also available as a $280Cdn option.
Print quality is terrific, from text to photographs, thanks to HP's "PhotoREt II" technology that the company says delivers the smallest ink drops on the market (8 picolitres, whatever that means!), thereby allowing for more shades and faster printing speeds.
And it's fast. I didn't use a stopwatch, and I'm not quite ready to believe HP's claim of 43 seconds for a three page colour document, but this baby pumps out the pages with more than acceptable velocity, especially for a colour printer.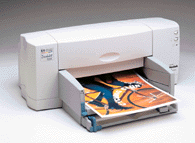 Low Down
Closer to the other end of the printing spectrum, I also got to play with HP's DeskJet 722C, which the company calls "The sports car of home printers." It's a lot smaller and, at $429Cdn retail, more affordable than the heavy duty 2000C.
The 722 is the replacement for the popular 820Cxi series, and as one might expect it's smaller than the previous unit and supposedly does a better job. I didn't have the 820 handy for comparison, so I'll take HP at its word – and it's word's usually pretty good.
The 722C is definitely more home or home office-oriented than its big brother, but that's okay. It takes up minimal desk space, yet its performance is in the same league. It's quiet, uses "PhotoREt II," and HP claims it offers eight pages per minute black and white output, four ppm in colour.
Paper capacity seems a bit dinky after getting used to the 2000, but no more so than the 722's competition.
Naturally, you also get a software bundle and this one includes Corel's Print House and Photo House Select 2.0 for creating projects and editing images.
If I had my druthers, and the budget, I'd probably opt for the 2000CN, even though it's like hunting a mosquito with an elephant gun. For real world home office needs, however, the 722C acquits itself more than adequately.
"Professional Series" Printer Really Performs
Inkjet printers can be a cheap way of getting into the world of colour printing, but what happens when you up the initial ante a couple of hundred bucks over the entry level units?
For one thing, you reach the price range of the basic black and white laser printer, so an inkjet printer – which can be slow, whiny, and thirsty compared to a laser printer – had better offer more than just pretty colours.
Hewlett Packard seems to have done its homework in this regard, because their DeskJet 890Cxi "Professional" inkjet printer makes the cheaper models look, well, cheap.
The 890Cxi is solidly built, easy to set up and use, and – as befitting its business focus, is configured so that multiple users can share it – as long as you get the optional HP JetDirect print servers.
Part of HP's "Professional Series," the printer does a nice job right out of the box. Part of the reason is HP's PhotoREt II (Photo Resolution Enhancement technology) which, according to HP, means the 890Cxi sprays "the smallest ink drops in the inkjet printing industry." There are some 300 black and 192 colour nozzles a-spewin' onto your page, and we were most impressed with the rich shades and colours we got, especially when using the special (and optional) photo paper HP just happens to make available.
As with many inkjets, you can set print modes to maximize speed or quality, and even with the "quality" settings enabled the thing's darn fast. You can usually go for a coffee when printing a complex colour image from an inkjet printer, but the 890Cxi worked at warp speed in comparison to some of its competition. HP claims it'll crank out up to 9 pages per minute in black and 5 pages per minute in color, though they also admit that a full page colour picture will take about four minutes.
Still, four minutes ain't bad, especially when you consider the results you get.
As one might expect, the 890Cxi comes bundled with applications, and even here its business focus comes through. iPublish and By Design Office (which are desktop publishing and business template applications respectively) are more powerful than the more entry level apps you get with lower end inkjet printers. They still won't take the place of PhotoShop, CorelDRAW, or PageMaker, but they'll be okay if you don't need a software howitzer.
HP says users can expect the 890Cxi to handle 3,000 pages of black text per month or 500 full colour pages. As with other printers of this ilk, however, you'd better have a couple of extra ink cartridges handy, cause they're thirsty beasts. The 890Cxi works with lots of paper types, too, including envelopes, transparencies, and labels.
Hewlett Packard's DeskJet 890Cxi is a nice unit for the home office environment, offering excellent performance for its price. While it's definitely more expensive than many inkjet printers on the market, it's truly a case of "You get what you pay for."
And with the 890Cxi, you're getting a lot of printer.
Colour printing from the JetSet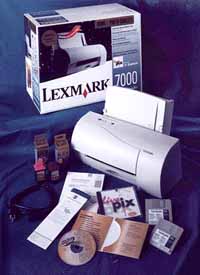 Color inkjet printers continue to stake out their turf as affordable, high quality color alternatives for the home and home office.
One of the curent examples of the breed is Lexmark's model 7000, which offers up to 1200 dpi resolution, thanks to its "laser-crafted ink nozzles." 1200 dpi output slows things down considerably, as well as upping the ink usage, but that's the price you pay for such features.
To save time and ink money, you can use the "Fast Draft" (300 x 600 dpi) or the "Normal" (600 x 600) settings, only opting for the maximum resolution when it's necessary for your final output.
Besides the resolution parameters, there's an abundance of other settings for tweaking everything from brightness and saturation to halftone frequency ("line art" to "airbrush") and even the overall image quality.
You get at all these settings from the "Printer Properties" menu, which is fine, though we would have liked to see them duplicated on the Lexmark's Control Program that pops up when you begin printing.
That Control Program offers you even more stuff to mess around with, from printing a test page to aligning - or clean - the print nozzles.
One thing we didn't care for in the Control Program, and which can thankfully be turned off, is the voice that reports on your print status, from "Printing started" to "Printing complete." Duh!
A more useful feature in the Control Program is a running tally of how much of your precious ink is spewing onto your paper. You get a picture of both black and color cartridges, with the levels dropping in relation to the sagging fortunes of your cartridge.
That's a handy feature that can prevent you from discovering the hard way that your output won't put out.
All that said, the 7000 does a nice job. We printed out - in draft mode - a series of color newspaper ads we'd designed and were quite satisfied with the results. Then we tried a photographic image of an Acura NSX supercar. The final result was quite good, and activated our drool reflexes almost as well as the actual car does...
As with other printers, the Lexmark 7000 comes with a set of bundled applications to get you up and running. The Workshop CD-ROM includes the requisite greeting card, certificate, and T-Shirt design maker, but they pale in comparison with standalone applications like Broderbund's Print Shop. "Comic Creator" is kind of neat - you can create your own comic books with it - though it's limited and we have a feeling the fun would wear out before long. You also get "LivePix" photo editing software.
In all, these applications add value to the package, but they'll probably only whet your appetite for something a little more hefty.
One thing you should keep in mind if you're thinking of buying this printer is that, while it works fine under Window 3.x and 95, there's no support for Windows NT yet, though we understand this is in the works.
Still, if you don't care about that and want a color inkjet that does a nice job for a reasonable price, this Lexmark might fit the bill.
Lexmark Printer Makes a Snappy Addition
Video capture through your printer port
Lexmark has come up with an interesting way to set at least one of its products apart from the many competitors.
Its 7200V Colour Jetprinter with "Ex-2" technology not only offers darn good print quality, but the company has also included a Snappy video capture device in the package so you can input images from your camcorder, VCR, or other video source.
A video capture card, which usually hides out in an expansion slot inside your computer, may seem like a pretty strange thing to stick inside a printer, but if you're freaked out by the concept of opening up your PC and poking around in its guts, you'll be glad you can get the same results merely by plugging in a printer and installing the software.
But more about the video capture later. As far as being a printer is concerned, in our admittedly limited time with it we found it performed very well and offered excellent print results.
The 7200V uses "Excimer laser-crafted" print cartridges that can go splooey all over your page at up to 1200 x 1200 dots per inch – and when we used the "photo" print cartridge to output some high quality photographs onto glossy photo paper the images looked like they came right out of a photo finishing shop. Most impressive. A nice touch is that the photo cartridge is included in the price.
Even with regular paper, we were very satisfied with the quality of the 7200V's output, though the ink takes a little longer to dry than we'd like (a problem that's also shared by some other inkjet printers we've tried).
Lexmark claims the printer will zip through black text at up to 8 pages per minute and up to 3 ppm in colour. In reality, while it's pretty fast, the colour pages we printed look a lot more than 20 seconds.
Still, you don't get such a machine for its speed…
As for the rather "Snappy" idea of doing video captures through your printer, it works very well. Snappy takes snapshots from full motion video, freeze frames, or single images. Remember, though, you need to have a bi-directional parallel cable for it to work; we used one of our own printer cables and, much to our chagrin, it refused to operate the Snappy. A plaintive call for help tracked down the problem and once we made the ol' cable switcheroo, it worked like a very warm darn!
As usual, there's a bundle of applications included in the box to get you started, including Monotype Greeting CardMarker and T-ShirtDesignMaker, LivePix SE, PhotoImpression, and Web Printer, the latter of which is for printing documents (especially from your Browser) in booklet form, ready for binding. As usual with this type of product, they're for the most part pretty basic apps.
A thoughtful touch we've seen before from Lexmark is the Control Program that lets you see how much ink is left in your cartridges, so you know when to run out to the ink store for a new supply. It's a valuable indicator that we wish all inkjet printers had.
And it's just one more snappy idea from Lexmark,