HDMI Switchers Enhance Home Theater Flexibility
"Four-in" Objects
By Jim Bray
October 7, 2008
The HDMI interface has come into play in the home theater world over the past couple of years, marketed as the best way to connect your audio and video components in the age of high definition.
And it is – or at least it can be. HDMI, or High Definition Multimedia Interface, is a single cable alternative to the myriad of wires (which could reach ten or more) it took to hook together an HDTV system before HDMI. The HDMI cable can transmit uncompressed audio and video streams from source to destination, including up to eight audio channels. With HDMI, theoretically, you can eliminate a lot of that rat's nest of wiring behind your A/V component stack.
Sounds like heaven, doesn't it?
Ay, but there's a rub. HDMI is an evolving specification, so depending upon the component you're hooking in, it could require HDMI 1, 1.2 or 1.3, the latter of which is the current generation. Each version claims different capabilities; for example, HDMI 1.2 can pass SACD signals whereas 1.1 couldn't – and 1.3 offers even more bandwidth for such features as "deep color" which we may or may not ever see.
Then there's the contemptible copy protection system insisted upon by Hollywood to protect them from piracy but which is an unnecessary annoyance to the very people who give them their profits. HDCP (High-bandwidth Digital Content Protection) is built into the HDMI standard and when you put all this stuff together you have components that need to talk to each other (they call it "handshaking") before they'll pass information back and forth.
This can lead to miscommunication between devices that for one reason or another refuse to play nicely with others. I've noticed this on a variety of equipment, where sometimes I'll lose the picture, or lose the sound, or the picture will sometimes turn an awful green color instead of the glorious 1080p I expected and insist upon.
So while HDMI has tremendous capabilities and potential, it can also be a real pain in the rear end. Which brings me to the subject at hand, HDMI switchers.
You may wonder why you'd want an HDMI switcher in an age where TV's are bristling with multiple HDMI inputs and HDMI is cropping up on audio receivers and preamp/processors like the first crocuses of spring.  
One reason is the proliferation of devices with HDMI outputs; heck, in my big home theater I have a Blu-ray player (PS3, actually), a media server, HD satellite receiver and an upconverting DVD A/V player. That's four HDMI signals I need to get to my front projection TV about 50 feet away – via the audio system if possible. And the last thing I want to do is run four HDMI cables all the way around my room – especially at the rip-off prices of many HDMI cables.
Besides, what would I do once I got them to the front projector, with its single HDMI input? Swap them in and out every time I change sources? I don't think so.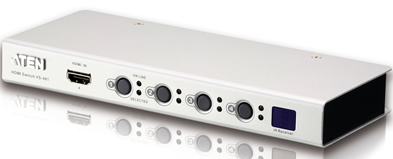 Hence the HDMI switcher, two of which I'm looking at in this piece. One is an affordable "consumer" unit from ATEN and the other is a more professional switcher from Gefen. Each takes four HDMI inputs, but the ATEN only has one HDMI output while the Gefen has two.
The $200 ATEN VS481A is a nice little unit designed to support all the common HDTV resolutions: 480p, 720p, 1080i, 1080p and VGA, SVGA, SXGA (1270 x 1024), UXGA (1600 x 1200) and WUXGA (1920x1200) for computers. It comes with a little remote control; you can also select individual devices by manually pressing a button on the front panel, though I can't imagine why you'd want to actually get up and go over to it when you have a remote.
An interesting touch about the VS481A is its single input port on the front panel, which makes it ideal for connecting mobile or "temporary" devices such as digital cameras. It also has a built in bi-directional RS-232 serial input to let it work with high end home automation systems.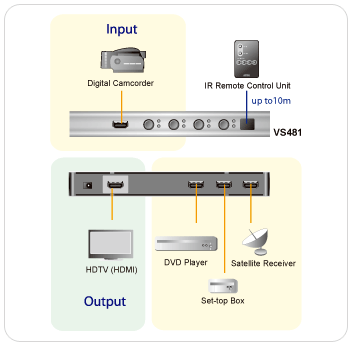 The ATEN works as advertised , and it comes with one HDMI cable in the box. I hooked in four devices and sent the output to my preamp/processor and from there to the Epson projector and it handled all as it should. I didn't like having to use the front port for the fourth connection, though, because it meant snaking one cable around to the front and that made for a sloppy-looking stack. But it worked fine.
It didn't eliminate my handshaking problems, though, when run through the preamp/processor. All was well when I output it to the projector directly via a long HDMI Monster Cable except that, since I was bypassing the audio system's HDMI input, I lost the new high resolution audio formats (Dolby TrueHD and dts HD Master Lossless) I've grown to love with Blu-ray discs.
So while the ATEN VS481A will undoubtedly work well in many applications, its four in and one out was a limiting factor for my home theater.
Fortunately, Gefen rode to the rescue, though its $549 4x2 HDMI switcher is more than twice the price of the ATEN. But it's also a more heavy duty, professional switcher that would work in industrial applications as well as "finer home theaters everywhere".
All the Gefen's input are on the back, so there's no worry about clutter at the front (though that also makes it more difficult to hook in something temporarily) and, like the ATEN, features LEDs on the front panel to tell you which input you're using. In my home theater, the LED's on both units were pretty well superfluous 'cause I couldn't tell which particular one was lit from the distance at which I sat.
Fortunately, there's another way to see which input's on: look at the TV screen and see what you're watching!
The Gefen also sports a coaxial audio output for extra flexibility, but I wasn't interested in that. What I wanted to do was hook my four HDMI devices into it and then split the output, sending video to the front projector and the audio to my pre/pro.

And it worked, beautifully. All the handshaking problems – the loss of video, strange coloring, loss of audio – disappeared with the possible exception of an occasional loss of video from the PS3 that never happened before and which I think is a PS3 issue (Just what I need!) because it goes away if I give the PS3 a hard reboot via the rear panel-mounted power switch.
The only problem is that, according to Gefen, the switcher isn't HDMI 1.3 compliant and I wasn't getting Dolby TrueHD and dts HD Master Lossless, proving you just can' t satisfy some people. Fortunately, my BD player can decode the signals onboard and output them as uncompressed LPCM.

The Gefen sends the same input's signal to both outputs, which is perfect for my application but which may not be what you want if you're looking to send multiple signals to multiple displays. It also has an RS-232 port for use in installations.
And here's a bonus I didn't expect: the Gefen comes with four, six foot HDMI cables in the box, a very nice touch.
I liked the Gefen remote better than the ATEN's, too. It's larger, with larger buttons that are much easier to find in a darkened home theater, whereas the ATEN's credit card-sized remote tended to get lost in the pile of remote controls on my end table.
Both HDMI switchers performed as advertised and will undoubtedly work well for their intended audiences. For my application – including the requirement to hook and unhook new stuff for review all the time – I was happier with the Gefen's extra flexibility, remote control size, and ergonomics.
Copyright 2008 Jim Bray