New HD PVR Ups Bell ExpressVu's Service, Again
By Jim Bray
February 21, 2008
High definition TV is hot, with channels and providers falling all over themselves to offer HD programming to snag viewers and subscribers.
It makes sense. Though no technology can make up for lousy writing, even a bad show looks better in high definition, while a truly great show can benefit even more from the creative use of widescreen, high resolution images and digital surround sound.
Most HDTV's sold have required a set top box (and a subscription to the service) to receive high definition broadcasts. Many of today's TV's now have a tuner built in that can receive HD from a cable company, but that won't help the millions who've abandoned cable in favor of a satellite provider – many of whom undoubtedly have no intention of returning to cable.
For them, the set top box is still a requirement, and one of the best I've seen is the new 9242 HD PV from Bell ExpressVU, available to its Canadian customers. It's basically the same receiver as the Dish Network's vIP622 in the U.S., with some minor functionality and service differences.
Besides the wonderful HD PVR capability, the unit comes with two tuners built in, so you can not only record, pause live TV and all the other nifty PVR tricks, but you can watch and/or record different programming on two televisions in different rooms of your home – all from the one receiver. It also lets you pause a live show on one TV and resume watching it on a different one, which is cool.
The 9242 is a great all-in-one solution to the challenge of providing satellite TV throughout your home. One of the drawbacks to satellite TV compared with cable is the fact you need a separate receiver for each TV if you want to watch different programs on different TV's.
That's how it is at Chez Bray, the world headquarters of my media empire. I feed satellite to three TV's in my home, via separate receivers and a dog's breakfast of pre-wired cabling. My HD receiver is in the home theater room (where it belongs!) and it feeds a 1080p Epson front projector firing at a 106 inch Da-Lite screen. The second receiver feeds standard definition (SD) signals into the cabling installed in the house when it was built, from where it can be viewed in any room that has a cable outlet. It works.
But with the 9242HD (nee vIP622), I can do all this with the one receiver. If nothing else, this frees up a wall plug – but in reality it means I have full PVR capability in any room there's a TV, plus I can now take advantage of the new receiver's much-improved interface over the older boxes I use.
That new interface is worth a lot of the price of admission. Its look is customizable, and you can change the font size to minimize or maximize the number of programs and channels that show up on the guide. I set it to put the most info on the screen as it could, while still leaving a picture in the upper right on which you can see the program you're watching currently.
The electronic programming guide lets you scan up to nine days ahead, by which time the program you set to record has probably been cancelled….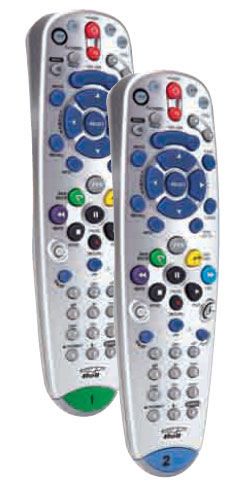 The receiver/PVR also features name-based recording (you can program in "Seinfeld", for example) as well programming by dates and times. This lets you keep track of (and record) your favorite shows even if the broadcasters move them around on their schedule, which happens a lot.  You can set it to record every episode, new episodes only, and you can record once, daily, weekdays, etc. A "priority" setting helps you manage conflicts where you may have overlapping programs. It works quite well once you get used to it.
If you only have one TV, the unit's Single Mode lets you watch and/or record two live programs, record two programs while watching a third, or have picture-in-picture functionality.
I used dual mode in my setup, running a cable from the back of the 9242 and into my home's cabling. A second, RF remote is included that lets you operate the tuner from anywhere in the house.
PVR features include the ability to pause live TV, fast forward and fast reverse at various speeds (including warp speed), skip forward or back, and watch in slow motion (undoubtedly for those T&A shows). Another handy feature is the ability to skip forward 30 seconds by pressing a single button, and there's a 10-second skip back button (undoubtedly for those T&A shows) that lets you revisit something lest you don't believe they actually broadcast that!
Other interesting features include:
Recording up to 30 hours of HD programming and up to 200 hours of SD programming.
The ability to display telephone Caller ID on-screen (if you hook into your phone line – which you'll need if you want to order pay-per-view stuff).
HDMI output for audio/video connection (they do this via a strange HDMI to DVI/DVI to HDMI cable, undoubtedly for extra flexibility, and it works fine)
Optical digital output for Dolby Digital and linear PCM digital audio.
Supports resolutions up to 1080i (the installer told me it's also "forward compatible" to 1080p via an eventual upgrade, but this won't be important until broadcasters start transmitting 1080p signals, which I don't expect soon).
A front-panel Info Button for instant access to program information (or you can just use the remote)
You can watch either HD or SD content on TV1 (the "main TV"), or SD or down-converted HD on TV2. The ability to watch SD on TV1 means you can take advantage of all the unit's features even if you don't have an HDTV yet (except for HD, of course), which could make it attractive for people who are just moving into satellite or upgrading their receiver, but who haven't bought an HDTV yet (fighting planned obsolescence!)
Includes an integrated off-air tuner so you can bring in local digital/HD and regular cable broadcastsL: if you have a big antenna outside your house, you can connect it into the PVR.
My advice for those of you who lust after this receiver, would be to have it installed professionally. It may or may not require an upgrade to your dish, but it will definitely require running a second cable to the unit (one for each tuner) – and perhaps a cable back out again to carry the picture and sound to the second TV.  
            Picture quality is generally very good, but it's limited by the "GIGO" (Garbage In, Garbage Out) syndrome. I've watched many HD programs that look wonderful, but on the other hand I was disappointed in the picture quality of the 2008 Super bowl. This was strange, because live sports events are usually excellent showcases for great picture quality.
Perhaps it was the beer….
Or maybe it was that annoying habit of Canadian broadcasters being allowed to override the American signals with their own, just like they've done for years with standard television. This forces Canadians to watch Canadian feeds rather than U.S. ones they're paying for, which means Canadian customers get ripped off while Canadian broadcasters are saved from having to compete.
Consumers need to complain about this.
This signal overriding isn't Bell ExpressVu's fault, though I imagine its parent company (which also owns the network that overrode Super bowl's U.S. signals), doesn't mind too much.
All this will change when I'm Emperor.
If PVR capability isn't important to you but HD is, Bell ExpressVu/Dish Network have also introduced the next generation 6141 High Definition satellite receiver (vIP211K for Dish Network), which the company says offers enhanced functionality over earlier models. This includes an enhanced electronic programming guide (EPG) that lets you view up to nine channels and three hours of scheduling per page, as well as an HDMI interface for easy (and current state-of-the-art) audio/video connection.
Copyright 2008 Jim Bray