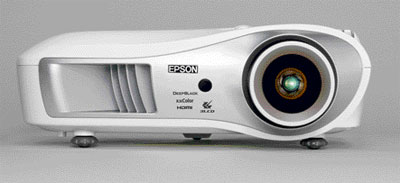 Epson Front Projector Manna for Movie Fans
By Jim Bray
October 30, 2008
Though Epson may be thought of traditionally as a maker of computer peripherals such as printers and scanners, the company has built a credible name for itself in the home theater market as well.
The reason, at least in the past few years, is front projectors such as the PowerLite Pro Cinema 1080, a projector I reviewed about 18 months ago and the Powerlight Home Cinema 1080 UB, the subject of this piece.
Front projectors are the greatest things since sliced bread if you want to get a really cinematic experience at home, at least until affordable LCD flat panels pass the 100 inch (or so) mark. A "wall sized" screen can make your favorite films leap out at you, revealing nuance and detail you've never seen before.
So you can imagine my delight when Epson sent me the Powerlite Home Cinema 1080 UB, which ups the ante over that older model in ways that are visible immediately.
The units look close enough alike to be related, handsome and sleek and high tech-looking. But the Home Cinema 1080UB includes two HDMI 1.3 inputs that support 1080p 24fps. It's also cheaper, though my test units don't make for a perfect "apples to apples" comparison, since the older unit was the "Pro" model and the newcomer is "garden variety." According to Epson's website, though, the current Pro Cinema 1080 UB lists for $4200 and the Home Cinema 1080 UB is about $3000 (both figures in Canadian dollars).
But at heart they're the same projector. You lose the professional ISF Calibration, which could have been quite a blow – except that when we ran test patterns from the Digital Video Essentials HD Basics disc on the newcomer it proved to be excellent right out of the box, requiring only the smallest possible tweak downward of the color setting to be perfect.
You also lose the reasonably heavy duty ceiling mounting kit and the extra bulb with the "home" version, too, the latter of which is a heckuva nice touch.
The upside is a splendid picture for hundreds of dollars less, and it's hard to complain about that. And I shan't. I noticed the difference between the two projectors immediately, the new generation being appreciably brighter and richer when I ran them "side by side". For the price, and considering what I've paid for TV's in the past, the Epson is a very good deal.
Its specs are about all you can ask for right now – always remembering how quickly these things evolve. It's a native 1920x1080p, 3 LCD panel critter Epson says gives contrast up to 50,000:1 dynamic and 4000:1 native, which is luscious. Epson claims brightness of up to 1600 lumens from a bulb they say should last "up to 3000 hours."
The projector projects a native 16x9 image, which suits me. I have it throwing the picture onto a 106 inch Da-Lite tensioned screen about 15 feet in front of it, though Epson says it'll work as a rear projector, too.

The Home Cinema 1080 UB comes with a full complement of inputs, including the two HDMI 1.3, an RCA component input, composite, S-Video, RS-232c and Analog RGB. I only used the HDMI (both – that was handy!) and RGB, the latter to display stuff from my notebook PC.
It also has a lens you can zoom and focus yourself (though I wish you could do it from the remote control) and a lens shift feature lets you move the picture horizontally or vertically, allowing the projector to be adjusted easily to compensate for its placement not being exactly in front of the screen.
Setup (other than mounting it on the ceiling!)  is a breeze. Just plug in the inputs and the power cord and fire it up. Aiming and sizing the picture doesn't take long, working through the menus is simple, and within minutes you're up and running – in my case, running to fire up the Blu-ray player.
The projector is quiet, too. Epson says it only puts out 24 dB, undoubtedly on the low lamp setting - a setting I used the most, to save bulb life. And while last year's model could have used a smidgen more brightness on its "low" setting, I was very satisfied with the Home Cinema 10080 UB.
I ran it with sources putting out 480p, 480p upconverted to 1080p, 1080i and 1080p. It was glorious!  Once I'd messed around with the projector enough to have a preference, I ran it on the "cinema black 1" setting, which gives a picture that's, rich and colorful and deep, extremely easy on the eyes and making for an exquisite home theater experience. Not surprisingly, I preferred 1080p Blu-rays, and went through a bunch of them reviewing this projector.
Favorite BD's included such new stuff (at the time of this writing) as the first six Bond flicks and The Matrix movies, mixed with classic BD titles such as The Fifth Element and Spidey. It was great!
How great? I broke down and went to a movie house and ended up pining for my home theater the entire time I was there. The Epson may not have as large a screen to work with, but the quality of the picture and of the overall experience was much better.
And the rest of the theater goers didn't have to hang out with rabble….
The projector also excelled at "old fashioned" DVD's – as I discovered when I sat through several of my usual test discs. I even sat through Ben-Hur again, a desert island disc I've seen a zillion times on everything from movie theater screens to 20 inch CRT TV's and, most recently, a 57 inch rear projection CRT. But watching the DVD on my 106 inch screen via the Epson was an eye opening experience, revealing subtleties in the film I'd never seen.
I also ran quite a bit of HD television broadcast in 1080, mostly sports with some sitcoms and programming like "The Dog Whisperer" thrown in. Quality was all over the map, but that was thanks to the "garbage in, garbage out" aspect of HD broadcasts. But when there was a good source, the Epson made it look great; I especially enjoyed football and auto races in good HD.
The Home Cinema 1080 UB's remote is well laid out and easy to use. It's back lit, with separate on/off controls, direct access to the inputs, a test pattern, and the settings for color temp, gamma, contrast, etc. There are probably far more buttons than you'll use most of the time, but it's nice to have complete control on the remote when the TV's on the ceiling, out of the way.
I did have one problem. One day, the projector shut off suddenly and its LED flashed an ominous red at me. The manual suggested it was time to panic, or at least shut it down, unplug it and call customer support. This I did; the support person advised me to fire it up again, which I did – and it's been working flawlessly ever since. Go figure.
I also notice just the slightest smidgen of the red being out of convergence when I run a test pattern. It isn't noticeable when I watch a movie or TV, but the video snob in me wishes I could get at a convergence control to tweak it even better.   
Quibble and breakdown fright aside, I liked this projector enough that I asked Epson to let me use the PowerLite Home Cinema 1080 UB as my reference unit. It's a terrific projector, a real powerhouse at a fair price.
While a front projector won't suit everyone's lifestyle, those who either have the room or who darn well just want the best theater experience you can get at home can't go far wrong with this excellent unit from Epson.
Copyright 2008 Jim Bray
TechnoFile.com