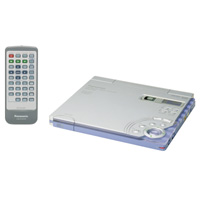 Mini DVD Player Makes Video To Go
Rolling Your Own Video
by Jim Bray
Panasonic has a nifty idea for those who need a DVD player that travels with them.
Its $499 DVD-PV40 is a super thin and lightweight unit that'll fit easily into a briefcase or overnight case. In fact, the PV40 isn't much bigger than a DVD disc and its case, yet it offers most of the features you'd want.
The only real shortcoming to the unit is that it doesn't have its own built in screen (though some higher end models do). This means you'll need a separate TV if you actually want to watch DVD's (and why else would you have such a beastie in the first place?). Still, that shouldn't pose a big problem for most applications. Even if you want to use the PV40 to keep the darn kids occupied while on the Interstate, you can get separate LCD monitors that'll do the job nicely.
I did a bit of traveling with the unit, but mostly used it as a home DVD player and it worked just fine, thank you. It comes with a credit card-sized remote control that'll work it from across the room and once you hook the player into the TV it operates just like a full sized unit.
The player comes with an AC adapter, but a rechargeable battery pack is optional for those times you're away from power outlets. The other cables that come with the unit will let you hook it to most TV's and/or audio systems, though if you want to exploit DTS-encoded soundtracks you'll have to get the optional optical connector.
A nice touch is the player's ability to handle CD-R and CD-RW discs, so if you burn your own audio CD's this player will play them back. Early DVD players also did this, but the industry moved away from it for a couple of years. Fortunately, increasing numbers of late model players also correct this oversight.
As an added bonus, the PV40 also handles MP3 music files.
Panasonic has included a "dialogue Enhancer" it says makes people's voices come in more clearly (from the center channel, I presume) than the other audio channels. I can't say if this made any difference or not, but I never had a complaint about the audio quality other than not getting DTS decoding without having to shell out further bucks.
The other DVD player features, like chapter advance, scan effects and the like, all worked fine.
Besides its obvious holiday use, the PV40's relatively low price and good performance could also make it - or its screen-equipped brothers - a perfect tool for business people who want to make DVD-based presentations, whether in someone's office or hooked into a big projector for board rooms or conferences.
If you want to make your own product to play on the PV40, there are many PC-based solutions.
I've been trying out Dazzle's "MainActor," a $150 "editing suite" for Windows that lets you capture and edit video footage, assemble it, and output it onto DVD, CD-ROM, videotape, or whatever.
MainActor uses different modules for different aspects of the task (capturing, editing, assembling etc.) and each of them are very easy to use, even if (like me!) you have an aversion to opening instruction manuals.
I used the VideoEditor module to edit some clips I had on my hard drive, trimming the fat from them. A list of the clip's frames is displayed in a window and by scrolling up and down, you select the frames you want, then save them to a new file.
The "Sequencer" module is where you actually assemble your production, using the files you've just created. All you do is drag your clips onto Dazzle's "Timeline" and assemble them there. You can also drag and drop a variety of transition effects (like dissolves, wipes, or 3D effects) included in the box.
Dazzle has even included morphing and titling modules.
Once you have your masterpiece ready to go, you can output it to AVI, MPEG, QuickTime, RealVideo and more. Previewing can be done in real time. In all, it's one of the easiest processes I've seen.
Naturally, you still need to have the proper hardware to get the video into and out of your "reasonably robust" computer, but such stuff (for instance, a video capture and output card) is available off the rack these days.
Jim Bray's technology columns are distributed by the TechnoFILE and Mochila Syndicates. Copyright Jim Bray.