Making Hot Web Sites with ColdFusion
And a New Microsoft Keyboard Arrives
by Jim Bray
Web developers wanting to create dynamic sites may want to look at Macromedia's ColdFusion.
While definitely not for the faint of heart, ColdFusion Server 5 ($1,295 to $4,995) is a powerful tool for developers. You install it on your Web server, so if you're dealing with an outside Internet Service Provider (as I do), you'll have to work with them to get the product installed and up and running.
Once that's done, you can exploit the features of ColdFusion in a way that's quite similar to how you'd mess around with HTML, in that you add arcane-looking tags to Web pages - except that the tags are different from garden variety HTML and expand your site's possibilities.
It's what ColdFusion does behind the scenes, on the Web server, that makes all the difference. While a chimpanzee can do an HTML Web site these days (check out my site to see for yourself!), ColdFusion isn't just a language: it's an application server. This means you can use it to create real, online applications like publishing systems for e-zines, e-commerce online stores, cyberspace-based solutions that help keep businesspeople connected, and much more.
When I first delved into the product my life started flashing before my eyes, and even now after having used ColdFusion for a couple of months I'm not much more comfortable with it. This is mostly because I'm not a full time Web developer; I merely dabble, and dabbling with heavy duty stuff like ColdFusion is like a grade school student trying to design a nuclear-powered space ship.
Still, by reverse engineering (read "stealing") from some existing ColdFusion applications I've been using on my site and another one I've been administering, I've learned how to make some pretty nifty forms and stuff - things I've always had trouble with using only HTML and/or cgi scripts which never seem to work properly for me.
And that's only scratching the surface. Macromedia's Web site at www.macromedia.com includes a whole section showcasing real examples of how companies have exploited ColdFusion. It's a broad selection, with the common theme being interactivity between sites and users, and users and users.
Version 5 should be a nice upgrade for those who've already been using ColdFusion. Macromedia says the learning curve is easy (I might beg to differ - but it could just be me!), the new version requires you to use less code than earlier ones, and a new integrated "charting engine" supposedly lets you easily create colorful charts and reports. You can also add full-text searching capabilities to a site, letting your surfers poke through some 250,000 different pages looking for info.
Other new features include upgraded application monitoring that lets you track your site's performance, and there's expanded support for the Linux Operating System that's becoming ever more popular with the "Bill Gates is the Antichrist" crowd.
ColdFusion Server 5 is also meant to work with other Macromedia products like Fireworks, a powerful graphic creation tool. There isn't a really good WYSIWYG editor that lets you use ColdFusion, unfortunately, which means you're stuck with messing around with tags. You'd think Macromedia Dreamweaver would do the job, but it doesn't really. This is Macromedia's first kick at ColdFusion, however, since having acquired it from another company, so perhaps version 5 of Dreamweaver will make exploiting ColdFusion as easy as it makes working with HTML.
Fortunately, Macromedia offers a lot of support and resources, and has a whole online community based at its Web site where you can pick the brains of other users, sign up for training courses, or take advantage of a "knowledge base" of solutions. It's a handy place to poke around.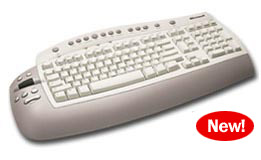 On an unrelated note, Microsoft has unleashed the $65 Office Keyboard, which offers some 50 programmable button options and incorporates some nifty "mouse-like" features that allow you to keep your hand on the keyboard more, theoretically speeding up your work. It uses a standard PS/2 or USB connection (mine came with USB).

On the downside, the mouse features are on the left hand side of the keyboard, which is going to make it feel pretty strange for the first while for right handed people. Microsoft has also seen fit to mess around with the traditional layout of many keys, which I also found created a learning curve. Still, it's a neat idea.
Jim Bray's technology columns are distributed by the TechnoFILE and Mochila Syndicates. Copyright Jim Bray.