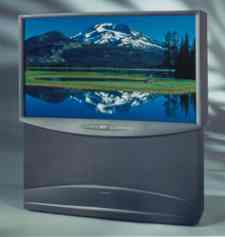 21st Century Technology Reigns at CES
By Jim Bray
1999 should go down as the year that digital high definition TV (HDTV) finally made a splash.
That s if you can believe the cornucopia of delightful products displayed at the annual Winter Consumer Electronics Show in Las Vegas, where they showed everything from conventionally sized, direct view TV s to ultra expensive front projectors that would do a cineplex proud.
HDTV products were shown by practically everyone from AmPro to Zenith, and included such mainstream brands as RCA/ProScan, Panasonic, Daewoo, Pioneer, Sony, and Philips. Most of the sets were rear projection types with screens of around 60-64 inches; several higher end (even for HDTV!) front projection systems from Runco, Vidikron, and Faroudja to name a few upped the size ante considerably, and a few "conventional" direct view sets of around 32 34 inches were thrown in for good measure.
But while the U.S. may be the land of the free, HDTV is anything but: as mouth-watering as these products are, prices range from $2800 to $70,000 US, putting them out of the range of mere mortals.
Virtually all of these sets, which feature 16:9 aspect ratio wide screens, are either available now in the U.S. or will be later this year. None of the makers to whom I spoke know when they ll come to Canada because the wonderful people who decide what Canadians are allowed to see have yet to okay the stuff.
Besides HDTV sets, there was also a plethora of DTV (or "HDTV-ready") sets designed to work on today s "NTSC" system but upgradeable to HDTV later on by adding some sort of "set-top" box.
So if you re thinking of buying a TV within the next five to ten years, it s worth knowing that there s a quantum leap called DTV and/or HDTV in the not-too-distant future.
HDTV truly looks like film quality, with no scan lines and a picture so sharp you d be tempted to reach right into the set if, of course, the signal source is up to snuff. One of the sources displayed came from ABC TV, which had problems with its equipment, and the picture was softer than it should have been. On the other hand, a live NFL game looked spectacular.
If you d like an insight into what HDTV will look like, you can check out Sony s XBR KP-53XBR200 53" and KP-61XBR200 61" projection TV s, available in stores now. They aren t HDTV, but they re about as good as you can get from today s TV and offer a marvelously smooth, scan line-free picture.
Most of the major players also showed flat, "plasma" displays, usually around 42 inches diagonally, in both conventional and HDTV configurations. These sets, which are offshoots of LCD technology, are getting darn good, and the price is plummeting down to about $10000 US for "entry level" units. These are the "wall hanging" screens of science fiction.
Sharp continued its path down the LCD projection TV market with a whole line of products. These are also getting pretty good, though they still tend to make it seem as if you re watching TV through a screen door and are really more suitable for boardrooms than home theatres.
DVD Goes Mainstream
While we wait for HDTV to come down from Mount Olympus, there's one nifty digital format that's quickly becoming mainstream. Nearly everyone had a full range of DVD movie players (including - "drool" - HDTV ones) and a few companies, including Pioneer and Panasonic are also bringing to market "DVD-RAM" (recordable DVD) machines. Panasonic even had a DVD camcorder that records onto a disc instead of video tape.
And now there's DVD Audio. This isn't just audio CD's on a DVD, it's a new audio format, and at the highest sonic "resolutions" you only get about the same recording time as a conventional audio CD. Proponents say the DVD Audio sounds far more realistic than CD's, and can record more than two channels of sound and toys like interactive lyrics and full motion video.
If you go to lower sampling rates and frequencies you can get more time on a disc, but the Panasonic booth gave the impression that they re going more for quality and razzle dazzle than recording time.
The demo I heard sounded terrific. Unfortunately, however, there was no "A/B comparison" of audio CD s with DVD Audio, and even if we were I wouldn t trust it, trade show demos being what they are.
Also unfortunately, I got the impression that today's DVD players won't handle the discs. Panasonic touted new "Universal" players that would, so the consumers who've "Pioneered" (no pun intended) the DVD format by buying the early players may be hung out to dry here.
Not only that, but competing systems were being touted as well: Super Audio CD (SACD) and Advanced Audio Disc (AAD) were featured.
I wonder, though, if these are worthwhile advances or if they re products in search of a market. Only time will tell.
Personalized TV
Back on the video side of things, two companies introduced systems that could make your VCR obsolete and give you a lot more control over the idiot box.
Replay Networks won the Best of Show award for its ReplayTV, a set-top box that uses a hard drive/MPEG 2 encoder combination to record your favourite TV programs without using videotape. It also allows you to pause live TV programs (it keeps recording while you pause what's on the TV screen), and even fast forward through commercials.
A program guide, included in the price, lets you tailor your viewing to your tastes.
And TiVo is a competing system that, for a monthly charge, will let you take control of your TV much the same way. TiVo is also getting the marketing muscle of Philips behind it, so this may give it a boost.
One system you can get in Canada is with a built in TV guide from RCA and ProScan. This isn t new, but a new and upgraded version, Guide + Gold, features easier to scroll menus, program information, one touch VCR recording for your favourite shows. Best of all, the system s built into specific RCA and ProScan TV s and the service is free.
CES - from the Sublime to the ridiculous
High end audio manufactures are jumping on the Home Theatre bandwagon (though it seems more like they re being pushed!). A new company, Sherbourn, showed a lovely 250 watt x 5 power amplifier it claims will sell for about $1750US, while McIntosh powered some $80,000US California Audio Technology speakers. Other companies of "various-fi" (including Denon, NAD, Marantz, Pioneer, Technics, etc.) unleashed a plethora of Dolby Digital and DTS-compatible systems suitable for home theatres of all sizes.
Besides audio and video, CES visitors were treated to the latest in Global Positioning Satellite car navigation systems, like the $300US Door-to-Door CoPilot 1999 that combines real-time dynamic routing via intricate maps with voice instructions that let you keep your eyes on the road.
Axlon's Digital Wireless Key Telephone System (DWKTS) combines a 900MHz three-line telephone with a home automation gateway that provides up to 16 wireless extensions (with individual voice mail boxes, Caller ID, and PBX features). It also lets you control your home s security, lighting, HVAC, and more.
Then there s the more silly technology that makes life interesting. For instance, if you have the urge, you can populate your rock garden with StereoStones outdoor speakers, which are designed to fit right into your yard s décor disappearing from sight but not from earshot.
Or how about 360 degree TV, from ESP Electronics? It was a prototype consisting of a clear plastic tube in which a TV picture appears and you can actually walk completely around it and the picture appears to follow you. Unfortunately, the picture was lousy and the thing hummed like the devil, and I d had my fill after about 30 seconds.
Or how about Exeter Technology s "Park-Zone?" This product is supposed to be a boon for those who, for some reason, keep ramming their cars into the rear of their garages. This $80US gadget hangs on the wall into which you re prone to smash and looks like a little traffic light. As you drive in, the motion sensor turns the light from green to yellow and then to red as the moment of truth arrives.
Do we really need such things?
This is just a quick look at some of the stuff we can expect to see in an electronics store in the near future. Stay tuned to TechnoFILE for some more in depth looks at a lot of this stuff - and lots more - as it becomes available.