Canadian Satellite Services Upping the DSS Ante
"Smarter and better TV" Coming from Above
More Choice and Control Over TV Programs with Bell ExpressVu's New Personal Video Recorder
TORONTO, ON - August 8, 2001 -- Bell ExpressVu, the leader in digital home entertainment, today announced the launch of Canada's first Personal Video Recorder (PVR). The PVR's capabilities will fundamentally change the way Canadians enjoy television by giving viewers the ultimate choice, control and power to select what they want to watch, when they want to watch it.
Bell ExpressVu's Model 5100 PVR is the first integrated digital satellite receiver that features an easy-to-use on-screen programming guide capable of pausing real-time television programs and tapelessly records up to 30 hours of content on a 40-gigabyte hard drive. Bell ExpressVu's customers can now manage their valuable leisure time by using the PVR's convenient and flexible options for their program viewing.
"Imagine never missing a touch down, season finale or an episode of your favourite program," said David McLennan, President and COO, Bell ExpressVu."For the first time, our PVR makes this a reality. It is great news for consumers who will now have the convenience of selecting and customizing their personal television viewing schedule."
The Bell ExpressVu PVR takes television viewing to the next level. By using the auto-recording feature Canadian viewers have the power to pause real-time programming when they want. With auto-recording, viewers never have to miss another television moment. Once the live program is paused, it is recorded to a soft buffer on the PVR. When the viewer returns, he or she can simply play the program from the point of interruption or choose to return to the "live" program.
For busy individuals, catching their favourite television program is often a challenge. The Bell ExpressVu PVR enables on-the-go consumers to maximize their quality television viewing time. Through the easy-to-use PVR remote control and interactive program guide, users can search and select programs using on-demand recording to automatically record on the PVR's hard drive. Playing back recorded programs is simple and allows viewers to watch their favourite shows when it is convenient, fast-forwarding and rewinding programs as they wish.
Other enhanced features of the Bell ExpressVu Model 5100 PVR include: an advanced programming guide that allows consumers to browse available programs by themes such as movies, sports, news/business, family/children, education, series/specials, music/arts and religious; favourite channel lists that can be customized for easy program selection; and an easy access info button on the remote that instantly shows program information, such as start time, end time and a brief description about the program. The Model 5100 PVR also features an advanced lock system that allows application of parental and system locks by program rating, channel or adult content.
The Bell ExpressVu PVR broadcasts from Nimiq 1, Canada's first high-powered Direct Broadcast Satellite. The signal is customized, based on the programming or information services chosen by Bell ExpressVu's customers. They will receive the signal on the Bell ExpressVu 18-inch (45 cm) dish antenna, the smallest dish size available in Canada. The Bell ExpressVu PVR uses tested and proprietary technology adapted from EchoStar Communications Corporation, a global leader in Direct Broadcast Satellite (DBS) television products and services.
The PVR from Bell ExpressVu will be available nationally from authorized Bell ExpressVu dealers and Bell World stores in September 2001. The Bell ExpressVu Model 5100 PVR complete system with receiver, remote and dish will retail for only $699.00 and the package is eligible for a $100.00 programming credit making the net cost of the system $599.00.
Bell ExpressVu is also introducing a new entry-level receiver, the Model 3100 receiver that includes many of the features available on the Model 5100. The Model 3100 is a digital satellite receiver with advanced features that include interactive television programming such as Instant Weather, an enhanced on-screen programming guide with a Picture-in-Guide display option, and enhanced parental security features.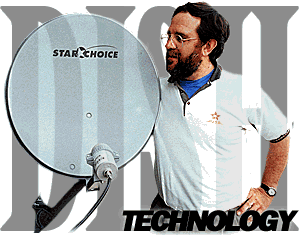 Canadian Satellite broadcast distributors Bell ExpressVu and Star Choice are upping the digital dish ante again.
Star Choice is determined to make your TV smarter, while ExpressVu is putting a lot of effort into the HDTV side of things.
Star Choice recently signed a deal with TiVo Inc. of San José, Calif., to offer the latter company's technology that puts the viewer in charge of the programming schedule instead of the broadcasters.
The TiVo service, scheduled for early 2001 introduction by Star Choice, works in conjunction with hardware called a "personal video recorder," which is kind of like a VCR that uses a hard disk drive instead of video tape. TiVo, and a competing service from Replay Networks Inc., allows a viewer to digitally record up to 30 hours of programs. Viewers can record shows and watch them when they want.
Even more interesting, the system allows viewers to activate the "live pause" a feature that tells the PVR" to record a portion of a program while they are out of the room - making bathroom or snack breaks much more flexible. When the viewer returns to the viewing room, he or she can pick up where they left off watch, including the ability to fast-forward through commercials, until they've caught up to the live program.
The pause feature is also useful for those annoying times when the phone rings: you can stop the live show and, thanks to the PVR, pick it up again where you left off without missing a second of the broadcast.
An "Instant Replay" feature lets you rewind 10 seconds of a broadcast, for example a football or hockey game, and watch a play again. This is possible because the "Personal Video Recorder" automatically records the most recent half hour of what is being watched.
Star Choice is working on plan to make TiVo accessible in the next generation of satellite receivers. Pricing and availabitlity are not yet known.
For more information, check out Star Choice's Web site at www.starchoice.com.
Bell ExpressVu, meanwhile, has released its new HDTV satellite receiver, the Model 6000.
According to the company, the Model 6000 is the most technologically advanced HDTV satellite receiver available, and gives outstanding picture clarity and crystal-clear Dolby Digital audio.
Despite the fact that few people have HDTV sets, yet, ExpressVu says the Model 6000 can be used to "future proof" consumers because it can automatically upconvert or downconvert video signals to whatever format the television can display, whether it's standard definition (NTSC) or high definition.
The Model 6000 accepts all ATSC standards and supports either 1080i or 720p resolution. It also boasts adjustable aspect ratios and digital zooming or stretching to let a "lettboxed" or "keyholed" picture be expanded to fill the consumer's screen.
Bell ExpressVu is also taking its HDTV service onthe road this autumn. Through mid-November, the company is showcasing its technolgy at selected shopping malls across Canada.
For more information, check out Bell ExpressVu's Web site at www.expressvu.com.