Low Tech Solutions For Your High Tech Toys
By Jim Bray
June 13, 2007
What good is your technology if you don't have the proper support for it?
Support, of course, could be anything from a dedicated IT department, to something as simple as a power bar. I've been messing about with a few items that, while decidedly low tech, can help make life with your notebook computer a little more pleasant.
The first item is a wonderful idea for carryon luggage: the Briggs & Riley Carry-On Computer Upright U420NB-4. This is the coolest notebook computer and overnight bag combination I've seen, not that I'm a luggage aficionado. But Briggs & Riley appears to be the Lexus of luggage, and the thing that immediately set this bag apart from the cheap junk I usually use is its notebook PC pocket – which is on the outside, where it's easy to get at when you're going through airport security.
That external mounting – which also includes room for your peripherals and other junk – also means it's handy to get at for those hours you spend cooling your heels between planes – or even to grab it after you've packed in the hotel room and are waiting for the limo to show up.
It's such a simple idea, but it works really well. Briggs & Riley says the pocket will hold most notebooks with up to 17 inch screen sizes – and it certainly swallowed mine without trouble. And the whole shebang fits into the overhead bins of most airliners, so it can help speed up your trip since you won't have to wait for the airline to deliver – or lose – your bag. And there's more:
Two section design features computer/fan file (outside) and garment section (inside)
StretchTech side gussets open wide for easy access
Garment section features a zippered mesh lid pocket for undergarments or socks
Snap-in removable water-resistant pocket for toiletries, makeup, etc.
Garment securing panels keep clothes in place, minimizing wrinkles
It even comes with a cool little combination lock you can use to try keeping people out of its innards.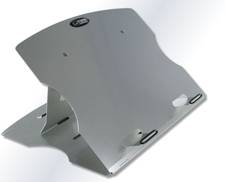 At $325 U.S. it definitely isn't cheap, but if you're on the road for trips of a day or two it could be the slickest thing you've ever taken with you other than a flask.
The second item is an updated laptop desk you can use when you get to the hotel, or on your desk at the office. I wrote about a plastic laptop desk from LapWorks (www.laptopdesk.net) a year or so ago, but this new one ups the ante considerably. First of all, it's aluminum instead of plastic, so it's not only stronger but that cool metal is also designed to help cool your laptop as it sits there. And that's what I really like about it: I can perch my notebook on the Aluminum Desktop Stand, sit them on my lap and not have my legs get warm. The plastic version also did this, but the aluminum one does it better, plus it's smaller and more sturdy.
The Stand can elevate your notebook to six positions and that can make typing more pleasant. It also brings the screen closer to eye level. And its rotating base lets you spin it around when you get bored.
The stand weighs less than two pounds and is thin enough to fit into your overnight case – it slides beautifully into the Briggs & Riley along with my notebook. And it comes in a neoprene slip cover you can use as a mouse pad.
LapWorks also sent me a few other accessories to enhance your notebooking experience.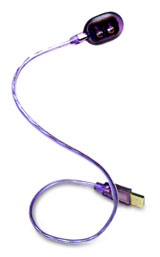 First up is their 4 Port USB hub ($20), which is a nice way to expand your notebook's (or desktop's) capabilities quickly and easily. The hub is supposed to handle both low speed (1.5 Mbps) and high speed (12 Mbps) devices, and it handled all the stuff I threw at it – but it runs high speed devices slowly, so be warned.
I haven't found that a big deal, though, because if I need real speed I usually use my desktop computer. But with this hub, you can use one USB port to handle four devices, which is a marvelous convenience.
One of the things I plugged into the port is LapWorks' Nite-Key Lite ($20), an 18 inch serpentine light you can use to illuminate your notebook's keyboard (on a plane, in a bar) or your notes. LapWorks says it features the most rigid cable on the market and I won't argue that. I actually found it too rigid, or at least inflexible, because it's hard to twist it to the perfect angle and then have it stay there. If they could figure out a way to make the snake flexible for storage and "aiming" and then go rigid once it's set up it would be perfect. Perhaps a Viagra derivative….
The LED's this USB-based light use are nice and bright and draw little power. The company says they'll be good for 8,000s hours of use, more than enough time for them to become obsolete.
Lastly, they also sent me their $24 Optical USB Mini Scroll Mouse, a device that was really hot a couple of years ago until wireless versions made them less attractive. It's a USB-based mouse whose wire winds up into a little reel, and those reels have been problematic for me in the past, tending to either forget that they're supposed to let the little cable unspool, or forget how to spool it back in again. This one has worked fine in the very limited use I've given it, though.
It's nearly as handy as a wireless optical notebook mouse and, since it gets its power from the USB port, it has one distinct advantage: you don't need to worry about battery life. That's its ace in the hole and I keep it in my notebook bag as a backup for the inevitable day when my wireless mouse packs it in at the worst possible time.