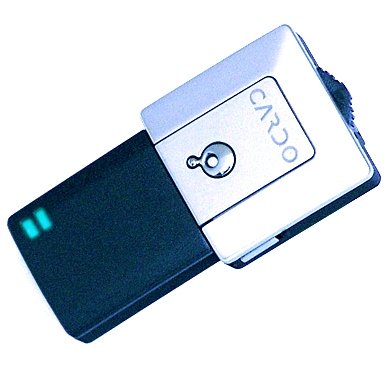 Bluetooth Devices Connect People on the Go
By Jim Bray
November 22, 2008
Though it's named after an ancient Viking king, Bluetooth technology is a decidedly modern way for devices to reach out and touch each other. And that's helping road warriors stay in touch – or get their work done – nearly anywhere.
You've probably noticed the proliferation of Bluetooth wireless telephone adapters that fit right over a person's ear. I've always thought they make you look like a zombie controlled remotely via the ear unit. They remind me of a Dr. Who episode where the Cybermen were controlling the human population in virtually the same way.
So as much as I'm a tech kinda guy, the curmudgeon – and the paranoid – in me has a built in aversion to such devices. And that's before I remember how silly people look walking down the street apparently talking to themselves.
Then Cardo sent me one of their Bluetooth cell phone adapters to test and now I like the concept so much I'm probably as annoying as a reformed cigarette smoker – except now it's me who looks silly walking down the street talking to myself, though at least now there's actually someone home at the other end….
The Cardo S-800 is so small and light I sometimes forget I'm wearing it, until I try to scratch my ear, but I'm hooked. I can't imagine wearing it all the time (I still prefer using my cell phone in the traditional manner, when it's practical), but this is a wonderful way to use a phone if you're in a moving vehicle and Bluetooth isn't built right into the car. It lets you keep both hands on the wheel, or one on the wheel and one on the gear lever if you're blessed with a stick shift.
It comes with a little metal loop that holds it onto your ear for extra security, and it works better this way than if you just jam the unit into your ear (I know; I've tried!). You can configure it for left or right-handed (or should that be "eared"?) use.
Cardo says the S-800 comes with noise suppression (which might explain why I can never hear my kids through the unit), eight hours of talk time, hot dialing (where you can store and speed dial three phone numbers right from the headset). And the company says it interfaces with your phone's voice activation (which I can't test, since my phone doesn't have that feature). They also say it can be used with more than one mobile phone (and has a SWAP feature for switching from one to the other), has a battery status and missed call indicator and a headset location buzzer for those times you forget where you left it.
The audio quality isn't really high fidelity, despite company hype, but it's more than adequate. My biggest complaint is about a really tiny and hard to access power button – and the fact that people keep looking at me funnier than usual, or make strange comments such as "hey, you've got something growing out of your ear!"
Since this is the first such unit I've tried, I have no idea how it stacks up against the competition, but I this one a lot. And, at about a hundred bucks, it could be a relatively affordable lifesaver if you're prone to prattling on the phone while in your car.
I found the power/control button to be a tad small and hard to find for my stubby fingers when I wear the unit, which is extra unfortunate since the button also controls other functions such as speed dial and Hot Dial, which requires you to tap the button quickly. I still haven't mastered this and tend to dial from my cell phone, using the Cardo once I press "Send" on the phone. It works fine this way, and in my case it's a lot faster than futzing around with the ear-mounted gizmo.

Prints Charming?
I've also been playing with another Bluetooth device that adds some terrific convenience to the traveler. It's the PS900 Printstik, from PlanOn, the people who make the tiny DocuPen hand held scanner that could come in handy in industrial espionage. I tried the DocuPen a few years ago and I liked it, though I had trouble holding my hand steady enough to get proper scans.
But the Printstik doesn't require any special motor skills on the part of the user, which makes it right up my alley.
The Printstik is a little mobile printer that uses Bluetooth to interface with similarly-enabled devices such as notebook computers and Blackberrys. The Printstik is about a foot long, an inch wide and half an inch deep, which makes it small enough to go just about anywhere you want. And since it syncs with your Bluetooth-equipped laptop or Blackberry and prints "on the spot" through BT technology, it can take convenience to a whole new level. Oh, it will also interface via USB, which means it'll work with devices that may not have Bluetooth.
I don't know about you, but I've often wished I had access to a convenient printer when I'm on the road. A couple of months ago I was looking for touristy things to do on vacation and, while I had Internet access that let me find an abundance of nifty places to leave my hard-earned after tax dollars, I had to write down the website information onto a piece of paper using my own handwriting, which never leads to a happy conclusion. But if I'd had a Prinstik then, I could've printed out the information – and even printed out a Google map of where a particular place was.
And earlier this year I was on a General Motors trip in which we had to do a kind of scavenger hunt, tooling around the lower mainland of British Columbia, Canada, coming up with stuff like take out menus and ferry regulations. I had an Internet-enabled Blackberry to use, but if I'd had a Printstik as well I could've done a lot of my scavenging by sitting in a pub, surfing the web, and printing out the stuff I was supposed to be driving around the Vancouver area to find.
Now that would have been a productive use of time – though it may not have left me in too good shape to drive the test Pontiac Vibe that was my reason for being there.
It might also be a boon for salespeople, who could print out an order or invoice right on the spot.
The manufacturer says the Printstik offers resolution of up to 200x400 dpi and will print up to three pages per minute.
Nothing's perfect, of course, and the drawback to the Printstik, as I see it, is that it uses that awful thermal paper we came to know and loathe back in the early days of fax machines – that curly stuff on a roll that does an adequate job but which is definitely nothing to write home about. And of course that means you have to stock the paper – and undoubtedly have an extra roll along with you for when the printer runs out, undoubtedly at the worst time possible.
PlanOn says one roll is only good for 20 pages (though you don't have to print out an entire 11 inch page at a time), so best to keep a supply on hand. The company's website offers three roll packs for $25, which doesn't seem particularly cheap.
Still, if you only use the thing for emergency printing it could be a pretty nifty solution.
The Printstik comes with an AC adapter/charger, USB cable, a roll of Thermal Paper (installed), CD, User Guide and Carrying Case. At $299 it isn't cheap, and it only works with Windows PC's and Blackberrys right now, but if you need such a gadget, it could be just what the doctor ordered.
Copyright 2008 Jim Bray
TechnoFile.com