Getting Hung Up on Phone Technology
BlackBerry 8800 and LG Cherry Chocolate Offer Two Solutions to Wireless Woes
By Jim Bray
Cell phones and related technologies continue to expand in capabilities and features – but is that really a good thing?
Probably, judging by the popularity of devices as PDA's (Personal Digital Assistants) and multi-function cell phones, but I still like my old single function cell phone. It does what I want it to, with no fuss, and if I want a digital camera or MP3 player I have separate devices that work extremely well.
But despite being a portable device stick in the mud, I got to put a couple of new models through their paces and, while I came away cool to them personally, I can understand why others will consider them to be the hottest gadgets around.
The first was the BlackBerry 8800 smartphone, a handheld gadget that does so much stuff you may never exploit all its ins and outs. First up is its built in GPS system that lets you know exactly where you are, preventing forever your compliance when the boss (or spouse) tells you to get lost.
And of course, since this BlackBerry is bigger than your average cell phone, you also get a "full" (it has all the keys you need, but they're smaaaall!), backlit QWERTY keyboard with which you can type in your emails or whatever else you want to type – once you've filed your fingertips down to small points or picked up a stylus to facilitate the task.
The unit itself is about 4.5 inches tall, 2.6 inches wide and about half an inch thick. This is its Achilles heel, since the size makes it too big for some pockets – but the BlackBerry folks have figured that out and include a holster for it in the box. This not only makes carrying the gadget more convenient, it can make you look like an important technological gun slinger – a real somebody. And I'm sure that's why some people get such devices….
The 8800 comes with 64 meg of flash memory (which doesn't seem like a lot these days) and you can expand it by using microSD cards. The color screen is a decent size and offers 320 x 240 resolution supporting over 65,000 shades. Despite its size, I still found it hard to read without putting on my glasses, a common complaint I have with most such devices.
A nifty new wrinkle to this generation is the addition of a trackball for navigating the menus and the like. It's a cool little thingy mounted centrally just below the screen and it works well – though at first glance it look more like a button than a little trackball.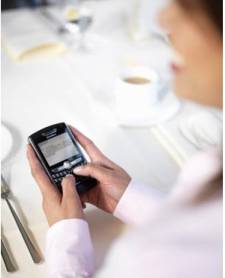 The 8800 also includes the phone features you'd expect, including voice-activated dialing, polyphonic, MP3 and MIDI ring tones (I downloaded The Who's "Who Are You?" as a ringtone, just 'cause I could), hands free speakerphone, smart dialing, conferencing, speed dial and call forward.
It's also Bluetooth enabled, so it'll interface with a similarly-equipped car, headset or whatever. And of course you can do text messaging with the 8800.
The BlackBerry also includes an organizer with calendar, memo pad and task list and it integrates up to 10 email accounts.
The media player supports most of the common formats (the documentation says it won't handle .wav files, which seems a bit strange), but it does claim to give you full html web browsing, which is cool as long as you don't mind surfing the 'net while squinting at a little screen.
Sound quality is good, either as a phone or a media player and I guess the user experience is pretty friendly once you get used to it.
A set-up wizard can help you get up and running with your BlackBerry 8800 quickly by walking you through many the features and functions and explaining how you can personalize various settings.
My problem with it was the same I had when I last used a PDA, which was a few years ago. My life just isn't complicated enough to need such a device and I refuse to let it get so complicated.
I remember taking a PDA to a trade show and leaving it in my hotel room after the first day. Why? I had to take it out of my pocket when going through the metal detector then, when I got onto the show floor and wanted to look up my next appointments, I had to stop, put on my reading glasses, take out the machine, look up the info I wanted (and hope I'd remember it!), put away the PDA, remove my glasses and continue on. It was a pain in the neck.
I ended up spending a few minutes back in my hotel room transcribing the info I'd need the next day onto a plain piece of paper, writing large enough that I wouldn't need my glasses. The paper took up little room in my pocket and didn't slow me down on the show floor.
So I'm obviously not the target market here.
That said, these things sell like hotcakes and they do work as advertised, so if you're one of the many people who wants or needs such a device, you'll probably love this one: it's small, sophisticated, fairly easy to use, and has just about all the features you could imagine.
But it really rubbed me the wrong way, especially as a phone. It's bigger than a modern cell phone should be (well, duh!) and I always had to put my glasses on just to key a number into the tiny section of the keyboard that doubles as the phone controls.
There are many Free apps for BlackBerry devices that you can chose from. Many demos of the paid versions of apps are availble before you purchase them.
Cherry Blossom…
I was happier with the LG Cherry Chocolate phone, though I didn't fall under its spell, either.
The LG Cherry Chocolate, which comes in an attractive cherry red color, is as small as your typical flip-type cell phone, but it slides open instead of flipping. I loved that aspect of it. Flip phones rub me the wrong way because it really takes two hands to open them, at least it does if you're a klutz like me, and I tend to drop the things when flipping them open with one hand.
Ah, but the slider works with one hand, sliding open with a push of the thumb! This feature gives you the simplicity of "bar" type phones, which have the display and keypad on the surface (but where you can press buttons accidentally if the keyboard isn't locked) with the size of a flipper.
I think I want a slider for my next phone. Just not this one.
Other than that, the Cherry Chocolate is a pretty straightforward multimedia cell phone, fully featured and working as advertised. It even lets you download and watch movies on its tiny little screen (can you imagine trying to catch something like Ben-Hur on a screen like this? You'd go blind!) and, not surprisingly, includes a 1.3 megapixel camera and camcorder featuring both zoom capability and a built in flash.
The phone comes with 150 megabytes of memory built in for downloading your favorite tunes or whatever – which doesn't seem like lot for an MP3 player. It's also Bluetooth compliant, so it'll talk to (or, more accurately, let you talk to) people through your car if it's equipped similarly. You can also use the Bluetooth for wireless printing of the text and/or pictures you can create and/or share with your best buddies.
Once again I found the display to be small enough that it required me to put on my glasses, and the interface/menu system isn't the most straightforward I've used, but you'd get used to it over time.
What you may not get used to is the complete lack of tactile feel for the "buttons" on the phone's surface. Below the display screen they've mounted "cursor controls" and some soft keys, but I found them very difficult to use and got annoyed with them very quickly.
So while the features are fine and the phone is indeed handsome and works pretty much as advertised, LG could do some work on the interface – and will someone please take the time to make a cell phone display on which the text can be zoomed enough to make it readable for those with middle-aged eyes? I'd rather have that than an integrated camera or MP3 player any day.
But that's just me….
Update, July 28, 2007: reader Ken L says: "Because of my many years with my cell phone provider (since 1988), I got an LG Chocolat for no charge. I hated it. I have since loaded my number into a previous phone that I dislike less. The buttons are too sensitive. You wind up dialing numbers, and performing functions you never intended because of those overly sensitive soft keys. And if you don't make your mind up quickly enough what you want to do, the lights go out on the phone and none of the buttons work. To get back in the game you have to shut the phone and then re-open it....and probably hit some more buttons you didn't want to hit. It's too small (smaller than it looks in the ads),it's not ergonomic and it's counter-intuitive."