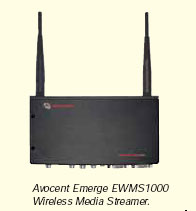 Avocent Audio/Video Streamers Cuts the Connectivity Cord
By Jim Bray
Have you ever wanted to get video signals from Point A to Point B, but were faced with the hassle and/or expense of stringing cables to facilitate it?
It's a common situation, whether you're a consumer or a business operator. Consumers may want to bring a TV onto the deck to catch that all-important football game; business people may need to set up digital signage panels where the customers can see them best, without having to tear apart the walls or ceiling.
Uses such as these, especially the business applications, are the concept behind Avocent's Emerge EWMS1000 wireless media streamer, a handy little set of little boxes you can use to send whatever compelling and/or updating content you want to a series of remote screens – or even just to fire off a favorite program to a TV that's out of range of your cables.
Avocent sent me a transmitter and a receiver to try and, though my "home theater" application wasn't the best use for the technology, it didn't take long to see the potential benefits.
The EWMS1000 wireless media streamer can send TV quality, full motion video from one source to multiple display devices (one per receiver) up to 1000 feet via line of sight, or up to 150 feet through walls. My installation put the sender and receiver only about forty feet apart, but separated by floors and walls, and for the most part it worked as advertised.

The system streams up to 30 frames per second at up to 640 x 480 resolution, which is low by today's TV and PC monitor standards but which is also exactly what the "old fashioned" TV we've known and loved for sixty years uses: 480i. It's probably more than adequate for digital signage, too, though if you're streaming to a widescreen plasma you should beware of burn in of the black bars on the sides of the widescreen picture – or stretch the picture so it fills the screen.
Hookup is easy. Transmitter and receiver come with ports for power, audio (3.5 mm. jack), serial connection to a computer, composite/S/component video and RGB. It's pretty well plug and play, and once you've connected and powered the transmitter you tell it to search for receivers, then set each receiver to "watch" for a transmission. When the twain meet, Voila!
In my "home theater" application, I was sending signals from an HD satellite receiver downstairs to a 25 inch Sony television in my bedroom two levels above (hey, someone has to do this stuff!). And except for some occasional and puzzling breakdowns in the communication between transmitter and receiver, it worked fine.
I should mention one caveat, however: there was a slight but frustrating delay between the time I pressed the button on the RF remote control that let me operate the satellite receiver from the upstairs room and the time the command would actually execute and appear on the TV up there. This was maddening when I wanted to channel surf, though it wouldn't have mattered a whit if I were merely watching one TV program at a time (something guys apparently can't do).
I asked Avocent about this and they told me the system converts the video and audio signals from analog into digital at the source, then compresses the signal before sending it to the receiver, which then decompresses and converts it back to analog. This causes the slight delay.
So while this may limit – though by no means destroy – its home theater appeal, it shouldn't bother users who use the units in "less real time interactive-intensive" applications such as retail, medical, digital signage, hospitality, AV, and even broadcasting applications.
And it does seem as if the system could be an ideal way to extend or broadcast your video source (TV, DVD, whatever) or computer quickly, easily and affordably. After all, you only need one source to feed multiple destinations – with no need to string wires between them.
Hey, I guess that means they sell the system no strings attached!
Uses include having a PC (perhaps located in the store's office) sending ads for that day's in-store specials to multiple screens out on the sales floor, or even inflicting PowerPoint presentations simultaneously onto live audiences – one in front of you and another in a different room (an overflow crowd, perhaps, if you're a really popular presenter – or the boss).
It's neat idea, and this is probably why in the spring of 2006 the product won the video/display category at the 4th annual NSCA Expo Innovations in Technology Awards sponsored by Sound and Video Contractor magazine.
As mentioned above, during my tests the receiver would lose the signal periodically, which was quite frustrating because, of course, it always happened at the most interesting part of a show. Fortunately, Avocent has a downloadable upgrade to the system on their website that they say should correct this intermittent "flutter." As of this writing, I haven't had a chance to install it, but I assume it'll do the trick since, except for that little snag, the units have worked as advertised.
The EWMS1000 transmitter sells for $645; the receivers sell for $545 each.