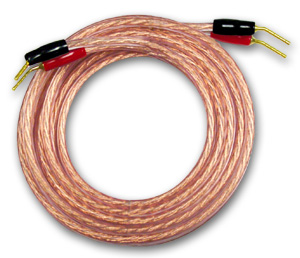 Home Theater By Wire – or Accellerating Your Enjoyment
When putting together a home theater, one important component that's often forgotten is the wiring.
The cables that connect the pieces of your system are often its weakest link. Cables and wires that come with components are generally worth what you pay for them. They're better than nothing, since they allow the system to actually work, but by putting a little more care and attention (and, yes, money) into the wires you can actually improve the performance of the rest of your system.
How much can you spend? Well, just as with the components themselves, you can spend as much or as little as you'd like. We've tested cables that sell in the hundreds of dollars and, obviously, they can work extremely well - though in some cases they're just plain overpriced as well.
In these virtual pages we've covered higher end cables and interconnects from such companies as River Cable and Bettercables.com. They're fine performers that offer excellent value for those looking for something high end but not necessarily so high end that they'll force you to take out a second mortgage on your house.
Still, these cables aren't cheap and, depending on your home theater budget, could cost more than you've spent on the rest of your system. Does that make sense?
Well, not really. High end cables are worth it if you have the money – and your eyes and ears can detect the often subtle differences between cables and interconnects.
But despite that, it makes good sense to at least upgrade from the junk that comes in the box so your home theater system can perform to the best of its ability.
This is where Accell Cables comes in. It's a company that offers better quality interconnects than you'd expect from out of the box, but at a price that's still quite down to earth. Accell sent us a whack of such wires and we've been putting them through their paces for a few weeks now and are very impressed with their value.
Okay, the speaker wires aren't as good as, say, our River Cable FLEXYGY testers. On the other hand, the Accells retail for $25US, as compared to the River Cable FLEXYGYs which sell for $260 a pair. Quite a difference.
And to be fair, the FLEXYGYs we have are 4 meters in length whereas the Accell UltraAudios are 3 meters, but that won't explain a tenfold discrepancy in price.
So are the Accell UltraAudios as good as the FLEXYGYs? Well, no. But for the home theater owner for whom the ultimate performance isn't the be-all and end-all - but excellent performance is - they'll do a fine job.
As will the rest of the line that we tried. We're actually quite blown away by the value of these Accells.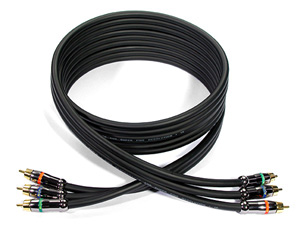 Accell makes a full line of interconnects, from "garden variety" audio interconnects to DVI, Firewire, USB and even power cords. We didn't try all of their offerings, but we sure had enough to give us good insight into the brand. They sent us component video, S-Video, composite video, analog audio, coaxial and optical digital audio and the abovementioned speaker cables. This let us do some real "apples to apples" comparisons of the Accells and the other cables we regularly use – which run the pricing gamut from the sublime to the ridiculous.
We tried the component video first, connecting our progressive scan DVD player, HDTV satellite receiver and reference 1080i Sony rear projection TV together. These cables, as with other Accells, use 24K gold-plated connectors at each end as well as multi-stranded pure copper wires inside their "Ultraflex" protective jackets. The cables are thick but flexible (though we thought the one meter lengths were just a tad inflexible, undoubtedly because of their short length) and we found no apparent picture deterioration between using them and the combination of higher end cables we'd been using before.
And all for $40US for the 1 meter length and $55 for the 2 meter length we ran from the switcher to the TV. This compares with, for example, $199 for 2 meters of Monster Cables' Z300 Component Ultra High-Resolution Precision Video Cable. We didn't try that particular model of Monster, so it may not be a fair comparison, but the older Monsters we used were excellent performers. The Accells seemed just as good – or at least close enough considering the price differential.
Ditto for the rest of the cables we tried. We ran three sets of stereo audio cables from our DVD Audio player to our preamp/processor to replace the Digiflex interconnects we usually use. The 2 meter Accells, at $30 a pop (making a reasonable $90 investment for 5.1 DVD-Audio output - not including the subwoofer cable), performed very well; the music was marvelous, with nice deep and tight bass and a marvelously wide and encompassing soundstage. Musical instruments sounded very real, and isn't that the whole point?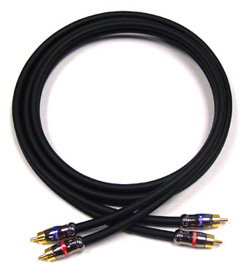 We were also pleased with the UltraAudio digital audio cables, both coaxial and optical. We tried a variety of configurations and were quite pleased with the sound, the channel separation, and the overall performance.
Ditto for the subwoofer cables (we tried a pair of them running the "point one" signals from our preamp/processor to our stereo subwoofers. Low bass and effects were deep and rich and we heard no difference between these $35 cables and the much more expensive ones we usually use.
The rest of Accell's audio cables also feature 24K gold plated connectors, dual balanced copper conductors, mylar foil and soft Ultraflex jackets. It's quality beyond what we expected for the price.
One thing you should remember is that cables are directional, in that you shouldn't reverse them if you're repatching. We had this point driven home after tearing apart our system and rewiring it: we discovered that the soundfield had collapsed on itself and the audio had gone from being remarkable to merely very good. Quickly reversing the cables restored the auditory glory, much to our relief.
The Accell UltraAudio cables label the "directional flow" for you, with little arrows down near the "destination" end, which is a nice touch.
Our biggest complaint was the damn plastic packages in which the cables are sold. They're a real pain in the butt to get open, but of course once you do manage to drill through the plastic bubbles you're rewarded for your perseverance.And of course Accell isn't alone in inflicting such packages on the world - though they also say they're making a change to this packaging down the road, so hopefully you'll soon be able to get the cables out without sweating and cussing.
Our bottom line with these Accell cables is that for their price they're a bargain. Sure we've heard better, but not for these prices. Accell cables truly do bring excellent performance into the world of affordable home theater and we recommend them highly.