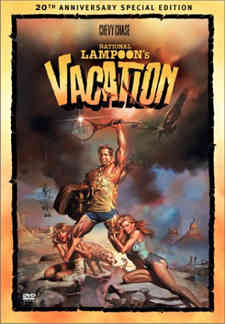 National Lampoon's Vacation - the 20th Anniversary Special Edition - on DVD
The first National Lampoon Vacation movie is still the best and after twenty years it holds up about as well as it did when it was freshly minted.
It isn't the funniest flick on file, but it has its moments.
Re-meet the Griswolds, your average Chicago family bound to drive cross country to spend their vacation at a Los Angeles theme park.
But of course this is the vacation from hell, otherwise we wouldn't have much of a movie!
Written by John Hughes, and directed by Harold Ramis, Vacation introduces us to father Clark Griswold (Chevy Chase), mother Ellen (Beverly D'Angelo), son Rusty (Anthony Michael Hall), and daughter Audrey (Dana Barron). They pile into dad's new car (bought at the film's opening in a scene that foreshadows the sort of mayhem to come) and head for Walley World.
Along the way, the plan is to sample some of Americana at its best, as well as some family business at its worst.
That family business includes a stop with loser kinfolk led by Randy Quaid, where they get saddled with doddering old Aunt Edna who needs a ride home, which just happens to be on the way. She brings along her dog, which sets up a couple of the funnier moments of the movie.
Of course everything goes wrong, from the family getting lost in the wrong part of a big city, to car troubles and ripoffs, bored and unruly (and stoned) kids, and an American Graffiti-like sexual fantasy as Christie Brinkley's path crosses Clark's repeatedly during the voyage much as Suzanne Somers did to Richard Dreyfuss in Graffiti.
They finally get to Walley World, but of course their troubles don't end there.
The Griswolds are a nice family. Clark means well, which is all that matters to liberals, but he's rather inept. Ellen is a good wife and mother, though the trials and tribulations through which she and the family go are enough to strain the strongest of relationships.
Chase and D'Angelo are good in their roles, and have good chemistry together. And we're treated to some great co-star and cameo parts from Quaid, Coca, Eugene Levy, John Candy and others.
This is arguably the funniest of the Vacation movies, which seemed to increasingly suffer from "sequelitis," and it's still worth a view today.
And Warners has given the movie an excellent DVD treatment, featuring an all new digital transfer - and it shows. The video is presented in anamorphic widescreen, 16x9 TV compatible, and though there's some grain, overall the picture is very good. Images are sharp and detailed, colors are rich.
Audio, Dolby Digital mono, is unremarkable, however. There's nothing really wrong with it, but it would have been interesting to see (hear?) a remixed Dolby Digital 5.1 surround option.
Extras include a new introduction featuring Chase, Quaid and producer Matty Simmons as well as a running "gang commentary" by various cast and crew members. There's also a "family truckster featurette gallery" which has its moments but which is for the most part rather lame.
Still, they've probably given this laughable but lightweight flick its due, and that's okay with us.
National Lampoon's Vacation, the 20th Anniversary Special Edition, from Warner Home Video
99 min. anamorphic widescreen (1.85:1, 16x9 TV compatible), Dolby Digital mono
Starring Chevy Chase, Beverly D'Angelo, Imogene Coca, Randy Quaid, John Candy, Christie Brinkley
Produced by Matty Simmons
Written by John Hughes, Directed by Harold Ramis